The companies have signed a non-binding MoU to form the joint venture subject to final agreement by all the parties, with the project on track to break ground later this year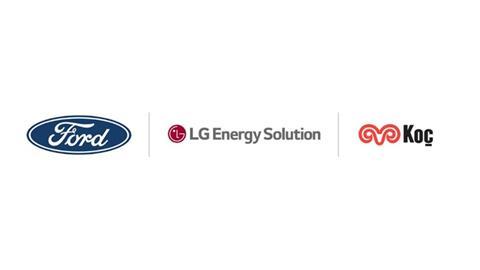 Ford, LG Energy Solution (LGES) and Koç Holding are to establish a new joint venture to build one of Europe's largest commercial EV battery cell production facilities.
Ford says the project, which will be located in an organised industrial zone in Başkent, near Ankara, Turkey, is on track and expected to break ground later this year.
Production is intended to start in 2026 with the three parties committing to at least 25 GWh of annual production capacity, which could potentially expand up to 45 GWh.
Lisa Drake, vice president, Ford EV Industrialisation, said: "We are delivering on the commitment to produce batteries in the same region where we build electric vehicles. Establishing the new joint venture with LGES and Koç Holding will lay a solid foundation that is fundamental to building a thriving electric vehicle future for Ford in Europe."
The three companies have signed a non-binding memorandum of understanding (MoU) to form the joint venture, subject to final agreement by all the parties.
Ford and Koç Holding had previously signed a non-binding MoU with SK On for a joint venture business in Turkey, but it was confirmed earlier this month that that had been terminated by mutual agreement.
LGES and Honda recently formalised a joint venture to produce lithium-ion batteries in the US. Construction of the battery plant will begin early this year with the goal of completion by the end of 2024 and starting mass production of advanced pouch-type, lithium-ion battery cells by the end of 2025.
Ford and LGES have worked together for more than a decade, with LGES most recently supplying batteries from its plant in Poland for the Ford Mustang Mach-E and E-Transit.
Youngsoo Kwon, CEO of LG Energy Solution, said: "Now joining forces with Ford and Koç in Turkey, we will bring in our leading battery technology to further boost the EV transition in Europe, thereby leading the global initiatives for a more sustainable future."
In a statement Koç Holding said: "We deeply feel the pain of the terrible earthquake disaster that occurred on February 6. As Koç Group, we mobilised all our resources for our country. We believe that investments such as this major one will play a crucial role in overcoming this extraordinarily difficult period.
"In this respect, we underline our determination to implement this investment facility with two global companies which will bring our country a significant global competitive advantage in the automotive industry. We express our condolences to our nation and truly believe that we will overcome these difficult times with unity and solidarity."
LGES has the largest global battery manufacturing network consisting of its manufacturing facilities in six countries (Korea, US, China, Poland, Indonesia, and Canada), with a total annual production capacity of 200GWh.
Ford also announced this month that it is investing $3.5 billion to build an LFP battery plant in Marshall, Michigan, with initial production planned for 2026. The option of this battery chemistry will be added to the OEM's EV product range this year, starting with Mustang Mach-E.