Ford commits to build both nickel cobalt manganese (NCM) and lithium iron phosphate (LFP) batteries in the US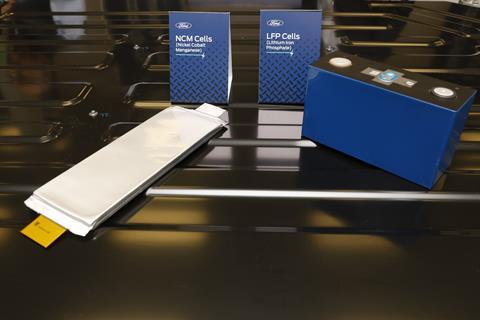 Ford says it is investing $3.5 billion to build an LFP battery plant in Marshall, Michigan, with initial production planned for 2026. The option of this battery chemistry will be added to the OEM's EV product range this year, starting with Mustang Mach-E, which Ford says will allow it to scale more quickly, and make EVs more accessible and affordable for customers.
The new LFP plant, called BlueOval Battery Park Michigan, will add 35 gigawatt hours (GWh) of LFP battery capacity, and employ 2,500 people when production of begins in 2026. The company says it will have the option to further grow its battery capacity at its Marshall, Michigan, plant, which will be part of a wholly owned Ford subsidiary.
Even before the new battery plant opens, Ford says it will introduce LFP batteries on Mustang Mach-E this year and F-150 Lightning in 2024 to increase production capacity, with a goal of reducing wait times for customers.
To support this plan, Ford has reached an agreement with Contemporary Amperex Technology Limited (CATL) where the OEM's wholly owned subsidiary would manufacture the battery cells using LFP battery cell knowledge and services provided by CATL.
This new agreement with CATL adds to Ford's existing battery capacity and available battery technology made possible through a series of key collaborations – including with SK On and LG Energy Solution (LGES).