Automotive Cells Company (ACC) has officially opened the first of three planned European battery gigafactories in Billy-Berclau Douvrin, France.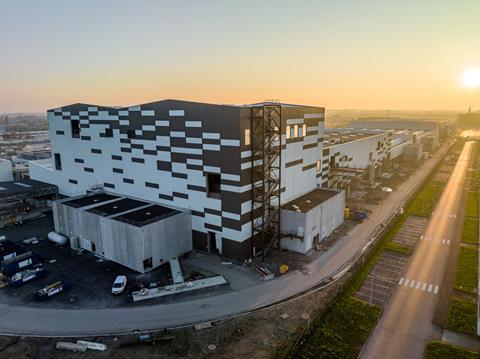 ACC, of which Stellantis, Mercedes-Benz and TotalEnergies are key stakeholders, said the gigafactory will develop "a new generation of sustainable and efficient batteries" for electric vehicles (EVs).
The 60,000m2 factory has three production blocks, with an initial production line capacity of 13 gigawatt-hours (GWh), rising to 40GWh by 2030.
With the capacity to produce 56,000 battery cells per day, or more than 2.4m modules per year, the company says this is the equivalent of 200,000 to 300,000 cars per year, depending on the type of vehicle and the battery capacity.
The factory will be fully operational by the end of this year, with its order book already full until 2028. And it's the first project of many, according to ACC.
"The construction of this unprecedented site in the heart of Hauts-de-France represents the first stage of a colossal project," said Yann Vincent, CEO, ACC. "ACC's German and Italian gigafactories will begin production in 2025 and 2026."
Vincent said the factory in France is a response to multiple challenges including controlling the production chain, reducing the environmental impact of transporting batteries as it shortens shipping distances, and "helping to consolidate the European automotive industry in the face of global competition".
The site was built in 17 months at a cost of €800m. The first of three blocks contains 20,000m2 of dry rooms, 16 (1,600-litre capacity) mixers, five (90-metre) coating lines and between 10-12 ovens for each coating line.
Stellantis, which partnered with TotalEnergy to form ACC in 2020, said the gigafactory will help it reach its goal of increasing battery manufacturing capacity to 250GWh in Europe by 2030.
Carlos Tavares, CEO, Stellantis said that through the partnership the OEM agreed to "an ambitious global timeline to develop electric vehicle batteries that would power [Stellantis'] plan to electrify mobility". He added: "Stellantis is actively contributing to the European electrification transition with state-of-the-art EV solutions and supporting France's crucial role in a sustainable future."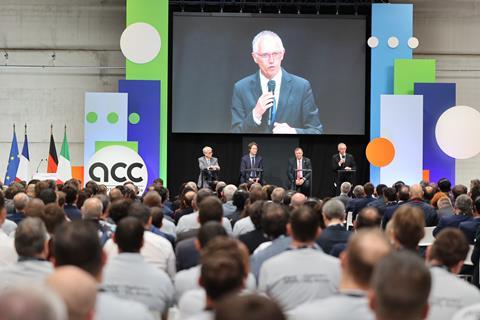 Over the past year in particular there has been a push for an increase in the number of European gigafactories. At the beginning of the year, Contemporary Amperex Technology Thuringia (CATL) produced its first batch of lithium-ion battery cells from its new G2 building in Germany.
Speaking at the AMS Evolution event in Munich in December, CATL's president for Europe Matthias Zentgraf said: "We have an advantage in terms of technology. We will be using the same tech that we already launched in our China plant. Our strategy is that there is no room for experimenting because we need to reduce the risks, and make sure our batteries are high quality. So, we are copying and pasting the production line and using the same tried and tested technology."
Similarly, Volvo and Northvolt agreed to build a new gigafactory in Sweden in February, which Northvolt's CEO Peter Carlsson called "a decisive move" to "transform one of the most dynamic automotive regions in the world, and to become the leading global supplier of sustainable batteries".