Renault has launched a business transformation plan which includes a 18% cut in production capacity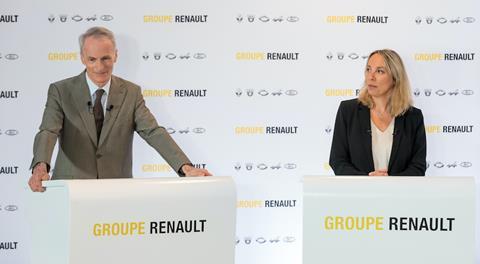 Renault board chairman Jean-Dominique Senard and Clotilde Delbos, interim Chief Executive Officer of Renault, have announced a programme of cost-saving measures and new priorities for the OEM over the next three years.
Senard and Delbos reiterated the difficulties encountered by the automotive group that were now driving Renault to accelerate its transformation.
The draft plan, Renault said, is based on a "more efficient approach to operational activities and rigorous management of resources."
Delbos said: "By capitalising on our many assets such as the electric vehicle, on the resources and technologies of Groupe Renault and the Alliance, and by reducing the complexity of development and production of our vehicles, we want to generate economies of scale to restore our overall profitability."
Renault sees the draft plan as laying the foundations for the group's long-term development. In France, Renault plans to organise the group strategic business areas, citing electric vehicles, LCVs, the circular economy and high value-added innovation.
Reforming production
In Renault's manufacturing network, changes include an acceleration in plant transformation through Industry 4.0 applications, a greater emphasis on digitisation and a "design to process" approach.
Renault aims to reduce production capacity from its 2019 level of 4 million vehicles to 3.3 million by 2024, a cut of almost 18%. Consequently, a drop in the workforce headcount of around 4,600 over the next three years was anticipated.
Renault intends to suspend previously planned capacity increase projects in Morocco and Romania. Also planned are a study of the adaptation of the group's production capacities in Russia and a rationalisation of it gearbox manufacturing worldwide will be examined.
Renault will launch a consultation process on the Douai and Maubeuge factories with a view to establishing a centre of excellence for electric vehicles and light commercial vehicles in northern France.
Renault said other French assembly plants, such as the Renault Zoe and Nissan Micra lines at Flins and Dieppe, which builds the Alpine A110 sports car, remain under review. Flins is a candidate to support "circular economy" activities, focussing on recycling instead of vehicle assembly, Renault said.
Six sites out of 14 in France, including component factories, will be under review. French media reports that trade unions in France fear that up to four sites are under threat of closure.