Volumes in Morocco have steadily climbed to the point where it may soon be the biggest vehicle producer in Africa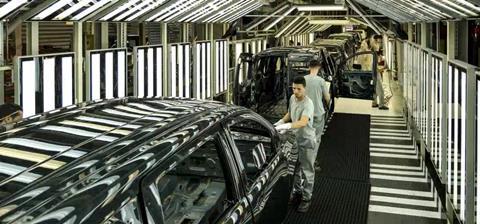 Morocco will soon be the leading vehicle-producing country in Africa, outstripping South Africa, which has long benefited from the presence of a mix of German and Japanese producers. Until relatively recently, North Africa was a minor player in vehicle production with the former Renault-PSA joint-venture plant, Somaca, in Morocco once the main car plant in the region. But this factory, until a recent expansion, never made more than 30-40,000 vehicles and existed only to supply the local market with old models made on a CKD basis.
In the early 2000s, Renault, supported by extensive incentives from the Moroccan government, opened an all-new factory in Tangiers. It is this factory that has transformed the country's automotive manufacturing sector. Renault Tangiers, actually a Dacia plant, is the lead facility for the Dacia Dokker and Lodgy, as well making a number of Sanderos. In 2018, it made over 300,000 vehicles and this volume, when added to the expanding Somaca plant, took Renault (or rather Dacia) production in Morocco to over 400,000. In fact, around 12% of Renault's global output is from Morocco. The Somaca plant (in Casablanca) made nearly 84,000 in 2018; it was originally a joint-venture plant with PSA but now is 100% owned by Renault. Between Somaca and Tangiers, total Dacia exports amounted to nearly 359,000, up from 301,000 exported in 2017.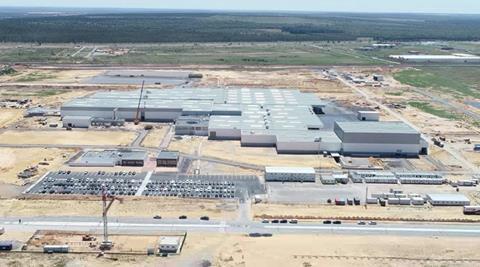 PSA and others pursue opportunity
Seeing the success Renault has had, taking advantage of low labour costs and easy, tariff-free access to the EU, PSA has followed into Morocco, investing d557m ($622m) in a factory with capacity to make up to 200,000 cars by 2023; as well as cars, it will be able to make engines and motorcycles.
The factory at Kenitra, near Rabat, in the Atlantic Free Zone, is part of what PSA calls a "complete ecosystem" in Morocco, with an engineering centre dedicated to steering and a general R&D centre too. The plant uses 62 local suppliers, including 27 that have set up specifically to supply into Kenitra. Local sourcing is already 60%, worth d1 billion already, rising to d2 billion by 2023.
So successful has the new plant been that PSA CEO Carlos Tavares has already described it as one of PSA's most efficient plants, alongside Mangualde in Portugal, but ahead of the Spanish trio of Zaragoza, Madrid and Vigo.
Kenitra will supply 80 overseas markets, starting with Europe where much of the 100,000 production due in 2020 destined for the EU, with production also scheduled for Turkey, the Middle East and a number of African markets. Kenitra now shares European supply of the 208 with PSA's plant at Trnava in Slovakia. However, markets beyond Europe will become increasingly important as future 208 sales will likely be lower than in the past as customers switch to smaller crossovers such as the 2008 and its competitors.
Chinese company BYD is expected to add an EV plant (taking advantage of the arrival of several Chinese suppliers in the country). In 2018, VW was said to be finalising a plan for a factory in the country, however, this has gone quiet and VW's new factory focus has been directed to Turkey instead. Morocco would need VW or another major carmaker to establish a plant in the country to have a chance of meeting government ambitions of the country making 1m vehicles a year; some uncorroborated reports at the start of 2019 claimed that Renault alone wants to more than double capacity in the country, producing 1m vehicles itself by 2025. If achieved, this would be remarkable and would also mean extensive growth in export markets; the domestic market is too small for domestic production, amounting to less than 200,000 in 2018.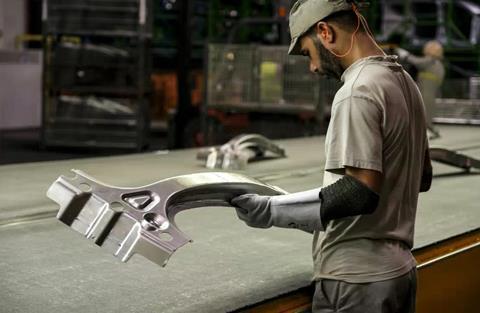 Going green
It is worth noting the environmental credentials of the Renault-Dacia plant; its wind turbines can make 10 times the electricity needed by the plant. It also has a biomass plant that powers three boilers, which provide super-heated high-pressure water for paint ovens. The factory is centred around renewable energy and accordingly the biomass plant burns olive stones and wooden pallets used in component delivery, rather than returning the wooden pallets and generating additional transport emissions.
Around 45% of the energy used is recycled, for example via six-metre-wide, six-tonne pierced aluminium thermal wheels that assist with heating the air in the paintshop., generating a 60% energy saving according to Renault. Thermal heat exchangers inside the paintshop also save up to 20% on energy. Zero industrial effluent is achieved by 100% recycling of wastewater, using reverse osmosis and other techniques that are claimed to save 70% on total water consumption
The Dacia factory is also vertically integrated. From stamping through to final assembly, it covers 300 hectares employing 8,000 people. It has a 39,000 sq.m press shop, 75,000 sq.m bodyshop, 38,000 sq.m paintshop and a 90,000 sq.m final assembly line. Its annual capacity on a three-shift basis is over 400,000 vehicles. The steel comes from Europe, Turkey and, indeed, Armenia. The stamping line is automated, but the bodyshop is only 7% automated.
Local content was due to reach 80% by 2023, but with engines and gearboxes imported from Renault Spain this could be tough. In fact, in 2018 the Moroccan government reduced the 2023 local content target to 65%.
With exports to 70 countries, handling them efficiently is clearly crucial. Exports are supported by modern container ports, the first of which opened in Tangier in 2007, followed by three more in recent years. GEFCO, the logistics company once part of PSA, has expanded in Morocco to handle this, with the factory using four or five trains as day, each taking 240 cars to the port
Supporting suppliers
In addition to the new Dacia and PSA plants, the influx of suppliers in recent years has been remarkable, both to supply the car plants as well as back into Europe. For example, Yazaki now runs four factories in Morocco, having opened the first in 2000. The latest plant will employ 2,500 and supply PSA with wiring looms; once at full production this will take total Yazaki employment in the country to 12,500.
A major investment of €350m has been made by Citic Dicastal from China, to make wheel rims; Aotecar (part of the new EV supply chain to support BYD in the country), Regal Automotive (a gearbox parts supplier), Nanjing Xiezhong (a cooling systems supplier) and Nexteer, a Chinese-US steering company. The arrival of these Chinese firms reflects the stake Dongfeng holds in PSA and also the role which Chinese engineering has played in the development of the CMP platform which underpins the 208.
A number of tier ones have come to Morocco, including Faurecia to supply interior parts, as well as Magneti Marelli, Valeo, Saint-Gobain and Lear which both support Renault and PSA there and supply back into Europe. Smaller suppliers in the country include Italian company Proma, which has spent d30m on a factory to make small stamping parts, 80% of which is for Kenitra. Proma wants to use the plant for exports and has an initial target of 23m per year. This growing manufacturing base is supported by engineering service providers including Altran of France and Bertrandt of Germany.
Meanwhile, the Japanese are not being outdone; Denso supplies electrical assemblies from Morocco, and AGC makes windscreens in the country. Other Japanese suppliers include Mitsui Kinzoku ACT, a leader in door locks, which has opened a plant in Tangiers, following an initial d12.5m investment. This followed JTEKT which has opened a d20m steering plant in Tangiers for PSA.
To download the full AMS Africa 2020 digital supplement click here.
AMS on Africa
1

2

3

4

Currently reading

AMS on Africa: Part 4 – Morocco aims for a million

5

6