The Ford Dearborn Truck Plant is a benchmark for managing complexity, quality and software, and is setting standards for the future. Plant manager Corey Williams shares learnings and lean principles across ICE production and fast-growing EV output at the plant's newly expanded Rouge Electric Vehicle Center
As Ford Motor Company marks its 120th anniversary this year, the carmakers' leaders are celebrating its legacy whilst emphasising the fast transformation of its products and operations, including scaling production of electric vehicles and driving efficiency in manufacturing. One location that represents this dichotomy better than most – and which gives the company reason for optimism – is the Ford Dearborn Truck Assembly Plant (DTP).
The factory, in Dearborn, Michigan close to Ford's headquarters, is one of two main production centres (along with Kansas City Assembly in Missouri) of the F-150 pickup. The F-Series is America's best-selling truck for 46 years, and for 41 years, it's been America's best selling vehicle.Although DTP has its share of legacy systems and processes – it is on the site of the original River Rouge Complex – the plant is not stuck in the past.
On the contrary, the complex includes many facilities, including the DTP, stamping and engine plants, a public factory tour and the Rouge Electric Vehicle Center (REVC), a new facility building electric F-150 Lightning.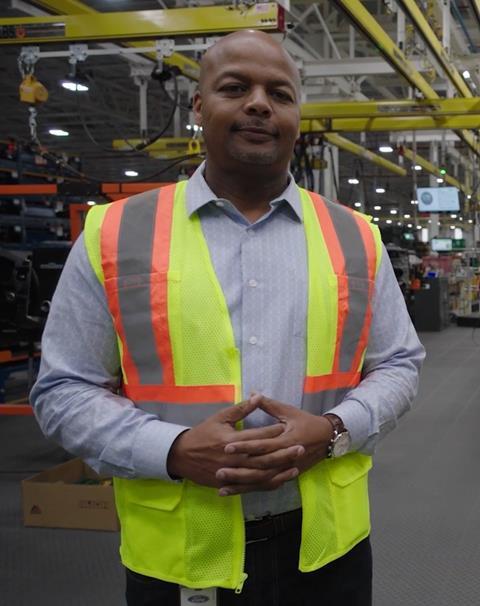 Dearborn Truck is the culmination of high volume, highly customised production, with an F-150 derivative rolling off the line every 53 seconds, including Raptor and Tremor variants, internal combustion engine and hybrid versions. And in September, the plant started production of the new 2024 model year F-150, which was revealed at the North America Detroit Auto Show, and includes advanced connectivity features, digital systems across the vehicle and plans for greater hybrid output.
While more than 6,000 people work at the plant, its production is characterised by advanced IT and digital control systems for scheduling sequences and virtual workstations that validate each part before entry. The assembly line remains a ballet of workers installing parts and modules across workstations but is increasingly punctuated by sophisticated testing and measurement systems for quality checks and software diagnostics, as well as wheel and light adjustments for assisted driving features. Increasingly, DTP workers use data analytics and artificial intelligence to detect errors and support decision making across manufacturing and maintenance.
Over the past two years, Ford has taken other steps forward in upgrading production at the plant. Last year, it opened a new assembly plant to build the electric F-150 Lightning, called the Rouge Electric Vehicle Center (REVC). If ICE production at Dearborn is the evolution of more than a century of Henry Ford's mass production system, the REVC (pronounced 'rev C' among Ford employees) offers a glimpse into Ford's future production.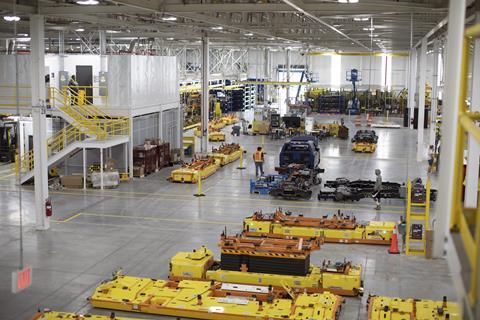 "The operation in the REVC just has a different feel, from the quiet hum of the line to the lighting," says Williams, who helped launch the REVC in early 2022. He and his team have recently completed a retooling project during an extended summer shutdown that trebled production capacity for the Lightning at the facility in a retooling ahead of restarting production in August.
In place of in-floor conveyancing, for example, vehicles at the REVC glide between stations on automated guided vehicles (AGVs). Ford has eliminated paper carriers, with workers using smart tablets and large monitors at each station to check orders and read data. There are fewer part numbers and modules on the line side since Ford currently produces just four trim levels across two Lightning variants: a standard and extended range EV (internally known as "small battery" and "big battery", says Williams).
And if the colours look different here, it is not because of coating on the vehicles – the REVC shares press, body and paint shops with Dearborn Truck. However, Ford designed the building with large skylights and light wells to maximise natural lighting across the operation. It features other sustainable features, too, from LED lightings, hydrogen-powered forklifts to renewable energy supply.
Evolution of leadership – operator-based production
While Williams praises the advances at the REVC, he has helped transform and grow both existing and new parts of the plant, serving as assistant manager at DTP from 2017 before taking over operations in 2020. He helped launch the 14th generation F-150 during the pandemic that year, adding the Tremor variant in 2022 – both of which remain in very high demand. He points to how both the ICE and EV sides of the operation are learning and evolving from one another.
"Some of the technology that we use at the REVC was successful because we tried it first at Dearborn Truck, learning how to develop it from concept to implementation," he says. Not all the tools could be used in both operations, however, whether because of different variations, cycle times or infrastructure.
Williams also points to a philosophy that is at the foundation of both ICE and EV production at the plant: human and operator-focused production. He stresses how important it is to support operators to be safer, empowered, upskilled and satisfied in their jobs. This "servant leadership", as he calls it, is fundamental to the lean manufacturing principles that he brings to the plant.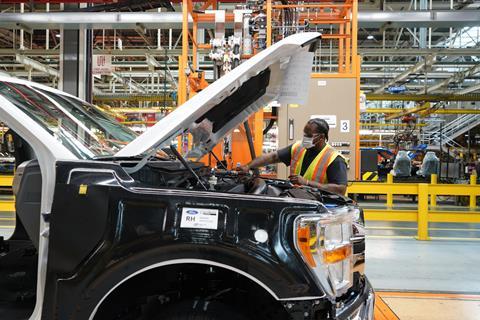 "Servant leadership means that the operator doesn't work for me, I work for the operator," he says. "That means I need to use my resources to make sure the workstation is built for the operator to be successful, and to have a safe space to identify a problem when they see it and help us improve. That's when you really start to win."
To that end, Williams sees the REVC as the continuation of an operator-focused production system already in place at Dearborn Truck. For ICE assembly, for example, Ford builds chassis frames upside down to improve ergonomics; it buffers stock along the engine trim line to make it easier to manage its many variants; it has employed cobots to help workers identify potential errors.
However, whereas the original Dearborn Truck Plant has legacy infrastructure and systems, REVC could start fresh. "Every workstation at the REVC was designed with the operator in mind, from the large monitors to the ergonomics to the natural lighting," Williams says. "We could take it to the next level compared to the existing plant."
"Servant leadership means that the operator doesn't work for me, I work for the operator. That means I need to use my resources to make sure the workstation is built for the operator to be successful, and to have a safe space to identify a problem when they see it and help us improve. -Corey Williams, Ford Motor Company
The evolution at DTP is even more important in the context of Ford's wider EV manufacturing strategy. A new generation of the Lightning is expected to go into production by 2025. Meanwhile, Ford has already said that it will make significant manufacturing efficiencies in building its next generation EV pickup. Codenamed T3 ('Trust the Truck'), Ford will build it from 2025 at its upcoming BlueOval City all-new megacampus in west Tennessee, where the carmaker has the rare chance to design the vehicle, supply chain and a production plant in parallel.
Corey Williams says that Lightning production will help redefine operator-led manufacturing at the new plants, too. "All the technology and processes that we have done here will really help to launch what we will do in Tennessee," he says. He adds that the F-Series trucks are 100% assembled in America, including Dearborn Truck Plant, Kansas City Assembly, Kentucky Truck Plant and Ohio Assembly, Ford employs more hourly workers in America than any other automaker.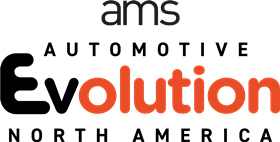 Ford leaders discussed current and future manufacturing strategies for electrification and flexible production at the first AMS Evolution North America conference, which was held October 16-17 in Dearborn, Michigan. Find out more here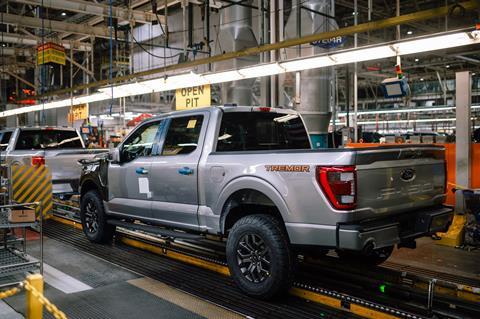 How software is redefining the DTP assembly line
While REVC assembly operations are more automated and digitalised than the original plant, ICE and hybrid production at DTP sets a high bar for complexity management, lean processes and staff development. Digitalisation, robotics and diagnostics feature in everyday production across the plant. Workers must manage increasing levels of software and electronics, much of which is reflected on the production line, according to Tony Serra, assistant plant manager at DTP, who works closely with Corey Williams. A range of computer and robot systems are located across the plant to help operators identify issues at different stages of assembly.
"It's something we are very proud of, as we test vehicle rigorously in line with exactly what customers have ordered and expect," says Serra.
For the latest F-150 generation, Ford uses a wheel alignment and headlamp adjustment (WAHA) system, which allows operators to use the steering wheel to ensure that the camber angle is calibrated to the customer specification, and to test headlamp settings. The plant uses computerised systems to calibrate the vehicle's 360-degree camera system as well as other safety features. Similar technology is used at REVC to validate this alignment for the F-150 Lightning as well.
Further along the line, a robot measures the vehicle for margin and flush of its doors and windows to ensure they are air and watertight. "We measure every margin of flush characteristics from hood to fender, fender to door, door to door, door to quarter, and bumper fit, providing readings that our employees can't see" Williams says.
"That is our most important asset: employees working hand-in-hand with technology to improve quality."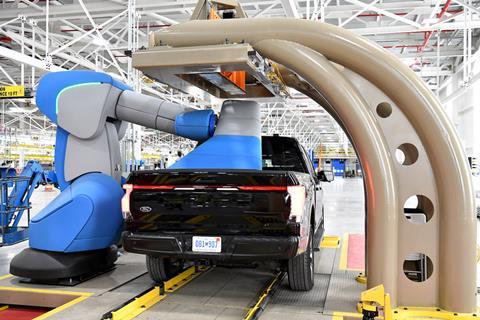 In the recent expansion of the REVC, Ford also added a station to validate both wheel alignment and check the margin of flush for the F-150 Lightning.
Closer to the end of the line, vehicles are connected to a 'dyno' machine, which runs dynamic and static checks, running engines run up to 80 miles per hour to evaluate performance and any issues in the vehicle's electrics and software, as well as other parts including lights and horns. One of the last checks, the vehicle is tested for rougher conditions, simulating shakes and offroad road conditions. The computer indicates if something might be wrong, and if so, the vehicle is sent to an electrical bay for further diagnostics.
Finally, at the plant's Customer Acceptance Line, operators run final tests using both visual and computer checks on fit and finish, margin and flush.
These systems have transformed shopfloor training from mechanics to skills in electrics, computers and software validation, according to Williams. "Our staff now needs about three years' worth of training, which they do by regularly attending classes to learn how to use the computers and testing systems," Williams says. "We have gone from wrenching a vehicle and changing engines, to being able to diagnose software and electrical issues in a car."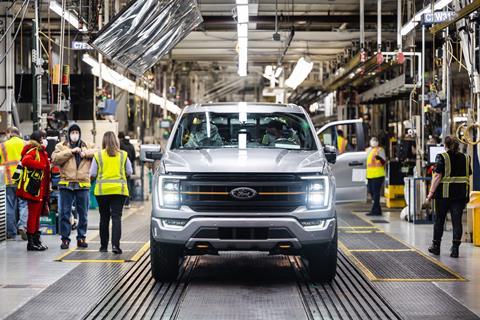 Data analytics and AI in manufacturing
With its high variation and volume, Dearborn Truck is increasingly using data analytics to help predict and determine potential manufacturing and quality issues, steer processes and improve workflows with operators, according to Williams. A central command centre at the plant, supported by Ford's Global Data and Analytics department, helps collect and analyse data.
"As we're doing something at the workstations – whether installing a part or plugging in a connector – we are able to feed that data to help predict where we might make mistakes and give direct feedback to operators," says Williams. "That is helping us to make better decisions, faster."
At some workstations, for example, Ford runs extra quality checks on predicted timings of potential errors. Williams and his team are also giving data-driven feedback to operators directly, sometimes as often as every hour.
"Our staff now needs about three years' worth of training, which they do by regularly attending classes to learn how to use the computers and testing systems. We have gone from wrenching a vehicle and changing engines, to being able to diagnose software and electrical issues in a car." - Corey Williams, Ford Motor Company
DTP is also using more AI applications on its shopfloor, for example detecting errors, cracks and other quality issues in body or paint shops. In assembly, AI applications are used in measurement and testing systems, and the plant has also introduced collaborative robots that safely work with operators and use AI to help scan installations and connections.
"We are using data analytics and AI to get better, more efficient and make faster decisions," says Corey Williams. "And we are focused on helping our operators use these tools effectively and understand that they will not put their jobs at risk – but can instead enhance what they do."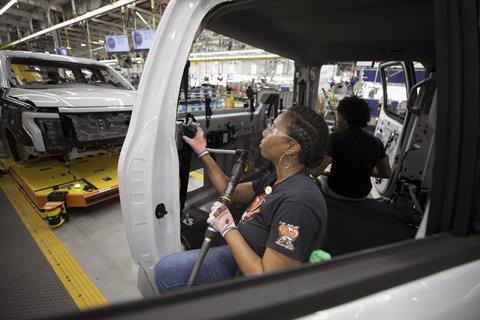 No time to stop, except to get better
Lean manufacturing principles are fundamental across Ford Dearborn Truck Plant, from inventory management to workstation layout. Corey Williams also strives to instil a culture of continuous improvement across his teams. He leads regular 'Go to Gemba' walks across the plant, visiting the shopfloor to explore and share improvements and holding regular feedback workshops. Employees are encouraged to share all improvement ideas and problems, even those that could risk temporarily slowing or stopping the line.
At the heart of the approach is data and performance transparency. One floor above the assembly line is the plant's production control centre, where final assembly shares insights on how the plant is running. The wall outside the plant office is lined with printouts of key metrics and KPIs across quality, maintenance, people, cost, delivery and more. The stats show status according to a traffic light system. Every day, the plant teams meet to review numbers, whilst the results are open to all employees to see.
"We need to be truthful with our data and make that accessible from plant management to team leaders and across all employees," he says. "When a team member walks by and sees that we've been red for X days, they will get curious and wonder if they are part of that? That is where learning happens, and we get improvements in quality and the customer gets a better vehicle."
"That's the power of servant leadership, of making sure we include everyone and that we serve the point of fit for our operators."
Lean is not new to Ford, but Williams says the company has strengthened the principles of continuous improvement and servant leadership during the supply chain and production disruption or recent years, and notably under the leadership of Bryce Currie, who took over at the start of this year at vice-president for Americas manufacturing and labour affairs for Ford Blue. Williams points to improving results, "but that doesn't mean we're done – a lean journey means we are always focused on the next opportunity to get better," he says.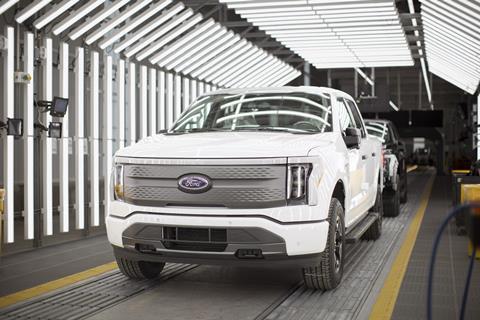 And there will be opportunities at the plant, from innovations at the line side, to scaling up output at the REVC. Whilst Lightning assembly isn't set to match its ICE cousins for parts variation and complexity, it will increase in volume and speed, and require new focus on quality and process improvements. In the recent expansion, Ford increased capacity for the Lightning XLT trim level – which includes additional features including signature lighting, a 360-degree camera and an interior work surface. In September, Ford introduced the F-150 Lightning Flash, which expands on the XLT model with more in-demand tech capabilities and an extended-range battery of 320 miles.
Meanwhile, Ford is taking key steps to simplify and standardise more elements of ICE and hybrid production, too. In the 2024 model year, for example, the company claims that it has reduced order complexity by 90%, mainly thanks to making a variety of features standard, such as extended range fuel tanks, class IV trailer hitches and 12-inch CLD capacitive touchscreen. That simplification should also help standardise production processes.
Ford has also announced that it would explore ways to increase ICE and hybrid production. With hybrid demand for Ford trucks on the rise – up nearly 30% year-on-year through August – the carmaker said that it plans to increase the mix of hybrid F-150s from 10% currently to 20% for the 2024 model year. It will do so by eliminating a price difference between for hybrid on certain models.
Nonetheless, increasing production for ICE and hybrid at DPT won't be as straightforward in space and processes as at the REVC. Williams is not ready to reveal how, except that it will be based on improvements across virtually all processes.
"What I will say is we are going to work with every employee to improve, and we will meet and exceed our goals," he says. "That is just who I am, and the team I lead. We have to win."
REVC – history in the remaking at Dearborn Truck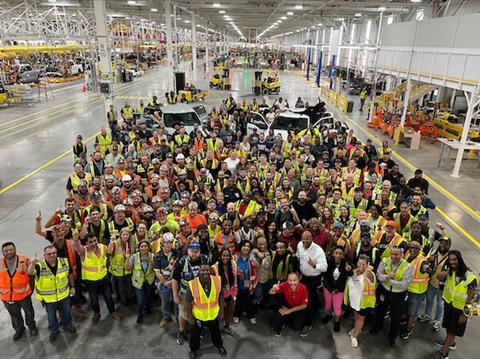 The Dearborn Truck Plant sits within hallowed ground in the Ford universe, part of its original River Rouge Complex, a huge site that once employed as many as 75,000 people across its vehicle, parts, steel making, shipping and maintenance operations. From military boats and tractors around a century ago, to the Model A (the Model T's successor), and later Mustang, Thunderbird and F-150s, the site has built many iconic products for the company.
Ford has closed or sold off parts of the original Rouge site, but what remains is now part of Henry Ford Museum as the Ford Rouge Center; including Dearborn Truck, it is still Ford's largest industrial operation globally.
History is layered across truck production at the plant, too. The halls that today house F-150 assembly opened in 2004, built then as one of the most advanced, sustainable plants for Ford globally, including a living roof, innovations in rain collection and a zero waste-to-landfill strategy. The same year, as part of a wider production network consolidation, Ford shuttered Dearborn Assembly next door, which built the Mustang.
But transformation has continued as part of the DNA of the Dearborn facility. In 2014, Ford retooled the Dearborn plant in a matter of weeks to switch to aluminium F-150 body, rebuilding its body shop and integrating self-piercing riveting machines, laser welding, new adhesives and other robotics. The switch was a success and quickly replicated at Ford's Kansas City Assembly Plant, which also builds F-150s.
One of the most dynamic changes, however, would start in 2020, as Ford broke ground on the Rouge Electric Vehicle Center (REVC) for assembly of the electric F-150 Lightning. The building, which shares stamping, body and paint shops with Dearborn Truck, was erected on the site of the former Dearborn Assembly and included recycled materials in its foundation.
No sooner than it had started construction at the site, Ford had to work out ways to expand production at the REVC. When reservations surpassed 40,000 within two days of opening, it was clear that the original capacity of 45,000 units per year was too low. Plant manager Corey Williams recalls having to blow out the north and south walls of the brand-new building to expand space, all the while continuing operations as Ford sought to double output.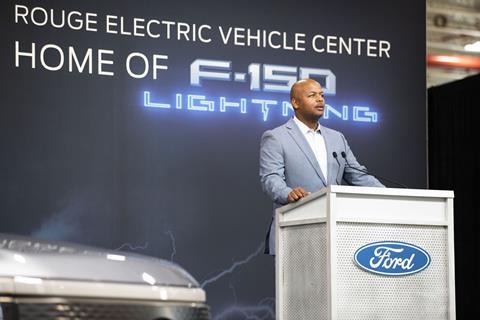 When an issue at Ford's battery supplier earlier this year led to a temporary production halt, the pressure to increase volume rose higher still. This past spring, Ford announced it would treble capacity to a run rate of 150,000 units per year.
It used an extended shutdown period from mid-June to complete the expansion, restarting production on time August 1st. The company had expected to hit the 150,000 per year run rate by the end of 2023, by which time it expects to have built more than 70,000 Lightnings since the start of production in October 2022 (of which around 55,000 units this year).
However, growing pains in ramping up new EV models persist, a trend evident across other OEMs, too. Ford confirmed in October that it would temporally cut one shift from the plant because of supply chain challenges, unrelated to the ongoing UAW strikes.
While Ford has had to get creative to increase output, the company designed the REVC for fast volume changes. "We built the REVC with flexibility and expansion in mind, for example using AGVs rather than in-floor skillets for conveyancing, which means we can expand capacity by adding more AGVs, rather than ripping up floor and breaking six feet of concrete, as we would have to do in the truck assembly," says Williams. "It would take about six months to achieve what we can do in six weeks at the REVC."
Ford used the shutdown to improve processes and add new tooling. In a first for its North American plants, the REVC now uses a system to automatically check exterior body fit for margin and flushness, for example.
With the restart of production, some workers also moved over from the ICE operation to the REVC as production ramps up. Ford said that it would be training a further 1,200 employees during August, including through a buddy system to speed up onboarding.
The next generation of the Lightning is expected to start production in 2025 – by which time the Dearborn Truck Plant and the REVC are likely to make history again.