There's more to electrification than batteries. We look at some of the developments and trends in designing and manufacturing electric vehicle platforms ahead our exclusive livestream featuring Gestamp and ArcelorMittal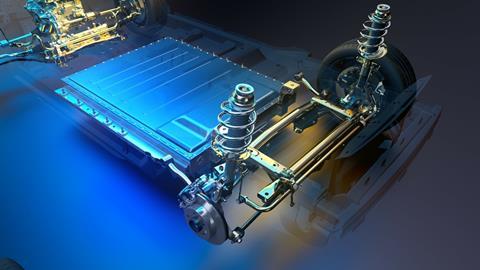 The transition to fully electric vehicles has triggered an acceleration in development cycles. We have been reporting extensively on the race to secure battery cell supplies and ramp up production of this vital component. Such is the urgency and concern around this, vehicle makers are even investing in the raw materials supply chain. But, as OEMs continue to develop battery cell formats and chemistries to optimise vehicle performance, in parallel they are also developing their vehicle architectures and platforms.
While high volume electric vehicle (EV) production in several vehicle segments is already underway, as with the electric powertrains, development continues, and the architectures evolve as vehicle makers seek to optimise their respective platforms. These need to be flexible enough to serve different models and body configurations, while being easily adaptable in production to meet the requirements of different market segments and applications. No easy task.
Skateboard platforms offer relative simplicity in production and flexibility in the battery configuration. Being able to support a wide range of body types, we're seeing these being widely used in commercial vehicles for logistics and other utility applications.
The more standard uni-body approach fits the high-volume production operations for passenger car segments, as bodyshops are already set up and equipped to build the conventional body-in-white (BIW) in large numbers. But as we continue to see, considerable development is going into creating dedicated EV platforms that are both highly flexible and viable for volume production in the existing bodyshop operations.
Going big to reduce weight and cost
Mega-casting, creating a single larger structure instead of several smaller parts that then need further assembly, is another development in new vehicle architectures. In the automotive sector Tesla has led the way in introducing this process into volume manufacturing, citing reductions in both the time to produce the part and the number of robots required. This in turn reduce costs. Volvo and Mercedes have followed suit in designing and producing platforms that feature these large cast aluminium parts in the front and rear sections of the floor pan.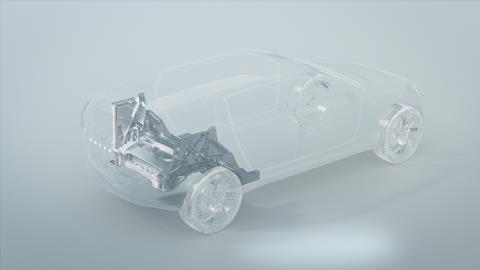 The battery enclosures are also continuing to evolve in relation to materials, configuration and, importantly integration into the vehicle structure. The latest step in the development of these enclosures will see the removal of the battery cell module, with the individual cells being located directly in the vehicle body. Tesla has been working on this cell-to-BIW approach, which it claims will see the cells double up as both energy storage and structural components. Benefits of this packaging of the cells include weight reduction and greater cell density, but there are challenges around service and repair, end of life disposal that need to be addressed.
Developing the new Renault 5 EV
Other examples of platform development include Renault which has recently been fine-tuning its new CMF-B EV platform and subjecting it to endurance testing at Arvidsjaur (Swedish Lapland). This platform will underpin the new Renault 5 model, due for launch in 2024.
The company said it had drawn on experience gained from its previous generation of electric vehicles (ZOE and Megane), and it noted that this will be a modular platform that will be easier to make, develop, and optimise for the next-generation B-segment electric vehicles. Features of the new design will enable a new generation of electric vehicles to be created, with adjustable tracks and wheelbase to allow for different body types and styles.
Looking at EV platform development, Jérôme Favero Head of Automotive Steel Solutions at ArcelorMittal – Global R&D noted, "One of the current drivers of BIW design is simplifying the manufacturing operations, and with further development of BEV platforms, we also anticipate a higher integration level of the batteries in the body structure, the cell-to-BIW."
He added, "Sustainability is also becoming more of a design criteria, so it is key to find the right balance between weight, cost and CO2."
AMS Automotive Evolution Livestream: Optimising EV architectures for manufacturing
Join our livestream to hear directly from experts in materials, vehicle platform design and development, and manufacturing who will share insights into challenges, solutions and future opportunities. They will discuss trends around materials choices, platform design, battery cell and motor packaging, and production processes and technologies.
Speakers:
• Paul Belanger R&D Director North America, Gestamp
• Jérôme Favero Head of Automotive Steel Solutions, ArcelorMittal – Global R&D