The plant will be located in St. Thomas, with production set to begin in 2027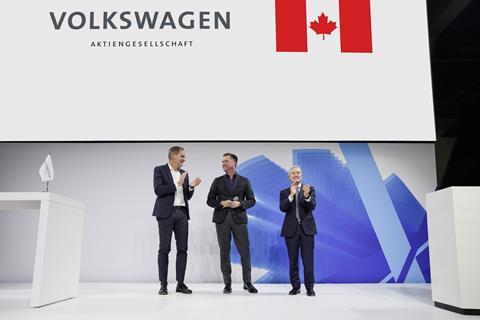 The Volkswagen Group and its battery company PowerCo is to establish a gigafactory for cell manufacturing in Ontario, Canada.
The plant, which will be located in St. Thomas, will produce sustainable unified cells, with the start of production planned for 2027.
Oliver Blume, CEO Volkswagen Group: "With the decisions for cell production in Canada and a Scout site in South Carolina we're fast-forwarding the execution of our North American strategy."
Scout Motors, an independent US company backed by Volkswagen Group, recently announced that it is establishing its first manufacturing plant near Columbia.
The plant will build next-generation trucks and rugged SUVs harkening back to its vehicles produced from 1960 to 1980, with production projected to begin by the end of 2026.
Thomas Schmall, board member for technology of Volkswagen AG and chairman of the Supervisory Board of PowerCo, said: "Our gigafactory in Canada sends a strong message: PowerCo is on track to become a global battery player.
"With the expansion to North America, we will enter a key market for e-mobility and battery cell production, driving forward our global battery strategy at full speed."
This will be PowerCo's first cell factory in North America and the third group-owned plant worldwide, after Salzgitter and Valencia.
In a recent interview with Automotive Logistics, Matthias Braun, head of battery cell logistics at PowerCo, explained how the Salzgitter plant will serve as a blueprint for battery cell operations for other locations.
"Our operations in Salzgitter will set a benchmark for everything that we do elsewhere, and so it is a great opportunity and responsibility to ensure that our logistics and supply chain operations help us to have a smooth ramp up and are also future oriented," he said.
More details on the St. Thomas gigafactory will be revealed in the near future.
The Volkswagen Group says it is "driving forward the introduction of the broadest portfolio of full-electric vehicles in the United States", with its brands set to introduce more than 25 new BEV models through to 2030.
In addition to its ramped-up assembly of the all-electric ID.4 compact SUV in Chattanooga, Tennessee, Volkswagen also has plans to upgrade the plants in Puebla and Silao, Mexico, for the assembly of BEVs and potentially for BEV components such as electric motors in the second half of the decade.