The plant will build next-generation trucks and rugged SUVs, harkening back to Scout vehicles produced from 1960 to 1980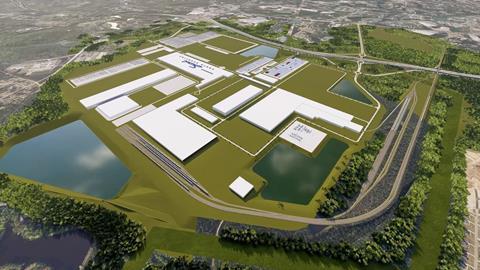 Scout Motors is to establish its first manufacturing plant near Columbia, South Carolina, where it will build next-generation trucks and rugged SUVs harkening back to its vehicles produced from 1960 to 1980.
Scout Motors is an independent US company, backed by Volkswagen Group.
The $2 billion investment has the potential to create 4,000 or more permanent jobs, and at full capacity, more than 200,000 Scout vehicles may be produced annually at the facility.
Production is projected to begin by the end of 2026.
The site spans approximately 1,600 acres, with the plant itself occupying 1,100 acres. It is located less than 20 miles north of Columbia and near major cities and talent hubs such as Charleston, Charlotte, Greenville, and Atlanta.
Scout says this proximity gives it access to major highways, ports of Charleston and Savannah, and universities focused on automotive engineering.
A statement said: "Scout reviewed 74 potential sites and Blythewood quickly rose to the top for three key reasons: infrastructure and logistics capabilities around Columbia, South Carolina, the quantity and talent levels of the state labour force, and the willingness of state officials to be collaborative business partners. These are the factors that made the decision to locate Scout in South Carolina the obvious choice."
Looking forward, Governor Henry McMaster and the State of South Carolina are committed to becoming the epicentre of electric vehicle innovation. Through an executive order issued in October 2022, Gov. McMaster prioritised building EV infrastructure, preparing the state workforce for advanced manufacturing jobs and strategically organising EV planning under a centralised state working group.
Scout Motors' board of directors includes Dr. Gernot Doellner, head of group strategy at Volkswagen AG, and Peter Bosch, member of the Bentley Motors board for manufacturing. Scout says it is currently evaluating the potential for outside investment.
Earlier this week, it was reported that Volkswagen is putting on hold a planned battery plant in eastern Europe, prioritising a facility in North America.
According to the Financial Times, the carmaker told EU officials that it expected to receive €9 billion to €10 billion in subsidies and loans from US president Joe Biden's $369 billion Inflation Reduction Act, and is 'waiting' to hear how the EU would respond to Washington's incentives.