The carmaker's upcoming battery plant in South Carolina will use regionally sourced cells to power EV production in Spartanburg, and help establish the area an electrification hub in the Americas.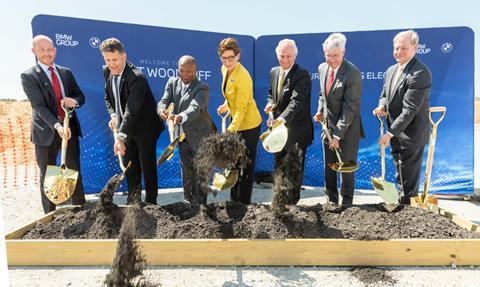 BMW Group has broken ground on a battery assembly plant in Woodruff, South Carolina that will play an important role in scaling production of electric vehicles at the carmaker's nearby vehicle plant in Spartanburg. Together with regional battery cell supply and training in electric vehicle production, it is part of an increasingly integrated manufacturing and development cluster for BMW.
Plant Woodruff, as the battery assembly plant will be known, will start assembly in 2026 of BMW's sixth-generation, cylindrical EV batteries in a highly automated, advanced operation that the carmaker says will reduce overall manufacturing costs and emissions.
"The road to the future begins here in Woodruff as we build on our legacy of producing high-quality vehicles right here in the US. Plant Woodruff will be state-of-the-art in terms of sustainability, flexibility, and digitalisation," said Dr Robert Engelhorn, president and CEO of BMW Manufacturing, the carmaker's Spartanburg factory.
The Woodruff plant, which is BMW is building on a former peach farm, will be 1m sq.ft (93,000 sq.m) in size and create around 300 jobs along with the 11,000 employees already working at Plant Spartanburg, according to Ilka Horstmeier, member of the board of management at BMW Group responsible for human resources and real estate.
The battery plant will assembly battery packs, which will then be delivered to Spartanburg for final assembly into vehicles. The battery cells, meanwhile, will be supplied by battery manufacturer AESC from a new gigafactory located two hours' drive away in Florence, South Carolina. AESC broke ground on the factory in early June and will launch production at the plant by 2026, when it is expected to have capacity to produce 30 GWh per year.
Building the next generation of batteries
The new battery plant is part of a $1.7 billion regional investment that BMW announced last year to prepare Plant Spartanburg to produce electrified versions of its X models, of which the carmaker plans to launch six from the plant by 2030. BMW committed $700m to battery assembly, and $1 billion to upgrade the vehicle plant, including expanding one of its main assembly halls by 50%, according to Engelhorn.
When BMW adds electric vehicles to its line up in Spartanburg by 2026, it will produce combustion engine, plug-in hybrid (PHEV) and battery electric variations on the same line, adding even more complexity to the OEM's largest global vehicle plant. Today, the plant already produces 10 models across SUV and coupé variants, including the XM which started production in December 2022, and three PHEV versions of the X3, X5 and XM.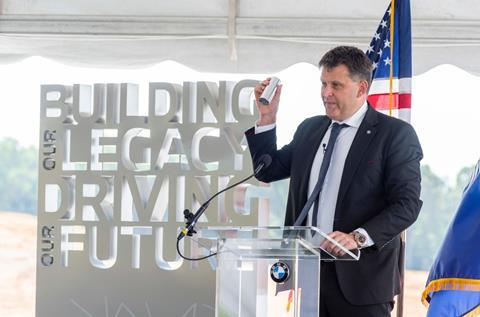 Engelhorn praised BMW's "open technology" approach and its flexibility in manufacturing among its success factors in South Carolina, including building up capacity and competency in PHEV production. The plant, which has capacity for around 450,000 vehicles per year and has a hybrid battery assembly operation on site, built more than 416,000 SUVs and coupés in 2022, of which PHEVs made up more than 16%.
However, the transition to building fully electric vehicles and advanced battery technology is a significant step for the OEM in the region. BMW's 'gen 6' batteries are notable as they will switch from prismatic to cylindrical cell designs, which the carmaker has said will increase energy density by 20% and improve charging speed and range by 30%. Producing the pack without having to house the cells into modules is also an important way to reduce production costs, according to the company.
BMW has said that it would produce the sixth-generation batteries in Germany, Hungary and China. Earlier this year, BMW also announced that it would produce electric vehicles and assembly batteries at its plant in San Luis Potosí, Mexico.
Training employees in EV manufacturing across the Americas
The Woodruff battery plant is also part of a more integrated production and development value chain for BMW and its partners in South Carolina, as part of BMW's 'local for local' strategy. Along with battery cell and module production, BMW is also building the first press and stamping plant at Spartanburg, which is set to open in 2024 to serve new models. Two regional suppliers supply most of the plant's current press and stampings.
Ilka Horstmeier also pointed to the carmaker's Technical Training Center, which opened in Spartanburg in October 2022. The centre has already trained hundreds of employees in EV-related competencies in manufacturing and will act as a hub for all EV training in North and South America.
"In this way, we are taking responsibility as a reliable employer and offer future-proof jobs at the same time," said Horstmeier.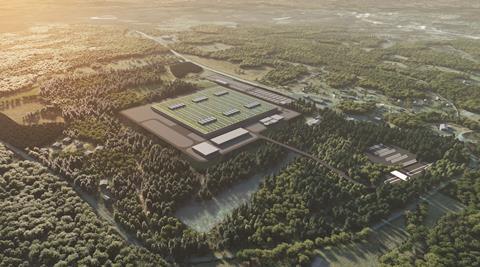 Sustainable battery production
BMW has designed Plant Woodruff and its battery manufacturing operations to be more sustainable. Engelhorn said that the plant would not use any fossil fuels and would instead rely on electricity from renewable sources. It will also use smart LED lighting, a low-energy design and rainwater harvesting. Smart electrical motors will help reduce energy in HVAC systems by as much as 40%, according to Engelhorn. These motors are supplied from Turntide, a technology in which BMW's venture capital arm has invested, and of which BMW uses 300 at Plant Spartanburg.
The carmaker also aims to reduce emissions in the battery production together with AESC process through the partial use of secondary lithium, cobalt and nickel material.
AMS will publish exclusive interviews with leading executives at BMW's Spartanburg and Woodruff operations in the coming weeks.
EV and battery production will be major themes at the first AMS Evolution North America conference, October 16-17 in Dearborn, Michigan, featuring major OEMs and battery makers