Developments in the new generation of cells include higher energy density, faster charging and lower CO2 in manufacture as well as lower cost.
BMW has developed a new round-shaped battery cell with higher energy density and faster charging capability which it says will cut the cost of this crucial EV component by up to half, with particular gains in manufacturing, including of the battery pack.
The automaker also announced plans to invest €2 billion in cell-making factories in China and Europe with partners CATL and EVE Energy with annual capacities of up to 20 gigawatt hours (GWh) and a requirement that they run on renewable energy. There are also plans for two plants in North America but no partner has yet been appointed, BMW said.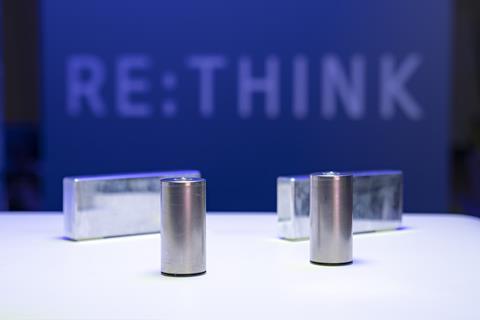 The new lithium-ion cells which offer an energy density increase of more than 20% and a 30% increase in potential charging speed represent a "huge leap in technology", BMW's head of development, Frank Weber, said in a statement. They will be used in EVs built on BMW's dedicated EV platform, neue Klasse, from 2025.
The automaker has agreed with suppliers that they will use recycled lithium, cobalt and nickel in the production of the batteries, without stating at what percentage.
BMW said the potential cost reductions from the round cell format were achieved through the work of its in-house Battery Cell Competence Centre together with development, production and purchasing teams. It said it has set itself the goal of eventually manufacturing EV vehicles at a similar cost to the latest internal combustion engine cars.
The cell format makes it possible to eliminate the module component altogether, saving space while the charging system will also run at a higher 800 volts, allowing for faster charging. The assembly of the pack without housing grouping the cells into modules is one of the main factors in the cost savings achieved, a BMW spokesman told Automotive Manufacturing Solutions.
The technological advances of the cells will make it possible to increase the driving range of top-end models by up to 30% under WLTP testing parameters.
The cells will have a 46mm diameter and be made with two different heights. Cobalt content is reduced while use of nickel is increased on the cathode side, BMW said. Cobalt is one of the most problematic minerals for automakers transitioning to electric products, with exploitation of by-far the world's biggest reserves in the Democratic Republic of Congo blighted by highly-publicised reports of abusive labour conditions.
BMW said it will buy cobalt and lithium only from certified mines which offer "full transparency" over extraction methods, to support responsible mining. The sourcing of the minerals would be carried out either directly by BMW or the battery cell maker.
Silicon content will increase on the anode side, overall resulting in a more than 20% increase in energy density, BMW said.
Eliminating cobalt entirely from the cathode is now possible with the new, sixth generation of BMW EV cells, by using cathodes made of lithium iron phosphate (LFP), the automaker said.
BMW Group aims to have more than 2 million battery electric vehicles on the road by the end of 2025, it said, while it says a target of 50% of global sales comprising of EVs could be achieved before 2030.