The carmaker's battery assembly plant in Woodruff will use advanced automation and help set global standards, whilst supporting a local-for-local drivetrain production strategy, says Rich Everly, who is leading battery pack production.
The drive along South Carolina Highway 101 is a typical one through Spartanburg County's suburbs, with fields and trees lining the four-lane road, uninterrupted but for occasional houses, churches, farm equipment and other supply stores. But on approaching the outskirts of Woodruff, a city of around 4,000 people some 20 miles south-east of Greenville, a clearing emerges filled with mounds of clay, construction equipment and temporary structures. A billboard with a BMW logo above the makeshift entrance road announces the future home of Plant Woodruff.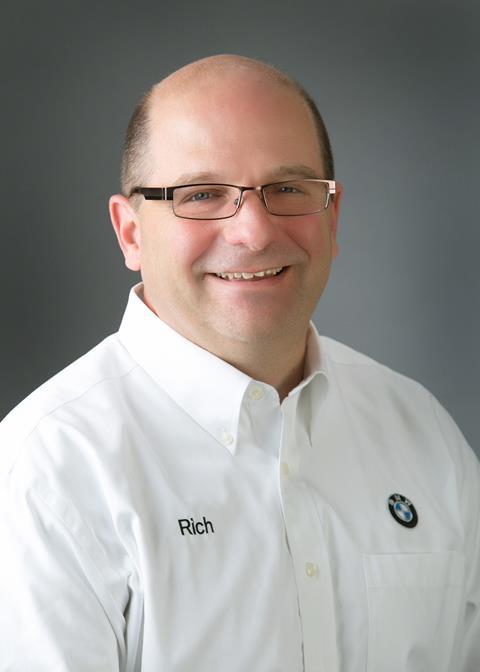 The view would have been very different a few years ago when this land was still a large peach farm, its orchards blossoming in the spring ahead of the summer harvest. South Carolina is one of the top peach producers in the US, with large-scale exploitation of the fruit dating back to the 19th century. But soon, this site will be producing an altogether different kind of juice, part of an ecosystem that could redefine the wider regional economy for many decades to come.
In 2026, Plant Woodruff will open as BMW's first North American plant for lithium-ion battery technology. The batteries will be delivered just-in-sequence for production of new EV models at BMW's Plant Spartanburg, located just 15 miles away in Greer.
The battery plant is part of a huge investment by the carmaker to electrify production in the US, including $700m for the battery plant, which will employ around 300 people. Another $1 billion is going towards upgrading facilities in Greer, where 11,000 employees work at the main plant. The plant is BMW's largest globally, currently producing 10 models across X and XM SUVs and coupés; by 2030, BMW plans to launch six new electric vehicles from Spartanburg.
Significant as the investment and volume will be, they are only part of why battery pack assembly will be so important for BMW production, technology and employees in North America. Battery assembly will be one of the most complex operations across BMW Manufacturing Inc., which includes Plant Spartanburg and various functions across the region. Rich Everly, vice-president of battery line for BMW Manufacturing, points to highly advanced automation and fast cycle times in battery production, as well as the strict data tracking required to meet cleanliness and safety requirements.
"It's highly complex, with new types of equipment, technology and IT systems, which is why we have started early to train and prepare our people," says Everly, whose responsibilities include developing and implementing battery pack assembly at the Woodruff site.
From global technology to local suppliers and skills
The types of batteries that BMW builds in Woodruff will drive many new processes and technology. Last year, the OEM announced that its sixth generation battery would switch from prismatic to cylindrical cell designs for Neue Klasse models, a platform architecture underpinning BMW's next generation EVs. BMW cites significant benefits in switching to these cells, including longer range, lower manufacturing costs and emissions. The carmaker has announced plans for six battery assembly plants for the new generation, including two in China, one in Germany and in Hungary, and another two in North America. Along with Woodruff, BMW has announced that it would produce electric vehicles and assembly batteries at its plant in San Luis Potosí, Mexico.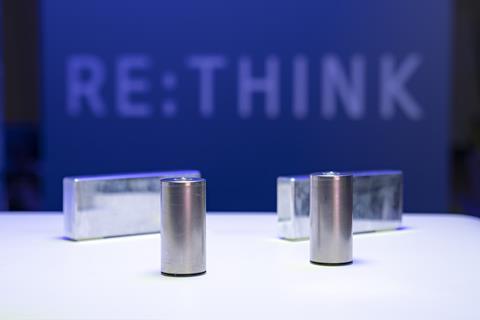 Producing this battery in South Carolina and North America will be a major development in BMW Group's 'local for local' strategy, as it brings new technology, manufacturing capacity, suppliers, knowhow and training to the region, according to Dr Robert Engelhorn, president and CEO of BMW Manufacturing. That will include creating a more robust regional supply chain, with lower logistics costs and carbon emissions, he adds.
For example, BMW will source the cylindrical battery cells for the battery packs made in Woodruff from battery manufacturer AESC, which has recently started construction of a 30 GWh gigafactory in Florence, South Carolina, about two hours from Woodruff. BMW will be the anchor customer for the AESC gigafactory­ and the first in North America for which it will build cylindrical battery cells.
BMW has a taken a similar regional approach elsewhere, partnering with battery suppliers including CATL and EVE Energy to supply its plants with cylindrical batteries in China and Europe.
Oliver Bilstein, vice-president of production control, logistics and material control, says that as well as developing a close supply chain from cell to pack, BMW is also working on specialised equipment and automation for movement of battery packs from Woodruff to Spartanburg, including a specialised truck trailer that will allow heavy batteries to stack atop each other, but move automatically from the trucks to avoid using forklifts. "It will require new equipment, but the goal will be for an automated, just-in-sequence flow," he says.
The 'local for local' strategy also has a strong emphasis on upskilling and retraining workers for BMW's manufacturing transformation, from electrical engineering to shopfloor workers and maintenance. Last year, for example, BMW opened a $20m training centre at the Spartanburg plant, which includes focus on advanced manufacturing processes and digital tools. Some of the hands-on training facilities will be in areas strongly relevant to battery production, including robotics, controls and mechatronics, as well as training for high voltage systems.
"As battery manufacturing has to be a very clean environment, we need to be vigilant in protecting the product, starting with suppliers, through module production and delivery to the vehicle plant." -Rich Everly, BMW Manufacturing
"As we grow and develop new technologies, the top priority has to be the people, training them to meet then to handle these new challenges, which is why we developed a training centre across all areas and why we engage with technical colleges and universities to attract people from the outside," Engelhorn tells AMS.
For battery and EV production, Everly points to a particular need for more electrical engineers, controls technicians and maintenance experts, but says finding this talent on the scale required for BMW's launch plans would be "too tough". That is why BMW is much more focused on developing existing employees, as well as in fostering early development of such experts with local schools and universities through outreach and apprenticeship programmes.
"One of the big advantages of this 'local for local' strategy with the proximity of the Woodruff plant is that we can share training and development infrastructure," says Everly.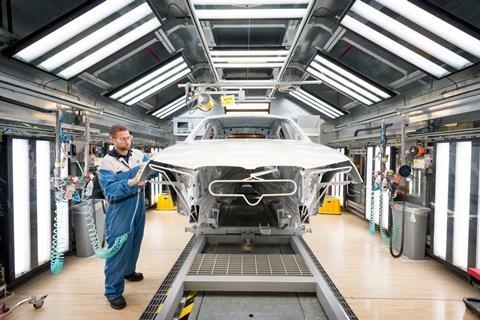 Learning from experience: battery is like 'paint shop on steroids'
Rich Everly has worked at BMW Manufacturing for 29 years across a variety of production functions, most of that time in body and paint shop or a combination; he led the launch of the carmaker's second paint shop in 2015. He thinks working in paint was a good forerunner to battery assembly, thanks to the sophisticated systems and equipment used in the process, management of materials and chemicals.
"Paint technology is still one of the most complex in automation that we have at the Spartanburg vehicle plant," he says. "Body shop has its own unique challenge with around 2,000 robots but they essentially carry out more repetitive tasks, such as gripping, welding and screwing. But in paint, you have different vision systems and conveyor systems, with many materials and applications together."
The paint shop must also operate at high levels for extended periods of time, requiring advanced maintenance processes to avoid downtimes, adds Everly. At Spartanburg, for example, when body and assembly run on two shifts per day, each 10 hours, six days per week. Paint shop, meanwhile, often operates 24 hours per day, for six-and-a-half to seven days per week in Spartanburg.
However, the battery line will look like "paint shop on steroids", says Everly, with much greater automation and higher maintenance requirements. Cycle times in battery assembly can be as short as a few seconds, requiring machines to run almost constantly at a high rate.
"Battery is going to operate a similar pattern to paint, but at greater intensity, which is going to put a lot of pressure to have a really strong OEE [overall equipment effectiveness]," Everly says.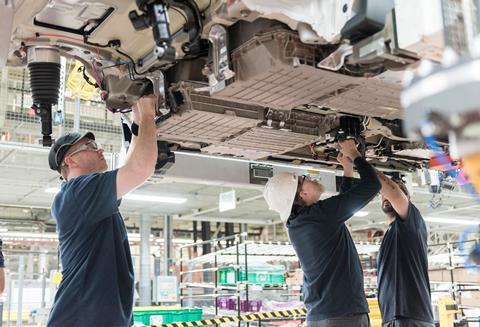 Other similarities between battery and paint come in managing chemical and material curing processes, but battery is on a much larger scale. Cell and pack production requires tight controls on cleanliness from ageing and drying to thermal management of cells across battery housing and other components. A quality issue in a single cell could have significant implications in the range of the entire pack. Advanced data management and IT integration across suppliers and operations will be essential.
"It requires careful tracking and systems connections right across the supply chain and in manufacturing," Everly says. "As battery manufacturing has to be a very clean environment, we need to be vigilant in protecting the product, starting with suppliers, through module production and delivery to the vehicle plant."
Battery production teams are also learning from experience in assembling PHEV battery packs, which BMW has made at the Spartanburg plant since 2015, currently producing around 70,000 units per year. This operation has helped define processes in testing, software diagnostics and maintenance of some equipment, and importantly in managing high voltages and fire safety. BMW has its own fire department at Spartanburg, for example, and it regularly exchanges information and data with regional fire departments in how to deal with battery fires. The Woodruff plant will have its fire department, too.
However, the system complexity and safety requirements for batteries will be far higher than for PHEV. "There are foundational strengths that we have picked up on, but BEV batteries are a different world, and we have to be ready," Everly says.
Setting global standards for battery production
Defining battery production processes is a global project across central and regional manufacturing teams at BMW, which in many ways starts with the cell chemistry and design. According to the company, the new cylindrical-shaped cells will improve energy density by at least 20% compared to the previous generation, with 30% longer range and faster charging times. Meanwhile, BMW says it will be able to produce the battery pack without having to house the cells into modules, reducing production costs by up to half. The use of more recycled and secondary materials is also expected to reduce emissions in the supply chain.
Whilst there will be advantages, BMW must redesign manufacturing processes for this latest generation of batteries compared to previous prismatic and PHEV batteries. This global production transformation is led by Markus Fallböhmer, senior vice-president of battery production across the group.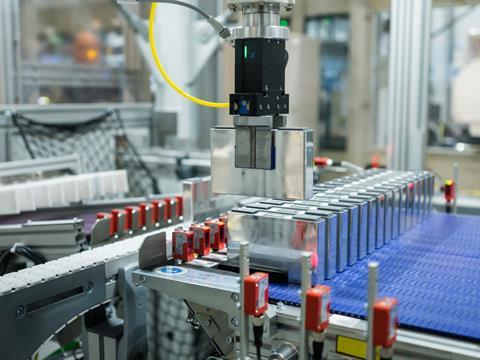 Spartanburg teams have been integrated with BMW's central manufacturing and battery teams from the beginning of the project in 2022, according to Everly. By the end of this year, around 22 employees from Spartanburg will be based in Germany, including quality specialists, equipment planners, maintenance and manufacturing engineers, with more set to go to Europe next year. They will spend several years in pilot plants and central development centres to learn how to use new technologies, test software and develop processes at facilities that already have equipment for sixth generation batteries, or where launches will come first. For example, staff will be based at the plant under construction in Debrecen, Hungary, which will be the first to launch production of Neue Klasse models and batteries in 2025.
"We have worked together closely from our teams in Spartanburg and centrally in Munich, exploring all the time critical considerations together, including the equipment and IT systems needed to support generation six," says Everly. "Our teams have been pulling as much as central has been pushing, and it's a very good dynamic."
The collaboration is important as it gives BMW the opportunity to define and standardise processes in parallel to planning greenfield locations such as Woodruff. "We'll have footprint advantages in building a greenfield plant, but we are also trying to do it in standard way across all facilities, which is why we're really locking down our building design and our production flow within that footprint," Everly says.
Whilst learning in Europe will be important, BMW is developing the prototype and training facilities for more advanced battery production capabilities in Spartanburg, too. More of the robotics and equipment currently available in Germany will be implemented soon at the new training centre, for example. "We'll need to train our teams in parallel because our ramp up will be steep," says Everly.
Those working on launches in Germany and Hungary will also be able to support later stages of the projects in North America. BMW colleagues from Mexico, for example, will spend time in preparing for the Woodruff launch, ahead of production starting in San Luis Potosí by 2027.
Developing people across BMW's battery supply chain and manufacturing will be essential as technology rapidly evolves. Already, BMW's switch to cylindrical cells is changing production processes, and the future could bring more transformation. BMW is working on developing solid state batteries, for example, although it has yet to set a timeline for serial production.
"We'll have footprint advantages in building a greenfield plant [in Woodruff], but we are also trying to do it in standard way across all facilities, which is why we're really locking down our building design and our production flow within that footprint." -Rich Everly, BMW Manufacturing
"Our company, like all others, is trying to do everything it can to stay at the forefront of competition," says Everly. "That is why I was very pleased that we decided to go the cylindrical path, as it sets us apart. But we could go in a different direction in the future, in which case we'd have to be nimble in our production, too."
Woodruff has been designed with future changes in mind, according to Everly, including allowing space for changeovers when new technologies need to be adapted. Planning tools such as digital twins and augmented reality are also helping the company to adapt faster to changing technology requirements.
The Woodruff plant itself will also set a new standard in sustainability, including using electricity from renewable sources, a range of low energy technologies, as well as rainwater harvesting and recycling. Smart electrical motors will help reduce energy in HVAC systems by as much as 40%, according to Engelhorn. These motors are supplied from Turntide, a technology in which BMW's venture capital arm has invested, which are also in use in Spartanburg.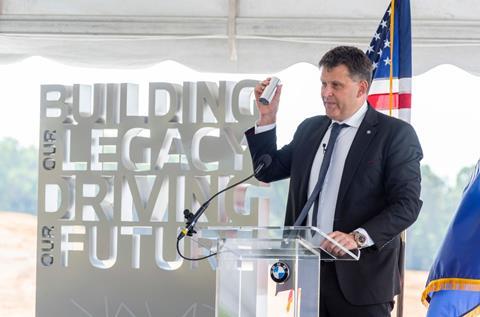 Blossoming battery communities
Despite all the new technology, Everly comes back constantly to people, and to the community he has watched grow over the past three decades since BMW arrived, notably in the cities of Greenville, Spartanburg and Greer, and which he now sees starting in Woodruff. Battery and EV production should deepen and extend those partnerships across the state and the region – all of which will help BMW, its supply base and employees prepare for the future, he says.
Robert Engelhorn also thinks partnerships with officials, education institutions and suppliers will become even more important in ramping up battery and EV production, from further skills and training to investment in charging and transport infrastructure.
"We have to be a companion to our suppliers and to state and local government to develop a strong common view on how we develop the right skills and qualifications," says Engelhorn.
The peach orchards may mostly be gone from the fields around BMW's plants – but what is set to blossom here should be just as fruitful for the region as for the company.
This article is part of our special AMS Evolution North America Series, focusing on the latest manufacturing advances in North America. You can also learn more about how GM, Ford, Volkswagen, Panasonic Energy and others are adapting their manufacturing strategies for electrification and flexible production at the first AMS Evolution North America conference, October 16-17 in Dearborn, Michigan. Find out more here
BMW's aspirations to the X degree in Spartanburg: Special series
1

2

3

Currently reading

BMW Batteries blossoming in South Carolina

4