Dr Robert Engelhorn is leading transformation of BMW's operations in Spartanburg, South Carolina for EV production, whilst ensuring manufacturing and workers remain highly flexible in managing vehicle variations and market changes.
In preparing BMW's Spartanburg plant for electric vehicle production, it's hard to think of a better person for the job than Dr Robert Engelhorn. Before he took over as president and CEO of BMW Manufacturing in South Carolina in autumn 2021, he spent three years as director of the carmaker's plant in Munich, where he helped integrate the electric iX4 onto an assembly line with 3 Series and M models across petrol, diesel and hybrid powertrains.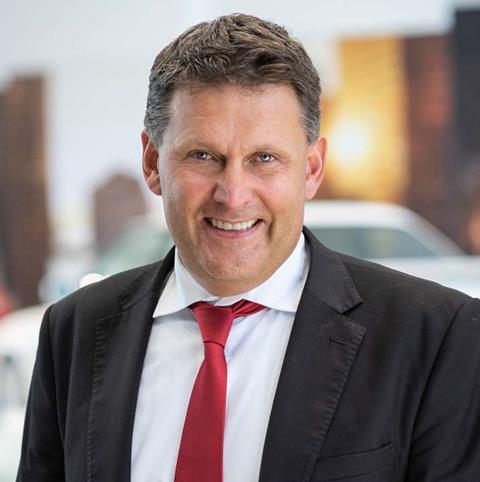 As well as EV production, Engelhorn knows a few things about managing high volume and complexity, having also led technology and production for BMW's JV in China, BMW Brilliance Automotive, where he worked across plants in Dadong and Tiexi during a period of tremendous expansion.
His current task is his biggest yet, with a crystal-clear mission: prepare Spartanburg for high-volume electric vehicle production but retain its high flexibility in model and powertrain variation, so that it will be ready to meet the needs of global customers and regulations.
Christopher Ludwig: As well as being BMW's largest plant globally, Spartanburg is the lead plant across multiple larger SUV models. Does that bring with it more capability and functions to support development and launch of models?
Dr Robert Engelhorn: Clearly, we are a full-scale plant across manufacturing. Vehicle engineering is done in Munich and transferred here at a certain point in the development cycle to finalise production planning. After the concept comes from Munich, our teams lead on integrating it into the plant and embedding the supplier landscape. We have our own quality and vehicle validation group leading on certain steps in the idea to offer process, from prototype to series production. There are also combined functions and interfaces between central teams and the plant, for example in purchasing and in product development, especially for the models where we are the lead plant. That does give us some more capabilities compared to some plants in Germany, but the essential process from engineering to product launch is the same.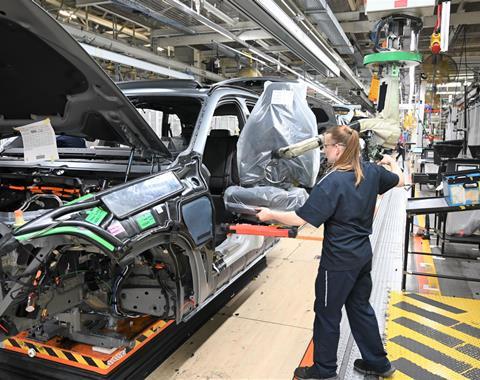 You're in the middle of a huge investment and transformation programme. What are your top priorities?
The top priority is the people. We are introducing new products and technologies in electrification, but also new software and connected features in our vehicles, and we must train our people to meet these challenges. That is why we opened a new training centre with a whole line-up of tools, robotics and equipment, whilst at the same time we are working with technical colleges and universities to attract and develop people from outside.
Another point is that we must work with our suppliers and partners in government in the same way. I want us to be a companion to our suppliers and share a common view on the training and qualification of our people. We also need to work closely with South Carolina as it is growing every day, especially in the upstate area where we are. More people are moving and working here but we need infrastructure and schools to be successful. But we're on a good path and we have close relations with local and state government.
The other priority is, as you'll hear from others in my team, is 'performing whilst transforming'. That means producing at high volume as we make this plant EV ready, but also to stay flexible, maintaining a 'technology open' approach. We acknowledge that the share of EV sales is growing and will so further, but we are still convinced there will be demand for our highly efficient combustion engines. It will be vital that our supply chain and plant can anticipate and react flexibly, since no one can predict customer demand in three or four years.
Finally, if we look to new investment and suppliers, we are applying our 'local for local' strategy to electric drivetrains, including sourcing battery cells from our partner AESC at its new plant in Florence, South Carolina, and assembling the battery packs in Woodruff, close to the vehicle plant. This gives us an opportunity to have a strong, local value chain, which will be important as we introduce batteries with new, round cells that require many new processes and equipment in production. It will be important to have close oversight and common qualification as we industrialise and ramp up output of these new products.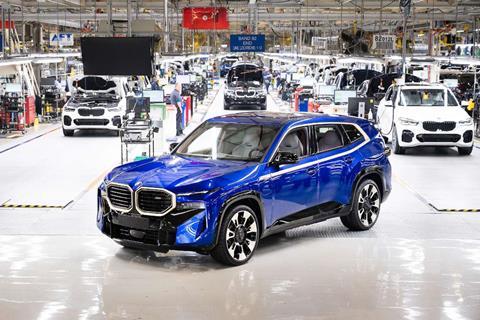 Going back to the people, we've seen tightness in the labour market, and you mentioned how fast South Carolina is growing. Does BMW face challenges in recruitment and turnover?
The pandemic and chip shortages made it hard for the whole car industry, but we have seen improvements, and we are in a good position. Our strategy here at BMW is that we don't offer jobs, we offer career paths, with new qualification steps along the way. I believe that this is important to young people. We are also trying to convince parents that a career in manufacturing is as valuable as those in finance and the service sector. Vehicle production can provide a lifelong career, with opportunities to go abroad across our network, have stable employment and continuous training. We've really worked on developing these programmes and using it to win people over. And we've had real progress in developing and recruiting new people.
This article is part of our special AMS Evolution North America Series, focusing on the latest manufacturing advances in North America. You can also learn more about how GM, Ford, Volkswagen, Panasonic Energy and others are adapting their manufacturing strategies for electrification and flexible production at the first AMS Evolution North America conference, October 16-17 in Dearborn, Michigan. Find out more here
You're already producing many models and derivatives, including adding the XM last year, and that's before launching EVs. What strategies are you following to cope with this variation in your manufacturing?
We are proud of the way we handle complexity, working with our supply base and with our teams to cope flexibly with different customer demands. It's something that defines operations across BMW. On the other hand, we try to reduce complexity and simplify processes, and only offer the complexity that customers want, or which differentiates us. It is always a balance, but I think that the cars we produce are highly focused on customer demands and therefore we must always prepare for complexity in production.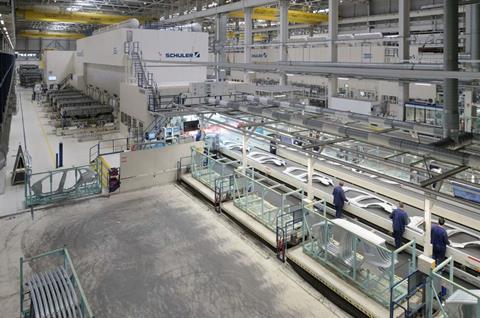 One way you also seem to be trying to reduce complexity in the value chain is by localising certain processes and suppliers.
You're right, local for local is a way that we reduce complexity and the length of supply chains, and we see benefits in having at least the larger outer-skin parts nearby, including investment in a new stamping shop, which will open next year. In shortening the supply chain, we see improvements in lead time and delivery, in reducing risk, logistics costs and emissions. But we also see improved quality, as we can better oversee operations and manage changes. That is one reason why we are setting up battery production and supply close to the plant.
And clearly with the press and stamping plant next year, that is aimed at new models, not just electric vehicles, which start in 2026.
That is correct. The stamping plant is an important investment, which will help us increase quality, efficiency and consistency. We are working with Schuler Group to apply the latest servo press line, which can run 18 strokes per minute, which is really very fast. It will give us the opportunity to have a maximum output and utilisation, so we are quite keen on localising this operation.
"Expansion was designed into our production layout with the 'finger' setup in assembly. As we enlarge each finger, it helps us to cope with more volume and the higher part numbers from adding new models."
-Dr Robert Engelhorn, BMW Manufacturing
How are you specifically preparing for EV ramp up at the plant?
At the Woodruff battery plant, where we are investing $700m, we are adding new processes and technology for assembly for the generation six batteries. Within the fences of the Spartanburg plant, we are spending $1 billion on several areas, including bringing in new equipment in body shop for the new designs, and to account for various crash requirements in different countries. We need to adapt conveyancing and handling for the battery, which will weigh several hundred kilogrammes. And we are expanding the assembly shop in Hall 52 for EVs and higher volume.
But expansion was designed into our production layout with the 'finger' setup in assembly. As we enlarge each finger [extensions of the assembly hall], it helps us to cope with more volume and the higher part numbers from adding new models.
You previously led production at Plant Munich, where you integrated EV production to the assembly line. That plant is now being overhauled to produce Neue Klasse. How would you compare transformation here in Spartanburg?
What is different is that Munich will become a fully electrified plant, whereas for the coming decade we still plan to fulfil the needs of our customers, which for the most part are still combustion engines, including some diesel and V8 engines. So, flexibility will remain key for our production.
Is the 'lean, green, digital' approach changing the way you design and plan more operations within the plant, too?
Absolutely. Lean is always about taking waste out of processes to be more efficient. That applies not only for existing processes, but also future ones, which is why we are looking so closely at the layout and design of new and changing facilities. We can also have a big impact on emissions and sustainability in production, too. Wherever we invest, we want to use the latest sustainable technologies, which will be the case in Woodruff when it comes to being solar ready, capturing rainwater, and using renewable energy. It's the same when we refurbish existing plants, such as when we upgraded our paint shop, and used a three-layer paint instead of four layers, for example.
And today, in our digital world, no car runs off the line without IT. We use artificial intelligence, for example, to identify potential quality issues or mistakes when matching the different specifications of each order. Since we export to 120 different countries, we need to ensure that we meet all the relevant homologation requirements and carry out rework here before we ship abroad.
The other point is that we are increasingly using data out of our production processes to identify where we can improve, increase efficiency or add value to the customers. We need to constantly evaluate the data, and that means we need people with the right skills to analyse and make decisions based on what we're collecting. That comes back to how we train and qualify our people, too.
Finally, you and the team speak about the need to perform and transform. Are there risks that you need to overcome to make this change successfully and benefit from its opportunities?
The opportunities are bright because the path towards electrification is one of the key pillars for the future here at Plant Spartanburg, which I know will have the right production setup to deliver in a flexible way to meet customer demands. There are of course risks when you're making an investment that positions the plant for the next 20 years, because nobody has a crystal ball. But that is why we are here to realise this transformation in a flexible way where we can still react to customer needs and changing regulations, not only in America or Europe but in China and Asia, too. But that is exactly our task: to cope with this complexity.
Learn more about how BMW is transforming logistics and supply chain management at Plant Spartanburg and in North America, with coverage in AMS sister title, Automotive Logistics. Featuring insights on material control, autonomous logistics, virtual planning, export logistics, battery supply chain and flexible logistics strategies. Read the special series on BMW's logistics here
BMW's aspirations to the X degree in Spartanburg: Special series
1

2

Currently reading

Master of complexity in Spartanburg

3

4