The increase in EV demand and production is causing OEMs to look for more advanced automation, as new equipment, systems and manufacturing processes add challenges to already complex production networks, according to experts at electrification and automation supplier ABB.
The transition to producing EVs means more battery cell and battery pack production, which can be difficult due to the fragile nature of batteries and the production and storage conditions necessary for them.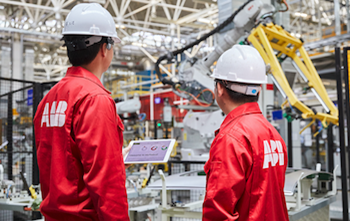 With rising costs for materials, challenges in recruiting workers, and significant investment in the electrification of vehicle line-ups, OEMs and tier suppliers are more focused than ever on optimising production operations and focusing their workforce on value-added, safe activities.
Due to these challenges, OEMs have been teaming up with specialists to ensure their facilities are up to spec, with the likes of Ford recently partnering with parts supplier Magna International to build three new factories for the OEM's battery enclosures at the Blue Oval City Complex in Tennessee.
Similarly, Magna is expanding operations across Ontario, Canada, with a $700 m investment into a new battery enclosure facility in Brampton to support the Ford F-150 Lightning electric pickup and future OEM programmes. The supplier also announced earlier this year that it will supply battery enclosures for GM's all-new 2024 Chevrolet Silverado EV and produce the enclosures at its Magna Electric Vehicle Structures facility in St. Clair, Michigan, where it already produces the battery enclosure for the GMC Hummer EV.
Other OEMs are creating in-house specialist divisions to adapt to rising demand for EV production. In July, Tata Group, JLR's parent company, announced its new global battery subsidiary, Agratas, when it confirmed it will build a £4bn gigafactory in the UK with plans to ramp up production to serve JLR. It's not yet clear whether the company will seek specialists to partner with for the chemistry involved in the manufacturing.
Keeping batteries safe in manufacturing is another area of concern as production ramps up. A thermal runway is one of the primary risks related to lithium-ion batteries, where the lithium-ion cell enters an uncontrollable, self-heating state, setting off a chain reaction that can be very difficult to stop and which can result in an ejection of gas, shrapnel and other dangerous materials. It can be caused by an internal short circuit from physical damage to the battery or poor battery storage and maintenance. This could potentially be an area where more automation could help monitor conditions such as temperatures and pressure.
Despite semiconductor constraints easing off, competitive pricing is returning and manufacturing volumes are increasing. Whilst higher output and supply is helping carmakers increase sales, they could also contribute to reduced profit margins for OEMs as pent-up demand winds down. This, alongside macroeconomic factors such as inflation, is going to make the market tougher, meaning OEMs will be looking for leaner, optimised ways of working.
Advanced automation is a key part of the solution to many of the above-mentioned challenges, from ensuring cleanliness across battery production, ensuring safe and secure movements of parts, carrying out software diagnostics and carrying quality checks. application of machine learning and artificial intelligence increasing across the manufacturing process, there are new opportunities to support plant leaders and workers in making the best possible decisions.

For more insights into advanced automation and robotics in EV manufacturing, join our expert panel from ABB on Thursday 5 October.