The company will be on the of the first to join the supplier network park at Ford's Blue Oval City complex and expects to employ 1,300 people expanding its EV-focused footprint.
Magna International, North America's largest diversified parts auto supplier, has announced an investment of $790 m to build three new factories to produce components for the production of Ford's upcoming electric pickups.
With the focus on electric vehicle production, two of its factories will be built at Ford's supplier park at its 3,600-acre Blue Oval City manufacturing complex in Stanton, Tennessee, where the OEM will build next-gen electric pickups and EV battery cells as part of the EV value chain. Blue Oval City is Ford's major project to bring electric zero-emission vehicles at scale to American customers "with the largest, most advanced, most efficient auto production complex in its 118-year history."
When production gets off the ground in 2025, Ford expects its new $5.6 billion, 4m-sq.ft (371,600 sq.m) assembly plant to have an annual capacity of 500,000 vehicles.
As one of the first suppliers to join the network, Magna will be a major contributor towards the electrification project and said it expected to employ 1,300 people across its plants. The supplier will build EV battery enclosures, alongside vehicle frames and complete seats beginning at the complex's production launch date of 2025.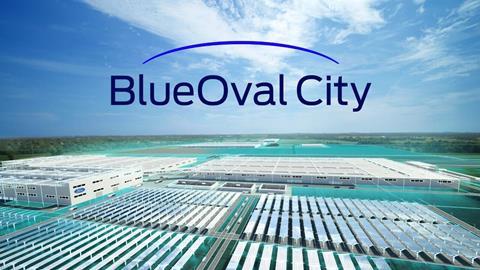 The site dedicated to the production of battery enclosures will be the largest of the new facilities, and will sit on an 800,000-sq.ft plant that alone could employ up to 750 employees when it reaches full production. The investment is the third iteration of Magna's expanding investments in electric battery enclosures this year, highlighting a serious push into the electrification ecosystem and building on its existing relationship with Ford.
The diversified parts supplier is already expanding operations across Ontario, Canada, with a $700 m investment into a new battery enclosure facility in Brampton to support the Ford F-150 Lightning electric pickup and future OEM programmes. The supplier also announced earlier this year that it will supply battery enclosures for GM's all-new 2024 Chevrolet Silverado EV and produce the enclosures at its Magna Electric Vehicle Structures facility in St. Clair, Michigan, where it already produces the battery enclosure for the GMC Hummer EV.
Magna's decision to build three new plants in Tennessee highlights its commitment to supporting Ford's EV-focused manufacturing operations and the growing importance of Tennessee as a hub in this project.
AMS will bring together manufacturing experts to discuss major transformation in production, including for batteries and EVs, during the AMS Evolution North America conference October 16-17, 2023 in Dearborn. Speakers include Ford, GM, Stellantis, Panasonic and others. Find out more here