AMS looks at the changing role of the Chinese operations of European and other long established brands' operations in China and their changing roles in the global auto sector
The global auto industry has become increasingly reliant on China in recent times, as a source of cheap components, as a source of batteries, or at least battery cells which are assembled closer to their point of fitment into a vehicle, and increasingly as a source of finished cars. Chinese-made Volvos and BMWs are now sold in Europe, with other developed world brands also using or planning to use their Chinese factories to supply the rest of the world, including Europe. In parallel, Chinese brands are being sold outside China in increasing numbers, with MG, Nio and BYD becoming especially prominent across Europe.
Auto production took off in the 1980s
The growth of vehicle production in China took off in the 1980s and 1990s when, led by Volkswagen and Audi, most of the major European, American, Japanese and indeed Korean car companies established joint venture car production operations in the country; these factories were built to supply the local market and have grown significantly on the back of the emergence of a large Chinese car-buying public.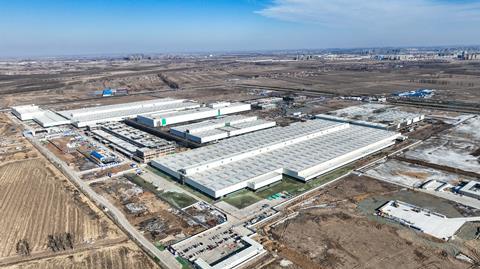 Restrictions on ownership of Chinese operations by overseas companies meant that their initial investments in China were in the form of joint ventures. These restrictions have now been lifted and Tesla is the most notable non-Chinese auto company operating there without Chinese shareholders. European, Japanese and US companies' operations in China remain in joint ventures but this may change in the years ahead.

Rising production followed by switch of sourcing to China
In parallel with the rise in vehicle production in China, the non-Chinese vehicle companies progressively switched a large part of their global purchasing spend to China in the search for ever lower costs. The recent disruption to global supply chains caused by COVID and the shortage of semi-conductors (chips) caused immense problems for vehicle production outside China and raised the costs of sourcing components in China, as well as raising doubts about the long-term viability of this supply chain policy. In parallel, while concerns over China's long term strategy regarding Taiwan adds a complex and uncertain political dimension. On top of this is the dominance of Chinese suppliers in the battery market; as the world switches to electric vehicles, the strength which China has over access to core minerals and their processing, plus the strength of leading battery cell companies such as BYD, CATL and Envision, there is a fear across the industry, and many governments, that China could become too powerful, both in the auto sector and elsewhere.
After 40 years, China is the biggest auto production country worldwide
China first opened up to western car companies in 1979, and forty years later in 2019 – before COVID disrupted the established order in so many areas – China accounted for nearly 309% of global auto production, with the US second at less than 17%. With increased vehicle production in China, there has been a significant increase in component production in the country, supplying worldwide, not just China. The industry is now reviewing its dependence on China and while it likely will cut this dependency, achieving this will not be quick and could well take 10 years or more before real evidence of reduced dependence on China is clear.

Changes to supply chain policies under way
During 2022 signs of a roll back from the industry's over-reliance on China began to become clear; European vehicle companies, notably Volkswagen and Stellantis, have accelerated their plans to develop their own battery cell manufacturing operations and while they cannot simply detach themselves from Chinese supplies overnight, they are definitely reducing their dependence on China. This move is also apparent across the broader auto supply chain. In December 2022, for example, the FT reported that Ford and Volvo (despite its partial Chinese ownership) were both reducing their sourcing from China, although they will not stop using Chinese suppliers overnight. In fact, it may be only the sourcing location which will change, not the supplier. In fact, several VMs, notably BMW, Mercedes and Volvo, have announced sourcing arrangements involving Envision and CATL building plants in the US and Europe.
In another potentially very significant development, car companies are now looking at establishing dual supply chains, one for their Chinese operations, and one for their operations outside China. This will not be a quick or easy thing to do; as the FT reported in December 2022, a quarter of Chinese auto component exports are shipped to the USA, so the US auto sector will need to undertake a significant amount of re-sourcing to reduce its dependence on China. This is being in part driven by investigations by the US Senate. This switch will not be quick but locations in India, North Africa, Mexico and ASEAN countries are likely to be beneficiaries of this process, rather than an automatic renewed commitment to domestic US production, except in the battery cell and battery components sector. Ford and GM are understood to have begun this process in 2021, a move which will accelerate in the light of President Biden's Inflation Reduction Act which is specifically designed to boost US domestic production of batteries and battery components.
Japanese vehicle companies are also moving component sourcing away from China, including some production back to Japan. Mazda and Honda are leading this process, or at least their moves have been the most widely covered in the process. News of Honda's plans to decouple itself from China began to emerge in mid-2022. Honda's sourcing ratio in China for its global operations ranges from 10% to 50% for some components; there is reportedly no system in any Honda vehicle which does not contain some Chinese content. Honda's vehicle production in China in 2021 was c1.6m out of the company's a global total of 4.1m, so this dependence is not entirely surprising. In practice, reducing Chinese sourcing will likely increase costs, because double sourcing and double tooling will be required; Volvo has already said this is happening for some unspecified components.
The political dimension cannot be ignored
It is also worth noting how political pressure on vehicle companies to reduce Chinese sourcing is coming to the fore. In late December 2022, the US Senate Finance Committee began investigating the use of Chinese supply chains by GM, Ford, Tesla, Stellantis, VW, Mercedes, Toyota and Honda, all of which source Chinese components for their US operations. This investigation is linked to reports on forced labour issues in Xinjiang, as global reaction to the Chinese treatment of Uyghur Muslims becomes increasingly vocal and intense. Xinjiang is understood to be a key location for the production of steel, aluminium, copper and battery components. The powerful UAW has called on US vehicle manufacturers to stop sourcing in Xinjiang entirely.
But vehicle production investments in China continue
Despite the changing role of Chinese supply chains for vehicle production outside China, investments in vehicle production in China by the German, US and Japanese vehicle companies continues. This commitment to vehicle production in China may also make it more difficult for these companies to reduce their supply chain dependence on China. Tesla has exported the Model 3 from China to Europe some time, while BMW makes the iX3 for global markets only in China; at the entry level, Dacia sources the ICE-powered Spring SUV from China. Although BMW and Tesla are increasing their EV production in Europe – and may well reduce imports of EVs from China – their Chinese operations will continue to supply EVs to other markets, including Australia, New Zealand and much of Asia.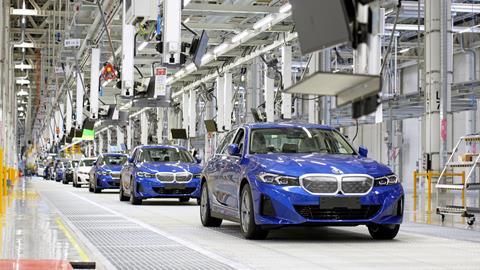 Recent examples of continued investment in vehicle production by China include:

In mid-2022, Mercedes began Chinese production of the EQE, BMW opened a new factory in the north-east city of Shenyang, and Audi began production at a new EV factory in the north-west city of Changchun.
The Audi plant will make batteries and vehicles, with a capacity of 150,000 units a year, producing the A6 and Q6 e-tron models; Audi already makes battery powered versions of the Q2, Q4 and Q5 models elsewhere in China. Ultimately the VW group expects to make 1.5m EVs a year in China – and some of these will be for export, including the Cupra Tavascan, a new electric crossover which will help Volkswagen make Cupra into a global brand and accelerate the transition away from SEAT to Cupra.
The new BMW plant brings the company's capacity in China to over 800,000 vehicle a year – the first model to come off the assembly line is the i3 mid-size sports sedan (a very different vehicle to the i3 hatchback formerly made in Europe). The iX3 EV is also made for global markets in China only.
Mercedes has annual capacity of c520,000 vehicles in China at joint venture factories under the Beijing Benz (BBAC) name, and this could increase by more than 40% if demand continues to grow at current rates.
Volvo will make its new top-of-the range EX90 in China, as well as in the US; this the first all-electric model to be made by Volvo; Volvo will also source an MPV/van, a first for the brand, from the new Zeekr brand, also part of the Geely group – this will initially be sold only in China, but could well be sold in export markets in future.
Tesla has seen the most rapid growth of all foreign vehicle companies in China in recent years; it made over 700,000 Model 3 and Model Y vehicles in China in 2022, including significant export volumes for Europe, achieving a remarkable 95% local Chinese content. Tesla production in China is expected to climb over 1m units this year. It is worth noting that Tesla uses CATL and LG batteries in China and does not make them itself; it has also secured long term relationships with other key Chinese suppliers for battery parts, Zhejiang Huayou Cobalt, and CNGR Advanced Materials which makes lithium precursors.
Ford moved production of the US version of the Focus to China in 2021 and started Chinese production of Mach E Mustang in late 2021; this is for the local market, while Mexico continues to make the same model for Europe and North America.
The French companies have had a mixed experience in China and both Renault and Stellantis have cut back operations there. However, Renault has established an interesting JV, with Dongfeng, to develop luxury EVs; this has the intriguing name, BeyonCa, and has an initial capacity of 100,000 per year, and ambitions to established production outside China within five years; Renault has also formed a JV with Geely to make Geely models in Korea at Renault Samsung and also transfer its ICE production activities into a separate JV, again with Geely.
Stellantis may stop production arrangements with Guangzhou Automotive (GAC); there was due to be a JV to make Jeeps but this may not proceed; indeed some reports have suggested that Stellantis could even stop all vehicle production in China, although it is important to note that it currently makes the makes C5X and DS9 models there and imports these to Europe, a practice which sits oddly alongside the concerns of Stellantis' CEO Carlos Tavares s regarding the negative impact on European vehicle production of the Chinese VMs.
Renault's long-term partner, Nissan, is building two new plants China, to make the electric Ariya SUV and other new models; meanwhile, Toyota – despite uncertainty over its EVB strategy – is actually building new production lines in Guangzhou to make the electric bZ3 sedan and bZ4X crossover, using BYD batteries.
In summary
European, Japanese and indeed US vehicle companies continue to grow their production activities in China. Increasingly this growth centres on EV production as established brands look to catch up on the EV production ratio of many indigenous Chinese brands. China is also an important vehicle export source, and China's role in the global production plans of the major players is well-established. China is also the key source of battery technology and although some vehicle companies, notably Volkswagen and Stellantis, are building their own battery networks, the dependence on the world's vehicles companies on Chinese battery companies is clear. Politics and supply chain desertions also mean that the world's auto companies need to reduce their dependence on Chinese supply chains but breaking the now established ties that bind will not be quick, nor easy.
Look out for a second feature, coming soon, that will focus on the increasing role of Chinese brands within and beyond China.