The ID.4 is now produced in Zwickau and Emden in Germany, Anting and Foshan in China while the first US production will start in the autumn at Chattanooga.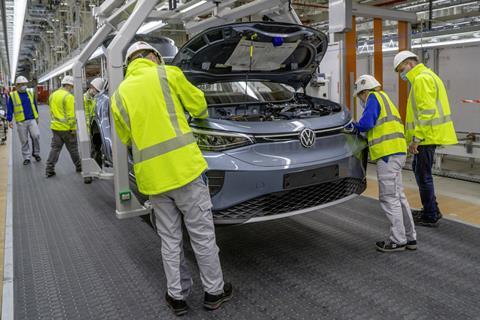 VW has expanded production of electric vehicles to a second German factory. The first ID.4 cars rolled off the production line at the company's Emden plant in Lower Saxony on May 20.
After first turning its Zwickau plant into an EV-only factory, the carmaker has invested €1 billion at Emden for its gradual conversion towards EV production.
"Volkswagen is making Lower Saxony, where we have 130,000 employees, Germany's centre for electric mobility," said Ralf Brandstatter, CEO of the Volkswagen passenger cars brand.
Volkswagen Group will invest €21 billion in Lower Saxony between now and 2026 and it aims to make the north German state a hub for its electric mobility operations. Emden will add another EV model, the AERO B2 sedan, to its production lines from 2023, the statement said.
VW has created six new production halls and five new conveyor bridges to the Emden site which together cover about 125,000 square metres. About 400 Emden employees were posted to Zwickau from early 2020 to prepare for future EV production.
VW's EV ambitions centre around the modular MEB platform, which it is rolling out across the group's brands, while also licencing it to other manufacturers.
OEM Mahindra Group announced on May 19 that it is exploring the possibility of using MEB electric components on its own proprietary platform, dubbed Born Electric.
Mahindra has just signed a partnering agreement with VW to explore the use of MEB electric motors, battery system components and battery cells.
The two companies aim to reach a legally binding supply deal by the end of 2022.
The Volkswagen ID.4 is already in production in Zwickau, Germany and at the Anting and Foshan plants in China. The Chattanooga plant in the US will produce the model from autumn 2022.