Mercedes-Benz is working with BASF and start-up Pyrum Innovations to develop and utilise chemical recycling that will enable circular manufacturing of virgin-quality plastics for vehicle components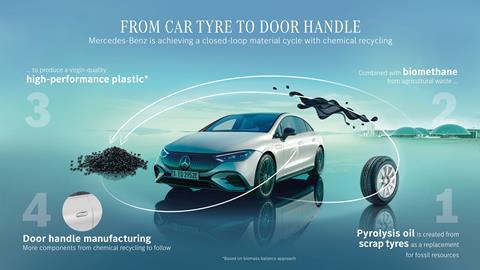 The carmaker says it is working to increase the proportion of recycled materials in its car fleet to an average of 40% by 2030 and as part of this process the company is working with several partners to achieve a circular approach to scrap tyres.
This approach uses BASF's chemical recycling process, which derives biomethane from agricultural waste and combines it with pyrolysis oil generated from used tyres by pyrolysis company Pyrum Innovations. Using both materials together, it is possible to create a virgin-quality plastic that is certified in accordance with the so-called mass balance approach.
Mercedes states that this recycled plastic has the same characteristics as virgin plastic produced from crude oil which allows it to be applied to ongoing production as a drop-in solution, meeting the required quality demands in respect of paintability and crash safety.
The EQE and S-Class will be the first series-production models to be equipped with bow door handles manufactured using a combination of biomethane and pyrolysis oil made from scrap tyres, instead of raw fossil resources. The S-Class will also come with a crash absorber based on this combination of raw materials. Mercedes says it is looking to use chemical recycling in combination with the biomass balance approach for further plastic vehicle parts and is exploring suitable applications.
Markus Schäfer, Member of the Board of Management of Mercedes-Benz Group AG, Chief Technology Officer, responsible for Development and Procurement said: "Through close collaboration with our supplier network, we are replacing raw fossil resources with pyrolysis oil made in part from recycled scrap tyres supplied by Mercedes-Benz. Components featuring this technology will enter series production in a number of our models as soon as this year. We anticipate being able to chemically recycle several hundred tonnes of scrap tyres from Mercedes-Benz vehicles every year and use the resulting plastic in our new vehicles. Together with our partners, we are closing the materials loop and actively driving the development of innovative recycling processes."
Another company offering more sustainable materials is German tyre and automotive components manufacturer Continental. The company recently announced that it will begin offering car interior components made from a biomass-derived plastic whose manufacture cuts CO2 emissions by 70% versus petrochemical feedstock.