Continental said the biomass-derived PVC's equal performance to conventional plastics makes the material a straight swap from petrochemical use but with a smaller carbon footprint in manufacturing.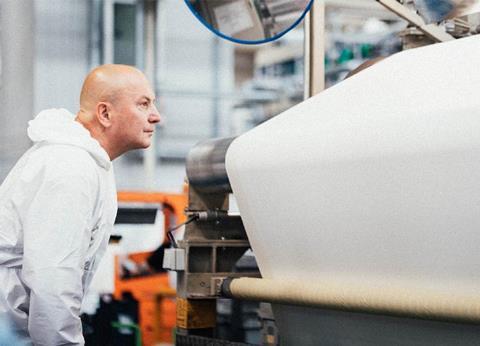 German tyre and automotive components manufacturer Continental will begin offering car interior components made from a biomass-derived plastic whose manufacture cuts CO2 emissions by 70% versus petrochemical feedstock.
The PVC with brand name Biovyn was developed by Inovyn, part of global chemicals company Ineos (now also an OEM start-up). Continental contributed to the application development of the material which uses non-edible biomass.
Continental's vice-president for research & development in surface solutions, Claus Zuerbig, said the product will meet growing demand among automakers for low-carbon materials as they pursue targets for future carbon neutrality. It will be offered alongside conventional petrochemical-derived PVC.
"We can use it like-for-like without any change in specification," Zuerbig told Automotive Manufacturing Solutions, noting that it was able to match the properties of petrochemical PVC in terms of ageing resistance, durability and flexibility.
"There is clear demand in the automotive industry not to change the specification and we can meet that demand because we have drop-in materials which are competitive," he said.
Asked why this product was being introduced now when bioplastics are not entirely new and given that some automakers have incorporated recycled materials into interiors for some time, Zuerbig said there had not previously been a material with the performance properties of this biomass-based PVC for the intended applications.
Despite higher oil and gas prices, the biomass-derived PVC will cost more than petrochemical PVC due to the complexity it adds to the manufacturing process which is similar for both, involving the use of a so-called steam cracker to break the material down to molecules which can then be synthesised into other chemicals, Zuerbig said.
Common applications are likely to include manufacture of handles for seat adjustment and interior door panels but he said PVC, regardless of the feedstock, is usually not the first choice of material for dashboard upper surfaces due to premature deterioration from sunlight exposure.
The 70% carbon reduction derives from using a biological feedstock and the figure is not higher because of emissions related to transport and processing which have yet to be eliminated, Zuerbig explained. He noted that the latter are referred to as scope 1 and 2 emissions sources within international Greenhouse Gas Protocol classification system.