Stellantis has started production of electric vehicles at Ellesmere Port, making it the UK's first EV-only production facility and Stellantis' first EV-only plant globally.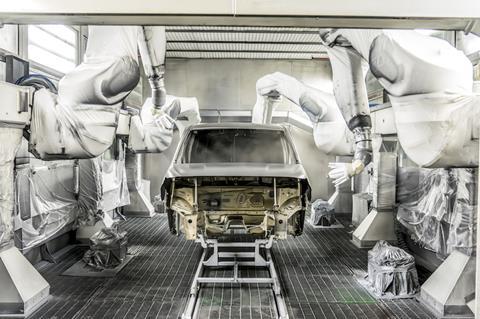 The plant, which the OEM has transformed with a £100m investment, will produce the Vauxhall Combo Electric, Opel Combo Electric, Peugot e-Partner, Citroën ë-Berlingo and the Fiat E-Doblò compact vans.
From 2024, Ellesmere Port will also produce electrified passenger vehicles, including the Vauxhall Combo Life Electric, Peugeot e-Rifter and Citroën ë-Berlingo MPVs.
The investment made by Stellantis to ready the plant for EV production included the addition of a battery assembly shop, an upgrade of the general assembly and a relocation for the bodyshop, reducing the total site area by 60%. The carmaker said this smaller plant size, now 118,000 sq.m, is a similar size to the previous bodyshop, improving efficiency and productivity.
A new test track has also been built, and a new parts distribution warehouse is in the final stages of construction ahead of becoming fully operational early next year.
"The start of EV production at Ellesmere Port signals a bright future for the plant, ensuring it will continue to manufacture vehicles for many years to come," said Diane Miller, plant director, Ellesmere Port. "With Vauxhall's long history of UK manufacturing, it's especially fitting that the first electric model to roll of Ellesmere Port's production line is a Combo Electric."
She added: "Stellantis is committed to working with the government to ensure the UK automotive industry remains competitive for producing vehicles for the long-term."
The Society of Motor Manufacturers and Traders (SMMT) has been calling for more government support for the automotive industry in the transition to electrified vehicles, with a highly anticipated governmental strategy to help the industry is expected to be announced soon.
Despite having previously struggled to attract investment in the battery and EV manufacturing supply chain, with the UK suffering a setback earlier this year with the collapse of battery startup Britishvolt, recent investment has injected hope back into the UK sector. In July, Tata Group confirmed it will build a £4 billion Gigafactory in Somerset through its new subsidiary known as Agratas, to produce 40 GWh of battery cells annually for its anchor clients Tata Motors and JLR.
Kemi Badenoch, secretary of state for Business and Trade, said Ellesmere Port is "a very visible demonstration that the government has got the right plan for the UK's automotive sector". She added: "Alongside recent investments from other major vehicle manufacturers, we are ensuring the UK remains at the forefront of automotive innovation as well as securing jobs in this critical industry and its wider supply chain."