New car manufacturing facilities will need to be highly flexible as the trends of vehicle electrification and autonomous driving continue to evolve. Mercedes-Benz futuristic 'Factory 56' paves a new path. By Christopher Ludwig and Michael Nash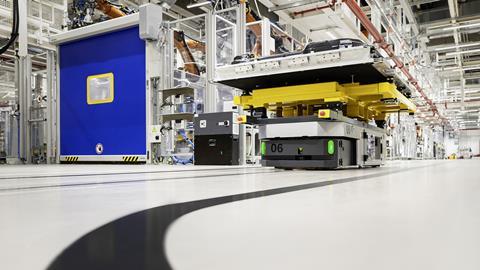 Mercedes-Benz has long been a champion of flexible and efficient manufacturing techniques, carrying out numerous projects to test innovative new processes and implementing many of them in production lines across the world. In November 2017, for example, the company announced that it would build the GLA SUV using Industry 4.0 solutions and manufacturing technologies that require a low degree of automation as part of a two-year pilot project called 'Innovation Factory'. It is now looking to go one step further with the construction of 'Factory 56' – a new 220,000 sq.m vehicle assembly facility that is being built as an extension to the Sindelfingen plant.
Already described by the OEM as the "world's most modern car production" facility, Factory 56 which opened in 2020 to house the assembly of the new S-Class as well as the first electric vehicle (EV) in the new EQ family – the EQC. Mercedes-Benz believes that, when completed, the factory will "define a new way of building cars".
AMS sat down with Markus Schäfer, member of the divisional board of Mercedes-Benz Cars, production and supply chain, to get more information.
Last minute changes
"Factory 56 is the blueprint for future production of Mercedes-Benz Cars," Schäfer stated. "The production concept of the facility will allow us to make EVs, robo-taxis and multiple conventional vehicle architectures in the most flexible way, using Industry 4.0 processes and digital tools. The technical content as well as the production concept of Factory 56 is exemplary for our production strategy worldwide."
Collaborative robots, otherwise known as cobots, will feature heavily in the new facility. Mercedes-Benz has been using these at its production sites for several years after signing an agreement with Kuka back in 2012, and Schäfer believes that they will continue to be crucial to vehicle manufacturing in the future. "The direct cooperation between people and robots means the cognitive superiority of people is ideally combined with the power, endurance and reliability of robots," he said. "It facilitates different objectives: higher quality, increased productivity, new possibilities for ergonomic and age-conformant work."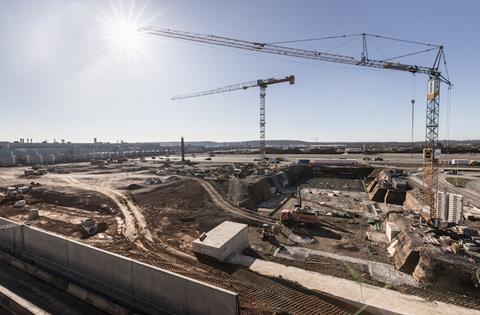 As well as receiving help from co-bots and AGVs, workers will also benefit from using augmented reality tools, virtual assembly solutions and wearables. Each of these, Schäfer suggested, will help to improve productivity. Driverless transport systems (DTS) equipped with baskets will also operate in the facility, ferrying the required materials and components to the appropriate work stations. These will all be fitted with radio frequency identification (RFID) tags, ensuring that each DTS and component can be digitally tracked and monitored.
"We will move away from conveyor lines that are fixed in the ground," Schäfer continued. "We will have AGVs not only transporting the materials as we already do today, but moving cars in production to different stations. We will also be able to change not only the material flow, but the layout and configuration of a plant in as little as a weekend."
Data from all of these robots and technologies will be gathered and used for predictive maintenance, allowing management and operators to spot potential faults and identify a fix without needing to stop work. Furthermore, some of the data will be transmitted to the Mercedes me app so that customers purchasing new vehicles can get information regarding production and delivery. "It is not simple to connect the customer to the factory, supply chain and engineering," Schäfer commented. "But we imagine that customers could, for example, send a JPEG file of whatever they might want, such as a name or a signature to be printed in the car. We could then communicate that to the plant directly to a stitching machine or laser that would produce the image on the seat or cockpit."
He also thinks that this connectivity between the plant and customer could allow for changes to be made to the vehicles at late stages of the production and assembly processes – a factor that could prove important as companies look to cater for individual consumer preferences. "If you combine this with 3D printing, we could become even more flexible and responsive to customer desires right up to the latest possible point. This gives us good ideas and opportunities for business in the future," Schäfer asserted.
Bringing it together
Many of these technologies and processes are already used at various other car manufacturing plants across the world. For Schäfer, the fact that the technologies are all being brought together in one single plant will make Factory 56 unique. "We are combining all our knowledge and pilots in production technology into one greenfield factory, which will then be copied at other plants. It is a holistic approach that starts with the creation and planning of the product in R&D in a digital simulation. This means that before we see hardware, we simulate test crashes, factory planning, layout and even the movement of workers and the material flow. This makes us faster, more flexible, reduces investment and ensures we have the right quality of processes."
Another strategy that will be demonstrated at Factory 56 before being implemented at other Mercedes-Benz plants is the increased use of sustainable and clean energy. Reducing the CO2 footprint of plants has been an increasingly important area of focus for many OEMs, as well as making their vehicles more efficient and eco-friendly. Some, like Audi, have even published lifecycle assessments of individual models to identify the emissions created along each phase of vehicle production.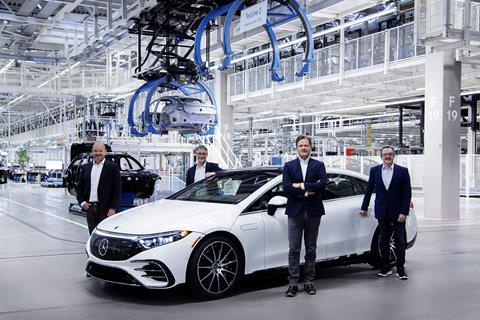 Schäfer is convinced that Factory 56 will represent a "giant leap on our way to emission-free production". He revealed that Mercedes-Benz intends to reduce the CO2 emissions that are created as a result of vehicle assembly by 75% per vehicle. It will do so by using a photovoltaic system on the roof of the building to feed 5,000 mWh of green electricity into the facility every year. Several methods will also be used to reduce water consumption and cut waste.
As well as sustainable energy, the German OEM wants to increase the use of sustainable materials when building its EVs. It its 2017 Sustainability Report, Daimler stated that it was aiming to reduce the primary raw material requirement for electric drives by 40% before 2030. Specifically, it wants to stop relying on materials that are only available in limited quantities and that have a big environmental impact when used and extracted from the earth. Furthermore, the company is looking to reduce waste at its plants by using its 'MeRSy' recycling management system.
Global flexibility
The construction of Factory 56 is one of many announcements that Mercedes-Benz has recently made in relation to manufacturing. It is also spending Ä100m (US$123.74m) with its partner Thonburi Automotive Assembly Plant (TAAP) to expand its existing car plant in Bangkok, Thailand, and to construct a new battery assembly facility at the same site. The latter will start operating at the beginning of 2019, and will help Mercedes-Benz to keep up with "growing demand for electric mobility in the region".
Plants that flex, but also grow
Flexible plants and supply chains are important to Mercedes-Benz's growth strategy. For example, in recent years the carmaker has added production of the GLC SUV to its contract-manufacturing partner, Valmet, in Finland, where it moves down the same line as the compact A-class. In China, its joint venture with BAIC also includes sedans and estate cars like the C-class and E-class produced along with the GLA and GLC SUVs. The company is also building a new plant in Russia close to Moscow.
Fitting plug-in hybrid and electric battery versions of models to plants will be a significant efficiency. However, the increase in output together with the shift towards electrification also requires significant new investments, capacity and supply chain links. In the US, for example, the carmaker is investing $1 billion at its Tuscaloosa, Alabama plant to add production of an electric SUV. Factory 56, in Sindelfingen, will build the new S-class and the first electric vehicle of the EQ brand. In Hungary, Mercedes-Benz is adding not only the new A-class to its plant, which already produces nearly 200,000 cars per year, but construction of a second plant is underway. The carmaker is investing heavily 11.9 billion yuan ($1.87 billion) in its joint venture in China to expand capacity in Beijing, including taking over an existing BAIC facility.
Like many other OEMs, Mercedes-Benz is also looking to bolster its activities in the world's largest new car market. In February 2018, it said it was making an investment of over 11.9 billion yuan ($1.89 billion) to take control of a former BAIC production facility in the Shunyi district of Beijing, which also establishing a "local production hub" in the city's Yizhuang industrial park. The plant will be operated under the Beijing Benz Automotive Co (BBAC) name, and according to Mercedes-Benz, it will allow the company to better respond to increasing market demand for new energy vehicles (NEVs).
Schäfer referred to two trends that are acting as driving forces, spurring the company to make changes to both its supply chain and production network. "One is the growth that we continue to experience, which has run at around 10% year-on-year over the last few years," he recalled. "In response, we are expanding and adding new facilities worldwide, and that has also been a challenge. But we are also seeing a move to more conventional combustion engines to electric plug-in and battery electric vehicles, as well as eventually towards autonomous cars. So growth and new technology are two big movements that we are trying to combine at the moment. Our answer is an intelligent network of production plants."
With the rising trend of electrification and the push to perfect autonomous driving technologies, many experts have described the current period in the automotive industry as the most disruptive in its history. As a result, Schäfer emphasises the need to make manufacturing facilities smart and flexible while also having global coverage for each and every market.
"We must be able to move product from one plant to another," he remarked. "We cannot predict with certainty what will happen globally in terms of protective trade measures, currency shifts, customer demands and preferences, or even in terms of the allocation of new models to plants in the future. Therefore, it is important that we can move product around the globe to fill plants to a maximum and make sure we meet customer demands."
As well as helping it to meet customer demand, Schäfer thinks that this type of flexibility will also ensure that Mercedes-Benz can weather any storms caused by political issues. He referred to trade barriers in China and tariffs from the Trump administration for steel and aluminium. "Furthermore, India has high custom duties and Russia is changing its duty scheme. We can't control these things, but a flexible production system gives us manoeuvrability," he concluded.
For more on OEM production strategies, keep up with the AMS Livestream series, including on light-weighting and design-for-manufacturing strategies, featuring Ford, Gestamp, SSAB and ABB
View AMS Livestream Hour on Light-weighting