The SMMT has published a new blueprint which sets out the UK's strengths in advanced automotive manufacturing, low carbon energy, and R&D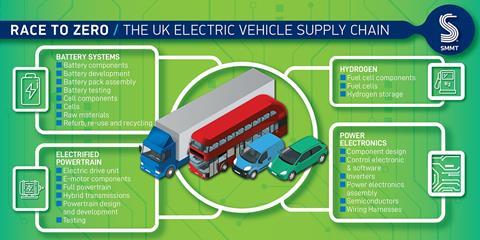 The UK's ability to compete as an EV production leader is 'at risk' unless the Government responds to 'increasingly fierce' international competition, the Society of Motor Manufacturers and Traders (SMMT) has said.
The SMMT has published a new blueprint setting out the UK's strengths in advanced automotive manufacturing, low carbon energy, and R&D. It also stresses the need for a response to initiatives such as the US Inflation Reduction Act (IRA) and EU Green Deal Industrial Plan.
Earlier this month, it was reported that Volkswagen is putting on hold a planned battery plant in eastern Europe, prioritising a facility in North America.
According to the Financial Times, the carmaker told EU officials that it expected to receive €9 billion to €10 billion in subsidies and loans from the $369 billion IRA, and is 'waiting' to hear how the EU would respond to Washington's incentives.
The SMMT's blueprint sets out a Green Automotive Transformation strategy which identifies investment, regulation and trade as the key pillars to anchor future vehicle production. De-risking private capital with more competitive incentives and action on energy costs, with support for the next British 'unicorns' in batteries and renewables, will stimulate greater investment in EV enterprises, the SMMT says.
Reform of regulation will accelerate delivery of new production facilities and renewable energy generation. Maximising trade opportunities would help secure access to essential raw materials. The SMMT says such moves will secure gigafactories which can underpin EV production.
To date, more than £11 billion has been invested by manufacturers in EV production locally, with fully electric or hybrid vehicles comprising almost a third of all UK-built cars last year, with an export value of £10 billion.
SMMT figures from earlier this year show that UK car production was stable in January 2023, with output down just 0.3% to 68,575 units. Combined battery electric, plug-in hybrid and hybrid electric vehicle volumes were up 49.9% to 28,329 units, and these represented 41.3% of cars made in January.
The UK is also ranked seventh best in the world's top 20 automotive manufacturing nations for low carbon energy. British energy generation emissions are some 17% lower than the EU average, and lower than those in Germany, the US, Japan and China.