PowerCo, Volkswagen Group's battery cell production subsidiary, has developed a groundbreaking process called 'dry coating' that is expected to transform the battery cell production chain. The technology is going to be further developed with printing machine specialist Koenig & Bauer to scale it up to mass production.
Volkswagen has announced that battery cell dry coating saves approximately 30% in energy consumption and 15% in total manufacturing floor space. The technology will eliminate industry-standard machinery involved in common 'wet coating' procedures which rely on chemical solvents and energy-intensive drying processes, having a potentially industrial-scale impact on cell production and manufacturing schema across the board.
The technology is predicted to minimise production costs by hundreds of millions of euros per annum, according to VW.
From wet to dry coating: a cost- and energy-saving shift in cell production
Currently, along the current battery cell production chain, electrode production is the most energy-consuming phase, and is made up of four sub-processes:
Mixing - where battery materials are mixed with solvents to a wet paste
Wet Coating - which is applied to carrier metal foils
Drying - the most energy-intensive step of electrode production, and
Calendaring - where the electrodes are compacted through rollers to reduce porosity and increase energy density
The dry coating technology simplifies electrode production. Once industrialised, it will eliminate the wet-coating and energy-consuming drying processes, and the entire resulting battery cell production chain will consist of dry mixing; in the form of a new powdery solvent-free material mix, and the calendaring process; with cells being thinly rolled directly onto the foil. In other words, only two process steps will be necessary, eliminating 50% of the current phasing involved.
"Our objective is to establish an industrial production of sustainable and affordable batteries."
As dry coating technology is 100% solvent-free, it will be "a giant boost in sustainable battery cell production," once it reaches scale.
Group Board Member for Technology at Volkswagen Group and chairman of the Supervisory Board of PowerCo, Thomas Schmall said, "technologies like dry coating showcase PowerCo's technological prowess. We have the necessary know-how and the right experts to take cell production to a new level and offer significant cost advantages to our customers. Our objective is to establish an industrial production of sustainable and affordable batteries."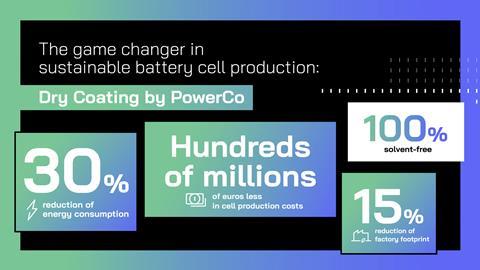 PowerCo's logistics organisation and securing the value chain
Beyond this game changing cell technology, PowerCo is also working hard to build the supply chain that will underpin Volkswagens battery distribution, and is already building up factories in Germany, Spain and Canada. The Volkswagen subsidiary was founded in 2022 in Salzgitter and has been going through some rapid developments. Following its logistical ambitions, AMS' sister publication, Automotive Logistics, recently reported that PowerCo intends "to build a network of battery cell gigafactories in Europe and beyond, bundling all battery activities and competencies across the group."
The company has outlined an investment plan amounting to €20 billion by 2030, and these plans are rapidly materialising into tangible developments. Since 2019, PowerCo has been operating an advanced R&D centre for battery cells, featuring a pilot production line, at its Salzgitter facility, and in 2021 it successfully inaugurated an innovative laboratory dedicated to battery cell research, which is now clearly bearing fruit in the cell-production dry-coating technology that it recently announced.
The subsidiary is also actively engaged in the construction of its inaugural gigafactory, 'SalzGiga,' using existing group powertrain and component production infrastructure, and intends to commence serial production of battery cells by 2025.
Highlighting its strategic vision for expansion, PowerCo began construction this past March for a second gigafactory, strategically located in Sagunto, near Valencia, Spain, which is expected to open by 2026. The announcement of its dry coating technology comes at a fortuitous time, coinciding with an expanding supply infrastructure that could potentially bolster distribution; angling PowerCo into a position of advantage in the market.
Earlier this year, PowerCo also announced that it would build a gigafactory in St. Thomas, in Ontario, Canada, which would open by 2027 and serve North America.
The next step will be scaling up to mass production.