Gestamp has joined the Catena-X data-sharing platform, which is designed to increase visibility in the supply chain and improve the flow of parts and materials.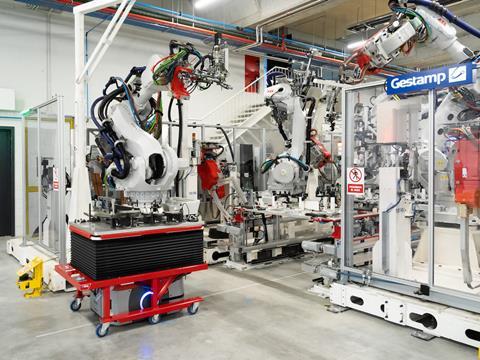 The Spanish tier one automotive component maker said being part of the platform will improve efficiency, transparency, and agility in business processes, including Industry 4.0 manufacturing, as well as further advance its environment, social and corporate governance (ESG) goals in the production and supply of metal parts.
Gestamp said that the implementation of common standards and the use of digital technology, which Catena-X supports, will ensure better system interoperability for it and its partners.
Formerly known as the Automotive Alliance, Catena-X was founded in 2021 by the German Federal Ministry for Economic Affairs and Energy, and the German Association of the Automotive Industry (VDA). It creates uniform standards for data and information exchange across the supply chain. The exchange of data is managed on a peer-to-peer system that aims to ensure security, confidentiality and integrity in the exchange of supply chain data. There are currently around 170 members using the Catena-X platform, including leading carmakers BMW, Ford, Mercedes-Benz, Renault, Stellantis, Volvo and Volkswagen.
In addition, at the beginning of 2023 the founders of Catena-X issued a request for service partners resulting in a new joint venture platform called Cofinity-X, which includes BMW, Mercedes-Benz and Volkswagen along with seven tier one automotive suppliers.
"Joining Catena-X is an opportunity to continue leading the transformation of the automotive industry, as well as to consolidate our role as the partner supplier," said Pablo de la Puente, chief information officer at Gestamp. "Catena-X's vision is aligned with our ESG and technology development roadmap, which are strategic to achieve our circular economy and Industry 4.0 goals.
Decarb credentials
Gestamp has developed a number of initiatives to advance these goals, including a greater reuse of high-quality scrap metal. At the end of last year it bought a third of Gescrap, the scrap recovery and recycling firm, and said the move would enable it to commit further to the circular economy and make greater use of recycled materials for production parts. In July this year it also signed and agreement with steel supplier ArcelorMittal to recycle steel. Gestamp already recycles 98% of waste generated from its operations.
Gestamp said the integration of scrap management into its business strategy allows for "complete lifecycle traceability by integrating the collection, sorting and reuse of quality steel scrap into its production chain" at a time when raw materials are scarce. The long-term goals of the strategy are a net-zero vehicle.
Becoming a member of Catena-X will also increase the efficiency and transparency of Gestamp's processes with its customers along the supply chain, according to de la Puente.
"Catena-X is pleased to welcome Gestamp to our association," said Oliver Ganser, chairman of the board of the Catena-X association. "Contributions from members like Gestamp are what make Catena-X the premier network solving the toughest challenges in today's automotive industry and we look forward to working with the Gestamp team to drive the sector into the future."
In related news, Anja Misselbeck took over as managing director of membership, transfer and office management at Catena-X on October 1. Misselbeck was most recently head of technology strategy at the German Association of the Automotive Industry (VDA), focusing on digitalisation for more than 20 years worked at the Daimler group, including Mercedes-Benz.