From finances to unions and electrifying its model range, domestic and global challenges abound for Hyundai-Kia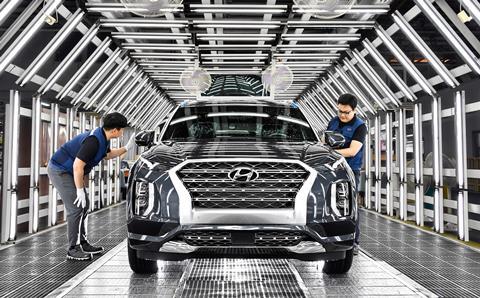 Hyundai and Kia, which is 32.8% owned by the former, form the core of the Korean automotive manufacturing sector. Far bigger than the country's other players – GM Korea, SsangYong and Samsung Motors – as well as major domestic plants, both brands have global production networks with manufacturing operations in China, the US, Mexico, the Czech Republic, Slovakia, India and Brazil.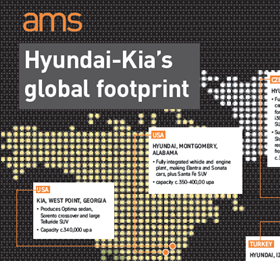 In recent years, Hyundai and Kia have suffered from a depressed local market and especially difficult conditions in China, India and Russia. Declining sales in these major markets have come on top of increased pressure to expand R&D in electric vehicles (EVs) and, crucially, accelerate the introduction of electric or electrified models.
Such issues combine to make this an especially challenging time for both brands, but H1 2019 saw some signs of improvement and there is an expectation that this will continue into the second half of 2019.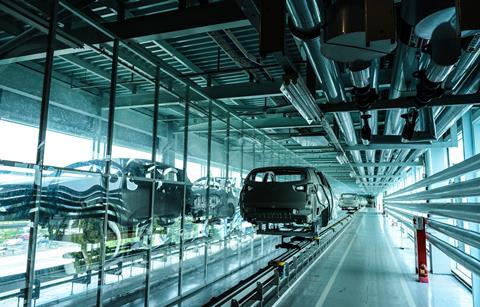 Depressed sales continue, but financial performance appears to be improving
Although there has been some improvement in Hyundai's financial performance so far in 2019, and despite more being anticipated in H2, global sales remain depressed: in the first eight months of the year, its global sales were 4.5% down, at 2.85m from 2.975m, while Kia's volumes were down 1.9% at 1.81m from 1.84m. Although disappointing, these declining sales figures have also been accompanied by an improvement in Hyundai's financial performance.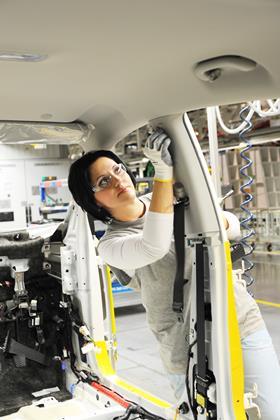 This is attributed to a combination of factors, including favourable foreign exchange movements; new SUV launches; cost-reduction programmes coming to fruition; economic stimulus measures in India and China; and improved domestic labour relations. However, dealing with this complex cocktail of problems has certainly stretched the two brands' management so far this year and their near-term prospects remain uncertain as a result.
One example of cost-reduction plans coming to fruition (but not without its own challenges) is a modular platform that is being introduced for new Hyundai models. This will help in the long run, but extending new platform technologies across the group's global network will not come cheap, nor will its introduction be quick.
The signs that things may be getting better were evident in Hyundai posting improved financial results in Q2/2019, attributed largely to favourable currency fluctuations, notably the won's weakness versus the US dollar, as well as the contribution from a number of new models. Its Q2 net profit was up just over 23%, and 26% for the full half-year. Revenue was also up 8.1% for the first half of the year, which was attributed to improvements to its model mix, especially with rising SUV sales, notably the new Palisade and Santa Fe models. The new Sonata mid-size and Kona small SUV should further boost the company's performance in the second half of the year.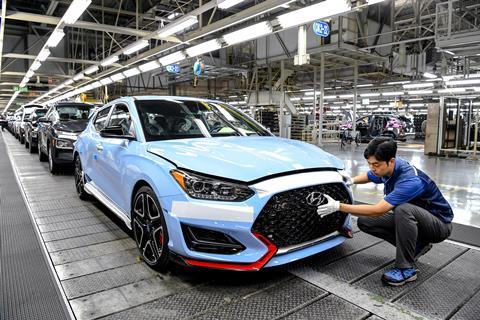 Union negotiations avert strikes
After a lengthy negotiation with its unions, in early September Hyundai announced that its workforce had accepted the lowest bonus the company had offered in almost 20 years. As a result, the company avoided its first strike in eight years, much to management relief, no doubt, as labour disputes elsewhere in the Korean automotive sector have been widespread in recent years. Hyundai's unions had been criticised for threatening strikes in the light of its workers' high average wage (equal to nearly $76,000 in 2018) accompanied by a wide range of benefits and some of the best job security terms in the country.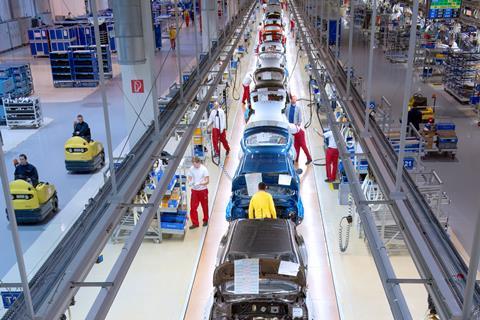 The lowest bonus in nearly two decades still amounted to 1.5 months' salary, plus a one-off payment of a further 3m won ($2,500). The removal of the strike threat is especially important as the company has been hoping that 2019 would see a recovery from six years of declining profits; the bounce back is expected to derive from favourable currency movements and a new series of SUVs, including the large Telluride in the US and the small Creta, which is now produced throughout the Hyundai network, except in North America.
Trade with Japan presents industry-wide challenge
The Korean economy has been struggling under the effect of an export ban from Japan, which is already hitting the country's automotive sector hard. The original vehicle manufacturing sector had grown on the back of licensed production and Hyundai and Kia are now capable of complete design, development and manufacture of vehicles. However, despite now having its own vehicle sector, parts of it remains reliant on Japan for certain technologies. This is notable in core components and materials used elements in battery cell manufacture and semi-conductors. Despite the rise to global performance of Samsung and LG in EV batteries, the country is dependent on Japan here and is unlikely to be able to solve this problem quickly. Unless they can overcome this, the country's pre-eminence in EV batteries will be under threat – and this will further undermine Hyundai and Kia's global positions.
New EVs central to future success
EVs are, naturally, seen as a core future business area. Hyundai's Kona small SUV and Kira's Niro hatchback EV are the key models at present, with further full EVs and a range of hybrids planned for launch in the next couple of years. These will include an electric version of Soul, a boxy minivan, which was launched that the Geneva motor show in March, where an all-new concept electric car was also shown.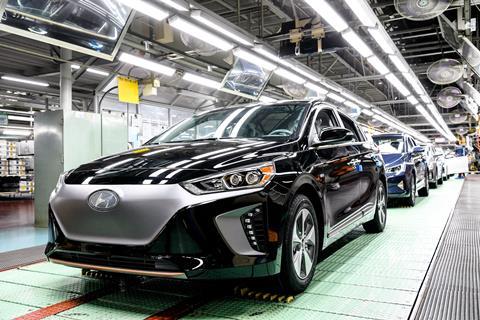 Hyundai's component subsidiary, Hyundai Mobis, is at the centre of corporate moves into EV technology. It has plant in Chungju, 150km south of Seoul, which makes drive motors, electronic driving units and integrated battery modules for both hybrids and full-battery EVs; a second plant is now under construction in Ulsan, in the south-west of the country. This is located next to the main Hyundai car plant and should be operational by early 2021. The new plant will make similar parts to the existing Chungju factory with capacity to make parts for 100,000 vehicles a year.
In addition to EVs, Hyundai is active in fuel-cell vehicles, despite, as at other vehicle companies, fuel cells remaining a niche activity. Even so, the NEXO fuel-cell vehicle is widening its market presence, with Canada one of the new markets to receive the model in early 2019.
China remains a concern
China is an issue for Hyundai, and indeed Kia. Sales for the first five months of 2019 showed that both brands saw a fall of 22%, to 343,000 from just over 438,000, in the first five months of 2018. This fall was much higher than the 13% for the market as a whole.
Sales in China have been hit by a lack of EVs for the market, as the Chinese authorities have introduced minimum sales quotas for new-energy vehicles. Also, the new China 6 emission standards have hit all brands' sales, including Hyundai. However, there have also been reports that Hyundai and Kia are suffering from unofficial boycotting of Korean goods in China following the Korean government's agreement to deploy the US THAAD missile defence shield.
In addition, Hyundai and Kia have both responded slowly to rising demand for SUVs in China; and in response to a decline in Chinese sales, Kia will cease production at one of its three factories in Yancheng, handing that facility over to its local partner, DongfengYueda. Kia's production capacity in China will fall by 140,000 to 750,000 as a result – but this is still more than twice its current production rates and its overcapacity in the country remains.
Similarly, Hyundai has over 1.6m capacity in China, but its utilisation rate in the country has fallen from 50% in 2018 to around 33% in 2019. Production may be stopped in part of its Beijing plant, but no definite decision has yet been made.