GM will expand the body shop and assembly, and add stamp and press tooling at its plants in Flint, Michigan, as part of a major investment in the production of internal combustion engine trucks alongside EV investments.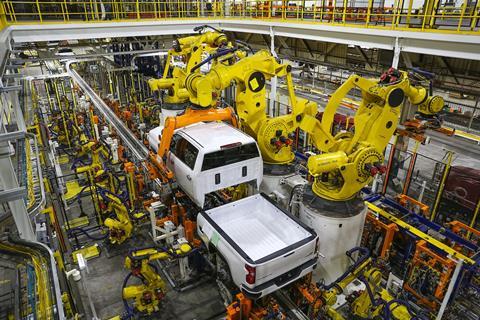 GM will invest $788m into the assembly facility to prepare the plant to assemble the next generation of ICE heavy-duty (HD) trucks, with plant updates including a body shop building expansion, general assembly conveyor expansion and new tooling and equipment. The Metal Center will receive $233m for new stamping dies as well as press refurbishments and new equipment.
Product details and release dates for GM's future HD trucks are not yet known, but the company said the investment highlights its "commitment to continue providing customers a strong portfolio of ICE vehicles for years to come".
Currently, the assembly plant builds heavy-duty crew and regular cab trucks including Chevrolet Silverado HD and GMC Sierra HD Denali and Sierra HD vehicles. In 2019, the company announced it would spend $150m on the plant to boost production of its best-selling pick-up trucks by 40,000 units annually. The Flint Metal Center produces sheet metal stampings for heavy-duty Silverado and GMC Sierra trucks as well as light-duty trucks, full-size SUVs and crossovers.
While the company is still investing in the ICE branch of its business, it is also funnelling funds into its electric vehicles (EVs), having this week announced plans to build a battery material facility in North America. GM is partnering with POSCO Future M for the second phase of their joint venture, estimated to exceed $1 billion, to help create a more secure EV supply chain.
The plans are the latest in a string of EV supply chain developments from GM. In April, GM partnered with Samsung SDI to build a new $3 billion battery cell manufacturing plant in North America. The plant will begin operations in 2026 and have more than 30GWh of capacity, bringing GM's total US battery cell capacity to about 160GWh when at full production. GM and POSCO Chemical also partnered in March last year to announce a new plant for CAM processing in Quebec, Canada. In 2022, GM announced it would be spending $6.6 billion across Michigan to construct a new manufacturing plant and develop EV pickup production.