General Motors (GM) and POSCO Future M are planning to build a new battery material facility in North America, in the second phase of their joint venture estimated to exceed $1billion.
GM said the move will help it create a more secure EV supply chain. The facility will produce Cathode Active Material (CAM) and Precursor CAM (pCAM), a specifically engineered combination of processed raw materials. CAM is a key battery material that represents about 40% of the cost of a battery cell in an electric vehicle (EV). The facility will provide for around 360,000 EVs annually, according to the joint venture. Site selection for the materials, which are mostly processed in Asia, is yet to be announced.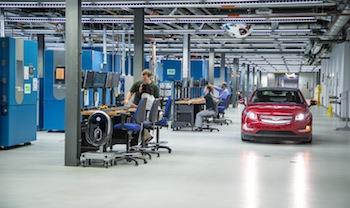 "Increasing CAM production capacity and adding pCAM to our joint venture is another significant step in building a more secure and sustainable North America-focused supply chain to GM's fast-growing EV production needs," said Doug Parks, executive vice president for Global Product Development, Purchasing and Supply Chain, GM. "We started by establishing battery cell production in the US. From there, we have been working through the entire battery supply chain, all the way to raw material recovery. We're building higher levels of vertical integration, driving expanded investment and helping create jobs across North America."
The companies have been working together since 2021, when they partnered to build a CAM processing plant that would provide for Ultium Cells facilities in Lordstown, Ohio and Spring Hill, Tennessee. At the time, GM said two more US-based Ultium cell plants are planned by mid-decade as GM increases its volume production of Ultium-powered EVs.
GM plans to install 1m units of annual EV capacity in North America in 2025, supported by four US battery cell joint venture plants with 160GWh of capacity. The Ultium CAM joint venture will support the production of 360,000 Chevrolet, Cadillac, GMC, Buick and BrightDrop vehicles in North America annually between 2025 and 2030. GM is launching more than 30 EVs globally by 2025, including the GMC Hummer EV, the Cadillac Lyriq and the Chevrolet Silverado EV.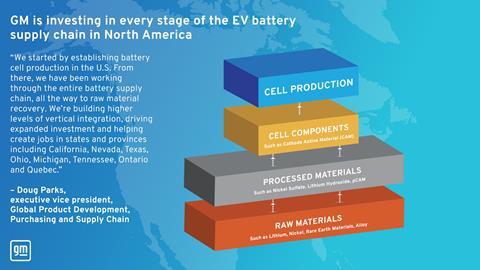 Kim Joon-Hyung, president, POSCO Future M said: "We are experiencing rapid growth of the EV battery materials market across North America. I believe our joint venture will fortify its position in the secondary battery material industry with this proactive decision to increase CAM production and bring pCAM production to North America."
The plans are the latest in a string of EV supply chain developments from GM. In April, GM partnered with Samsung SDI to build a new $3billion battery cell manufacturing plant in North America. The plant will begin operations in 2026 and have more than 30GWh of capacity, bringing GM's total US battery cell capacity to about 160GWh when at full production. GM and POSCO Chemical also partnered in March last year to announce a new plant for CAM processing in Quebec, Canada. In 2022, GM announced it would be spending $6.6billion across Michigan to construct a new manufacturing plant and develop EV pickup production.