Stellantis and Samsung SDI have announced that their joint venture StarPlus Energy will build its second US gigafactory in Kokomo, Indiana.
StarPlus Energy's first gigafactory, which is currently under construction, is also located in Kokomo. The addition of the new lithium-ion plant, which had previously been announced without a confirmed location, will make the region Samsung's largest production base for EV batteries in North America.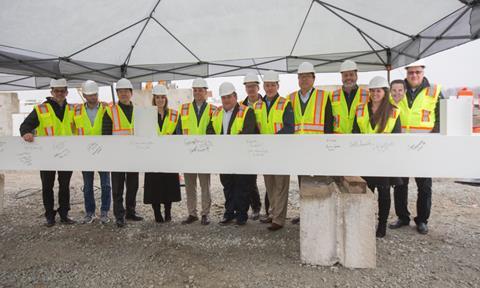 The first facility, which was announced in May last year, is set to begin production in the first quarter of 2025, with the second facility due to begin production in early 2027. The combined annual production capacity of the two gigafactories will reach 67 GWh, with the first factory having a capacity for 33 GWh and the second having 34 GWh.
The combined investment across both facilities will total $6.3 billion, with the JV set to invest $3.2 bn in the new battery plant.
Mark Stewart, COO, Stellantis North America said that the State of Indiana and the city of Kokomo created "a compelling case" for locating the new gigafactory in the region. He added: "The BEVs coming to our North America brands play an important role in our drive to offer clean, safe and affordable mobility for all and achieve the bold goal of carbon net zero by 2038."
Stellantis has been heavily investing in Kokomo in recent years, particularly in localising the production of its electric vehicles. The OEM is set to invest $155m in three Kokomo vehicle manufacturing plants to produce new electric drive modules (EDMs) that will help power future EVs assembled in North America. These investments are being made at the Indiana Transmission, Kokomo Transmission, and Kokomo Casting plants.
Two of the above plants – Kokomo Transmission and Kokomo Casting – are currently being indirectly affected by UAW union strikes that have been ongoing against Stellantis, Ford and GM. Stellantis said that it expects to temporarily layoff an estimated 300 employees at the two Kokomo facilities.
Yoon-ho Choi, president and CEO, Samsung SDI said: "We expect Stellantis brand vehicles, powered by Samsung SDI batteries featuring supreme technologies, to contribute to accelerating the US transition to an era of electric vehicles."
The new Gigafactory in Kokomo is Stellantis' sixth battery facility globally to support the OEM's 'Dare Forward' electrification plan, which aims to reach 100% passenger car battery EV sales mix in Europe and 50% passenger car and light-truck battery EV sales mix in the US by 2030. To achieve this target, the carmaker is planning on securing 400 GWh of battery capacity.