The VW Group is building new battery production capacities in Valencia and at the Seat headquarters in Martorell to support further electric vehicle production in the region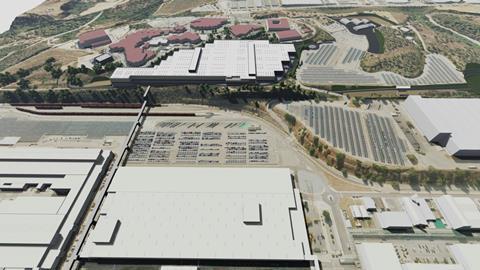 In the latest part of this development, Seat S.A. President Wayne Griffiths recently announced that company has applied to the Battery PERTE VEC, part of Spain's Strategic Projects for Economic Recovery and Transformation (PERTES) programme updated to include the development of electric vehicles, with a project to build a new battery cell assembly plant at Martorell.
Wayne said: "We are going to invest an additional €300m to build this facility, which will also be used to assemble the cells that PowerCo will manufacture at the gigafactory in Sagunto, Valencia."
The new facility will cover around 64,000 square meters and be connected to production hall 10, in which electric models such as the upcoming Cupra Raval will be manufactured. In this way, Seat wants to optimise the logistical processes and further reduce the ecological footprint. Seat plans to complete the construction work in 2025.
This hybrid approach to cell production, with the initial stages of production being done a dedicated plants followed by the cells then undergoing final processes and assembly at the vehicle manufacturing facility, is also being adopted by a number of other vehicle makers as they look to gain greater control of the cell production value chain and become less reliant on outside suppliers.
The VW Group has said it planning for Spain to become a "European e-vehicle hub" in the future. To this end, the carmaker is investing €10 billion building up its own battery cell production and battery assembly capacities.
Volkswagen builds gigafactory in Sagunto
"The investment of €10 billion will electrify Spain and Europe's second largest automobile manufacturer, create a battery giga factory in Sagunto, enable the production of electric vehicles in the Martorell and Pamplona plants, and build a comprehensive supplier ecosystem," announced Volkswagen's then CEO Herbert Diess in 2022. His successor Oliver Blume is consistently pursuing the strategy.
VW is planning to set up a cell factory for battery production in the province of Valencia. This should have an annual production capacity of 40 GWh and supply the total volume of the plants in Martorell and Pamplona. The site is expected to employ more than 3,000 people by the end of 2023, with production starting in 2026. The Sagunto site is around 300km south-west of Seat's headquarters in Martorell. The new cell factory will also supply the vehicle plant in Pamplona. The VW battery division PowerCo has also opened its own branch in the centre of Valencia in order to coordinate activities in Spain from there.
Seat invested more than €7m in the Test Centre Energy (TCE) in Martorell last year. Covering around 1,500 sq. m, employees at the facility test and develop energy systems for electric and plug-in hybrid vehicles from Cupra, Seat, Seat Mó and other brands.
Electrification of urban electric vehicles
Together with partners VW plans to build a total of six battery cell factories in Europe with an annual capacity of 240 gigawatt hours. The Salzgitter site, which is scheduled to start production in 2025, and a joint site with Northvolt in Sweden have already been confirmed. In 2027, a new plant in St. Thomas, Canada, will provide capacities of up to 90 gigawatt hours for the group's unit cell. In addition, the construction of a new cell factory in Eastern Europe is in the pipeline, but no information is yet available on its exact location. Possible options could be Hungary or Serbia.
This article first appeared in German in Automobil Produktion, an AMS sister publication