The skateboard platform has been favoured for battery electric vehicles because it offers a simple, flexible packaging option for battery packs and the electric motors. It can also accommodate a wide variety of body configurations. AMS spoke with REE Automotive for some insights into the production and application of its corner technology
Established in 2011 REE Automotive has been developing its REECorner units to deliver a modular, in-wheel motor/steering/braking solution for electric vehicles. The company has now further developed its technology and is actively targeting the LCV delivery segment. Most recently the company unveiled its P7 EV chassis for class 3-5 commercial vehicles.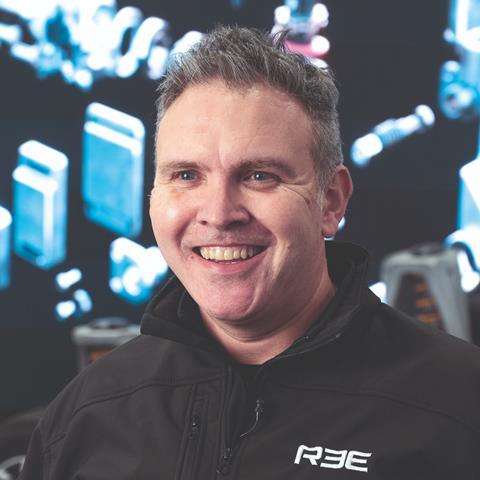 This ongoing development has now produced a complete vehicle platform package with the REEBoard, X-by-wire and safety systems. The company's vice president of Engineering, Peter Dow, prefers to describe this as "more of an architecture than a platform". Using the P7 as an example, he notes that there are essentially three 'layers' to this architecture:
"We have the corners of control, then there is the platform that takes that corner of the control architecture and integrates it into a chassis power supply and a high/low voltage and cooling system, which gives you a skateboard platform.
"The third element is the body build on top of that. It can be a complete body, or we can provide a cab chassis that box builders can then add to. But this architecture starts with the corner technology and retains a common dry steering and braking system within that corner regardless of the body configuration.
"The P7 is an application of this. We can take the corners, and within our modular architecture we can build different size platforms, because the corners give you the flexibility in wheelbase and track."
The company is also looking at different weight classes in the commercial vehicle segment so there are variations in the mechanical/mechatronic parts for the corners depending on the application. These consider the weight, durability, etc. So, different suspension and braking configurations are available, while still being packaged in the corner unit.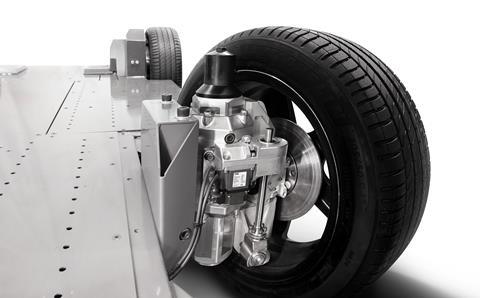 Vehicle control software
However, aside from the corner design one other less visible part carries across all vehicle types and segments, the control software. This is a key part of the corner units, each of which has its own control unit that operates steering and braking functions. Dow notes that this is something the company has been developing for several years.
"That software has been developed over those years as an architecture, and that now is being carried through into the current products.
This common software control system supports vehicle platform flexibility. Dow explains that the control software is standardised, transferable and, importantly, flexible allowing it to be fine-tuned to different use cases and easily updated.
"The core idea is that we want to be able to provide platforms for our customers quickly, and in the volumes that allow people to have more of a bespoke product. So, we're talking of providing in the thousands, not the tens of thousands or the hundreds of thousands," says Dow.
He adds: "If you take the common software and fine-tune it to the vehicle application and then add the standard mechanical parts, you can then make a very quick-to-market product for clients."
Faster speed to market
Speed to market is an important factor for the LCV segment. Delivery companies want to quickly transition their short distance delivery vehicles to electric powertrains and REE Automotive are one of a number of the new generation vehicle makers that are targeting this segment. Flexible skateboard EV platforms with the option of creating bespoke load carrying space suit the demands of this part of the logistics sector but they also need proven technology and robust, reliable vehicles.
Dow notes that this is an important competitive edge the company has sought to develop:
"Going through a conventional kind of vehicle development you're probably looking at a five-year project to go from a blank sheet of paper to something on the road. But when you consider the current speed of technology development, it's possible that what you decided on at the start could be out of date in five years.
"Speeding up the vehicle development process also reduces cost, but I also want to counter this by noting that while we are developing vehicles more quickly, it must also be done in a safe manner.
"We are balancing delivering a vehicle programme quickly but making sure we work to a rigorous test plan. A validation programme that ensures that we are delivering a safe, reliable vehicle. In some cases, we are trying to slow our customer requests down a little bit to make sure we can give them a reliable product.
Taking a collaborative approach
Collaborations and joint ventures to source and share technologies and competences are now a key part of the automotive industry's transition to e-mobility. And REE Automotive are no exception. In recent years the company has formed several partnerships with tier suppliers and OEMs. These have supported development of both a manufacturing network for components and the applications for the corner units.
Dow explains the company's approach: "We have a phrase which is, 'we want to complete, not compete', so we are trying to find partners that allow us to complete the whole offering. We want to be small and focused to ensure that we are achieving our goals, and our work with our partners complements that and builds on our developments.
"For example, we are working very closely with American Axle on co-development of our electric drive units. We are also working with Brembo on our brake system, taking that component and co-developing some of the software."
Designing and developing a new vehicle architecture is one challenge but getting into series production is a big hurdle when you don't have an established manufacturing operation. REE Automotive has leveraged its partnerships with manufacturers to create a networked supply chain for finished modules that the company then assembles into complete corner units. The company reports that this network of tier 1 suppliers provides access to 320 production lines for the different components.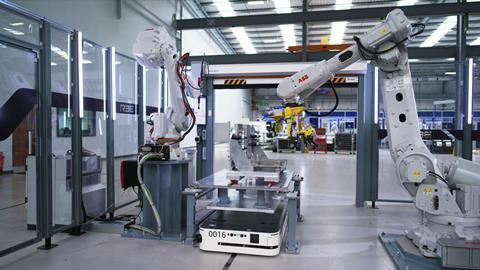 Flexible, scalable production
The company has set up an integration centre in Coventry, UK where the sub-assemblies manufactured by the tier suppliers are assembled into the complete corner unit. "The parts are assembled across 12 stations at the integration centre to build one complete corner. So, we don't call it a manufacturing site, it's an integration, assembly site," explains Dow.
"Our supply base manufactures the sub-assemblies first. They come to us completely pre-assembled, so we don't perform any other processes other than the final assembly of the complete corner unit, and that makes that assembly line very transferable to different locations because it is a very compact line," adds Dow
Adaptability is a key feature of the P7 architecture, so it must be able to accommodate a variety of upper body structure designs (top hats) from different suppliers and partners. The company has designed integration points into its skateboard platform to connect low-voltage electrics, cooling and heating into the top hat bodies. Dow explains how they have approached this: "We've essentially got a manual we can provide that works with that platform. We also have a feasibility team that works with customers, because you've got to look at things such as the load balance on the axles and the weight distribution on the vehicle."
Future technology steps
REE Automotive has been demonstrating its corner architecture to prospective customers with positive results and in this year's third quarter finical results reported orders for its Proxima Powered by REE (featuring an EAVX and Morgan Olson body design) and P7-B vehicles from US based fleet operators. Asked about future developments and technical steps, Dow offers a few areas where he sees opportunities: "We are working with the battery suppliers to understand the different technologies because at present your battery load is offset against your payload and with the commercial vehicle sector the payload is king. Every time you fit a bigger battery you jeopardise your payload, so there's a need for more efficient batteries for LCVs. That is a key technology that unlocks the payload capacity.
"Braking is another really interesting area of development. We've seen a lot of one pedal driving with electric vehicles, so you don't use your foundation brakes as much. So, I believe brake systems will evolve with fluidless electrical systems, using as much of the braking energy as possible in a regenerative mode, not lost into heat and friction."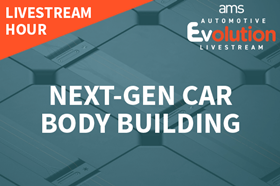 Hear more from Peter Dow speaking on our recent livestream on next-gen car body building.