Automakers are seeking to simultaneously make lighter battery casings that also offer rigidity and the thermal properties to support the battery's performance.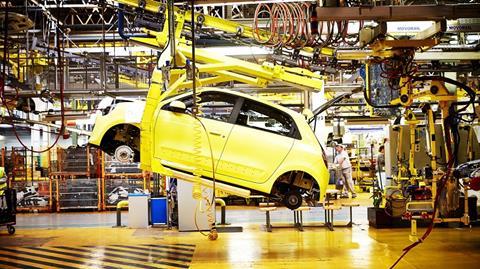 France's Renault and Chinese component maker, Minth Group have formed a joint venture to produce casings to house batteries in electric vehicles.
The tie-up will be based at Renault's Ruitz factory in northern France where two production lines will be installed next year with capacity to make 300,000 casings per annually by 2025.
It will build on Renault's lengthy experience in electric car production as the company that launched the Zoe EV almost a decade ago, with Minth's know-how in battery casing production.
The casings will be assembled using friction welding of extruded aluminium parts and they will be fitted to future Renault EVs including the 5 model which the automaker has confirmed will be revived in electric guise.
Renault aims to produce 480,000 electric cars per year from 2025 from three plants in northern France which comprise its so-called ElectriCity cluster of factories. They are Douai, Maubeuge and Ruitz.
Along with the batteries themselves, battery casings or housings have become the focus of research by carmakers with potential to improve their performance in a number of areas.
This includes their integration into the car body such that they take on a secondary structural role alongside protecting the batteries.
Thermal properties are another area of investigation due to the significant deterioration of lithium-ion battery performance in extreme climates, both hot and cold.
Researchers are also seeking to shave weight off the casings even as they pursue these other physical properties, to prevent the casing's mass from sapping too much range from the battery pack.
The joint venture remains subject to regulatory approval and the backing of unions, the company said, with which it plans to be established by early 2