Digitalisation is helping to scale up battery cell production in North America through improving standardisation and traceability and ensuring quality of materials.
Speaking to delegates at this year's AMS Automotive Evolution North America conference, a panel of experts in the battery cell production process said that digitalisation can help enhance production of EVs, making them safer, more efficient to build, and more reliable.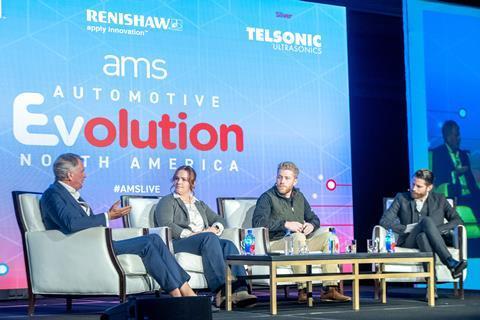 Greg Ruscak, engineering manager, Telsonic said the welding and machining supplier is working on a digitalisation platform to standardize the collection of data and improve traceability of parts.
"With that, we'll be able to tie that into the manufacturing process and provide our customers with real-time data to support their manufacturing," Ruscak said. "That's something that we have in the works, and something that we're constantly developing, and working on with our customers to help us build that database."
Panasonic Energy has been looking to scale up battery production capacity, and has planned to increase the output of batteries for EVs at its Gigafactory Nevada, a JV with Tesla, by 10% over the next three years.
Aside from strategic partnerships like the JV with Tesla, Abby Chitwood, director of expansion engineering at Panasonic Energy of North America thinks digitialisation can help with increasing battery production, as well as improve quality control in both battery cell manufacturing and storage, and even prevent future defects or damage.
She said that Panasonic Energy is using digital twins to monitor environmental conditions within facilities and their effect on the battery cells. "We are able to go into the digital twin and look at what the room condition was like when a defect occurred and see if that was a root cause," Chitwood said. "Being able to do true root cause analysis and making data driven decisions is incredibly powerful, and we can then use AI tools to help us with that."
Read more: Abby Chitwood tells AMS how Panasonic Energy is reducing emissions in battery cell production
Chitwood added that the company has "a whole team dedicated" to analysing these root causes, which in turn helps prevent damage and improve quality and efficiency in the EV battery manufacturing process.
Similarly, Telsonic's Ruscak said that using digital tools is essential in ensuring the quality of welding in battery manufacturing is up to standard.
He explained that the welding process for cylindrical cell batteries is incredibly quick, as one of the primary materials used in the process is aluminium, which oxidises almost instantly. As a result, the process has an extremely narrow timeframe – between 10 and 30 milliseconds – which makes the quality of the weld nearly impossible to determine without the use of technology.
"Using this digitalisation strategy and monitoring the inputs to the process, we're working on tightening the quality window," he said. "This strategy is helping us narrow in on the variables that affect this quality window for batteries."
Lars Carlstrom, CEO and founder of Italian battery cell manufacturing company Itavolt, has been engaged in California through his stateside venture Statevolt. The US company is building a "technology-agnostic" gigafactory in Imperial, California, and is currently awaiting planning permits which he said are expected within the next three months.
In Italy, Itavolt worked with Israel's battery technology firm StoreDot, and Carlstrom said he plans for Statevolt to use a similar approach. "We made a choice to team up with partners on technology because I think it's far too risky for us as a newcomer small operator to start developing our own technology," he said. "First of all, it's very costly, and it's very risky. We are targeting energy storage and having different types of cells to diversify so that we can have a scalable, modular factory that can accommodate multiple technologies in the factory. It's less risky in that way and has higher margins."
He said that the company is also using digital twins, as they are useful in planning and will "help to scale up the activities significantly" in the future.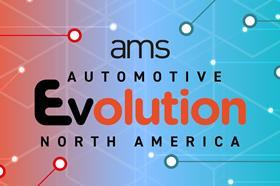 AMS Automotive Evolution North America took place on 7-8 October in Dearborn, Michigan. Register now for 2024 here.