Returning to Detroit for the first time in over 10 years the AMS Automotive Evolution North America event delivered expert panels and a fully engaged audience who combined to share their valuable insights and experience, through panel discussions, Q&A and networking. Here are some of the highlights from the sessions.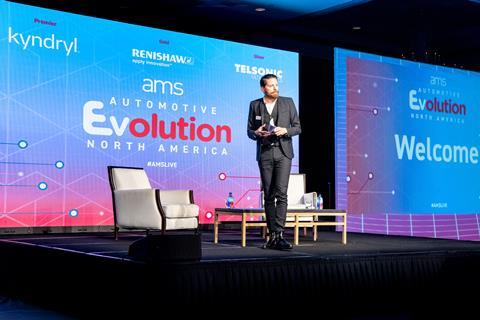 Doubling down on digital twins and managing the metaverse
The AMS conference was off to a great start with a presentation on very topical subject, Digital Twins and the future of the metaverse for automotive production, delivered by Brian Breuhan, Senior Manufacturing Engineer, Advanced Technology at General Motors.
Breuhan offered an overview of digital twins and some of the applications and benefits including examples of two, large scale automotive projects, starting with Mercedes-Benz MO360 and its application in vehicle assembly. He also discussed BMW's iFactory which uses high resolution digital twin in its production planning and workforce training operations.
Breuhan described the concept of the industrial metaverse as being "the backbone to connect the accumulated I4.0 technology, so it would take care of IOT and virtual validation and allow you to take full advantage of extended reality and any number of AI applications."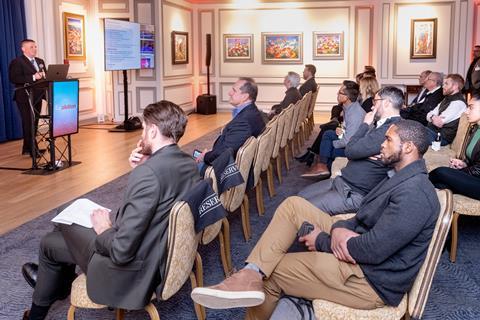 And, while the digital twins being created are a continuously evolving tool, so too is the software being developed to create them. Breuhan noted that amongst the software platforms he had used there were still some compatibility issues and functional gaps. But he added that these platforms were also being developed.
The possibility to connect machines, processes, data across the varied departments of a manufacturing plant or global production network offers the opportunity to break down 'siloed' working practices and improve productivity and collaboration in production teams.
Despite the potential for large scale digital twins, Breuhan's view was that manufacturing teams should target 'easy wins' when approaching process improvement, as a starting point as smaller, more achievable goals applied to specific operations would take less time to validate and provide a good base from which to scale larger tasks.
He noted that he believed that the metaverse should be "deeply human-centric." This is because the data it can deliver supports the workforce helping to improve productivity. With this in mind Breuhan suggested any metaverse should be designed with the user's needs being the focus.
Breuhan explained this would need a change in working cultures "so it needs to be human-centric so that people understand the data and how it's presented to them"
Market trends and challenges
Day two kicked off with a high-level analysis of the North American car markets that are driving production. S&P Global Mobility's Associate Director, Americas Light Vehicle Powertrain forecasting Eric Anderson noted that North American light vehicle sales wouldn't increase over the short term, with the trends of less financial incentives and higher interest rates being key factors across the US, Canada and Mexico. He also pointed to lost production due to the strikes in both the US and Canada impacting inventories of new vehicles.

Anderson said that there would short- and longer-term repercussions of the ongoing strikes at Ford, GM and Stellantis, particularly the effect on the supply chain. He pointed to cash flow issues for some of the smaller companies with extended stoppages to production of components for OEM, and other supplier further up the chain putting some businesses at serious risk of closure.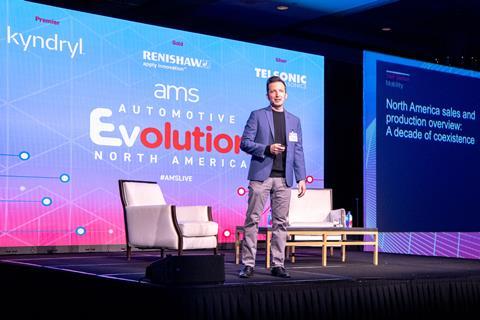 Suppliers are also feeling the impact of battery electric vehicles (BEVs) on the production/supply ecosystem, according to Anderson, with those involved in ICE powertrain and transmission production perhaps most at risk as demand for ICE's will decrease significantly in the coming years.
Labour shortages in the automotive industry, already a challenge before the strikes, could be exacerbated by those laid-off auto workers finding alternative employment outside the industry. Anderson added that increasing costs from the yet to be finalised negotiations would tighten spending by the OEMs.
Something that Anderson described as 'the elephant in the room' was Chinese vehicle makers' growing market share in Mexico, with potential localised production also looming.
Scaling battery cell production
Battery cell production has rarely been out of the news in recent years, with headlines filled investment in new gigafactories to meet the expected demand for electric vehicles. Although growing in number many of these remain unbuilt, stuck in planning approvals or seeking the considerable investment required to construct and operate.
Session 2 featured a panel of experts who shared three individual perspectives on battery cell production with some deep insights into challenges in producing these vital components.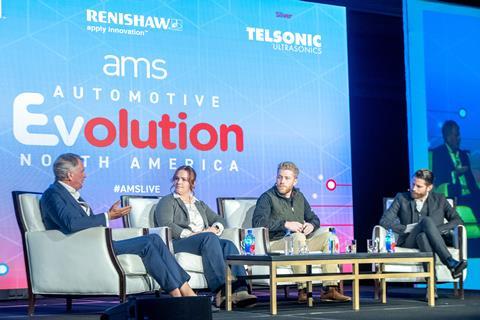 Lars Carlstrom, CEO of Statevolt and Italvolt, said they were going through the complex process of establishing a gigafactory in California where the project benefitting from a shorter permitting process, and the company was developing a modular and, importantly, scalable production operations that could be readily duplicated and transferred to additional locations as they were built.
He also noted that Statevolt would be using localised sourcing for lithium but also pointed to the geopolitical challenges of sourcing battery materials more widely.
Panasonic Energy of North America already has an operating gigafactory in the US, located in Sparks, Nevada, known as Gigafactory 1 (GF1). The company is now in the process of constructing a second plant in De Soto Kansas. Abby Chitwood, Director of Expansion Engineering discussed the set-up of this new facility and the planned ramp-up of production. "We're looking at density, how many GWh per sq. ft you can get out of a facility, costs per sq. ft and overall ramp-up in terms of equipment density."
Chitwood also acknowledged the supply chain challenges associated with the project, and not least the difficulties in construction labour shortages, given an 'aggressive' timeline to start production in Q1 2025.
Getting into the detail of cell manufacturing processes was Greg Ruscak, Engineering Manager at Telsonic. He noted that although there are a variety of different battery formats the cylindrical type were the most common and that the company was scaling its equipment for large scale battery production. Quality control is an important factor in high volume cell production, Ruscak noted that Telsonic has been working on a digitalisation platform to standardise the collection of data from welding processes and improve traceability.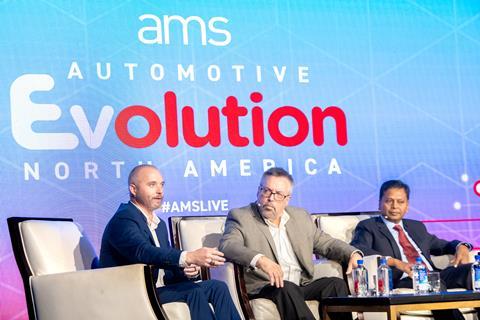 Making digital tools work for you
The event had started with presentation on digital twins, outlining the potential of these digital tools a highlighting some large scale projects. Session 3 took a deeper look at the operational realities of deploying these tools on the shopfloor. Trent Randles, Manufacturing Engineering Manager, BorgWarner, set the scene with some insights into projects to improve production efficiencies and reduce waste at the company's Seneca plant in South Carolina.
Randles discussed the introduction of digital tools, including digital twins, the need to secure the right expertise to support the project and the importance of having the workforce 'buy in' to the process.
These views were shared by fellow panellist Dan Skulan, General Manager – Industrial Metrology, Renishaw, who shared his experience working with OEMs and tier suppliers on similar projects. He stressed the need for companies to have a clear strategy around digitalisation of processes and to identify exactly what outcomes they were aiming for.
Raj Sohmshetty, Mentor-in-Residence, Wayne State University Office of Business Innovation & Technology Commercialization offered some insights into his work with digital twins at Ford, where he held various roles including technical Specialist in Research & Advanced Engineering, working on projects related to Industry 4.0, AI/ML, robotics/automation, manufacturing data analytics. He identified the need for companies to properly understand how digital twins worked and how best to deploy them in the respective applications. He concurred with both Randles and Skulan on the need for clear goals and fully engaging the workforce in the projects.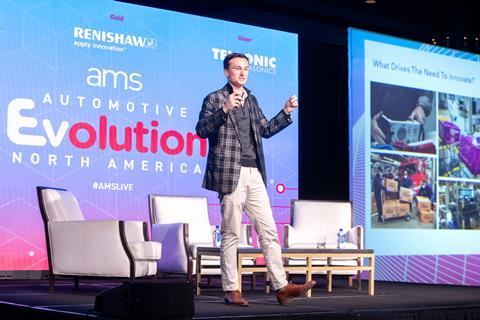 Unlocking opportunities to innovate
The term transformation is used a lot to describe the automotive industrys' shift away from ICE vehicle production. Sharing insights into how this looks in reality, and the opportunities this move is creating was Paul Stephens, Manufacturing Transformation Lead at Ford.
In Session 5, Stephens focussed on the development of the OEM's Blue Oval City facility under construction in Tennessee. The $5.6 billion battery and vehicle manufacturing campus will be the largest in the Ford's network and the company's first new green field plant in more than a generation and Stephens noted the green field projects like this unlock more opportunities to innovate. Also, that innovation was vital to stay competitive.
But to turn the blank slate into a functioning, efficient production operation needs the right strategy, choosing and developing technologies that will be fit for the future and engaging with stakeholders. Stephens observed that a project on this scale requires a strong growth mindset and a willingness to 'think outside the box'.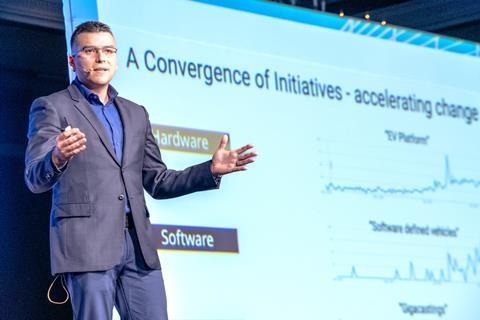 Creating a collaborative culture
Co-creative evolution – integrated product, engineering and manufacturing planning was the intriguing title of Session 6, delivered by Leonel Leal now an advisor to the Mobility Industry, but with an impressive range of experience covering Tesla, Faraday Future and more recently, Ford.
At the heart of Leal's presentation was the need to collaborate across design, engineering and manufacturing. His view was that to really innovate, to realise projects to their end point it was important to change the approach to these projects, to avoid operating in 'single lanes' but instead focus on converging initiatives and allow them to build upon one another creating one big theme.
This he noted would need a change in culture, empowering talent and re-evaluating and reprioritising 'what should stop' and 'what should start'.