Panasonic is planning to grow the production of batteries for electric vehicles (EVs) at Gigafactory Nevada by 10% over the next three years.
The lithium-ion battery factory in Reno, which is a joint venture with Tesla, currently has a production capacity of 37 gigawatt hours (GWh) annually, or the equivalent of producing batteries for more than 500,000 EVs per year.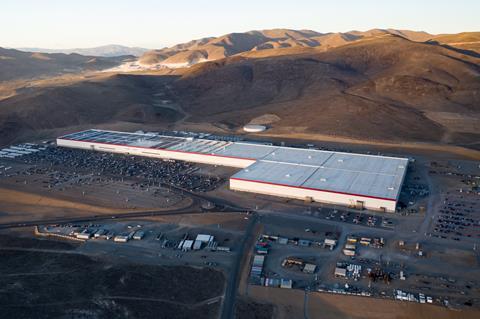 Panasonic said that the gigafactory has already improved production capacity by more than 5% in an update to investors this week. Kazuo Tadanobu, president and CEO, Panasonic Energy said the goal of increasing capacity 10% by 2026 would drive the company's goal of a 200GWh global production capacity by 2031.
"In order to respond to quickly growing EV demand by 2031, we will be increasing our capacity to 200GWh," Tadanobu said on the investors call. "We have built a good track record in North America. We are one of the pioneers. We would like to expand our capacity to solidify our competitive edge there."
Panasonic plans to achieve this through three initiatives. First, the company plans to produce higher-capacity batteries. Second, Panasonic plans to increase local procurement in North America with an enhanced supply chain and materials with lower carbon footprints. Finally, it will expand capacity in existing and new locations, including the upcoming factory in Kansas and a third North American battery factory expected to be announced by the close of this year.
Tadanobu added: "We will take advantage of our production experience at the Nevada factory, the largest in North America, and continue to evolve our manufacturing capabilities at the new Kansas factory."
To date, the Nevada gigafactory has produced 7.3 billion battery cells, 1.5m battery packs and 3.6m drive units, according to Tesla. At the beginning of the year, the carmaker said it will be investing over $3.6 billion to grow the facility further, adding 3,000 new workers to the 11,000 existing staff. Further factories will be added to the location, including a factory to produce 100GWh 4680 battery cells and a factory for high-volume production of Tesla's fully electric Semi truck.
Earlier this week, an analyst told AMS that the battery EV market is going to be hit in the back end of this year due to the competitive pricing that Tesla can afford. Mike Dean, automotive equity research analyst at Bloomberg Intelligence said: "Tesla has cut its pricing, which is impacting the BEV transition. European legacy carmakers don't have the same scale or margins as Tesla, so they're making limited profit margins on their BEVs."
In March, Tesla announced its plans to build a new EV factory in Nuevo Leon, Mexico, which will be supplemental to the output of the rest of its factories according to CEO Elon Musk.