Italvolt founder Lars Carlstrom has a mission to scale up EV battery production in Europe with a new factory in Italy – and a blueprint for scaling up gigafactory development. He speaks to Christopher Ludwig and Daniel Harrison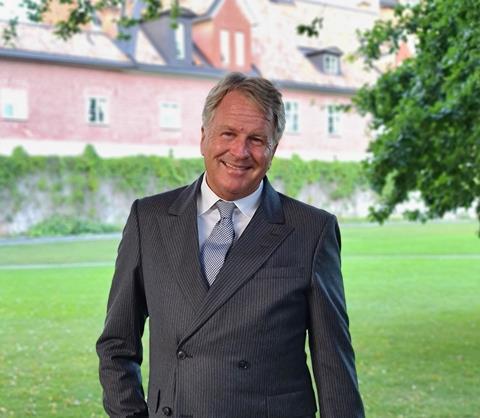 As European OEMs ramp up electric vehicle production, and the EU, UK and other governments across the region seek to phase out internal combustion engine vehicle sales, the demand for lithium-ion batteries is skyrocketing. To meet this demand, carmakers, battery cell manufacturers and start-ups are rushing to increase supply and production of battery cells, with many 'gigafactories' planned across Europe.
While regional production in Europe will be a must to meet demand, efficiently scaling production of battery cells will be a challenge for the industry. A largely chemical process, battery cell production differs significantly from any automotive components and requires specific technical, safety and handling considerations that can also limit output. Likewise, many upstream materials and minerals will continue to be imported, putting further constraints on regional production.
A newcomer on the scene is Italvolt, which is planning a 45 GWh battery gigafactory in Scarmagno, near Turin in Italy's Piedmont region, at the site of a former factory from Italian telecommunications producer Olivetti. Italvolt, which is set to begin initial production in 2024 has a different approach to the battery market: it will establish gigafactory production itself as its key offering.
According to founder and chief executive officer Lars Carlstrom, Italvolt is taking a modular approach to building its gigafactory and will seek to replicate the model elsewhere. Meanwhile, it will partner with another company – with a final decision expected early in 2022 – to develop the battery technology that the plant will eventually produce.
For Carlstrom, a native Swede who also founded battery production start-up Britishvolt in the UK, suggests the need for gigafactory capacity will make such production knowhow a scalable IP. He also sees regional battery production as one of the great employment and sustainability drivers of the green revolution. But gigafactories will need support and collaboration from government, as well as continuous innovation from engineers and manufacturing experts to reach such potential.
Size matters, but do speed and people
What were the key considerations for you in choosing to build the Italvolt gigafactory in the Piedmont region of Italy?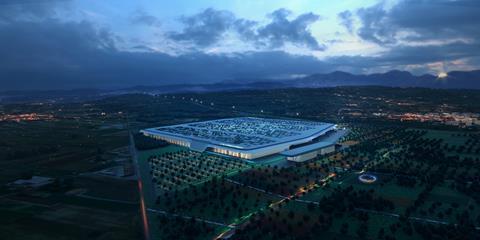 Lars Carlstrom: Firstly, you need to have a big site, preferably 100 hectares (247 acres). In our case the size of a 45-gigawatt production facility needs at least 80 hectares to accommodate the large building. We now have up to 420,000 square metres of engineering space. You also need to have areas for supplying and feeding the factory, with considerable additional space for the logistics. The logistics infrastructure in terms of highways is also important, and so is being within reasonable distance to a port. Also, the site requires a large grid connection, or at least to have access to one in the area, and that's another difficult part.
You're building the Italvolt gigafactory at the site of a former Olivetti factory in northern Italy. What made you choose to develop this site?
In Italy it's been a bit difficult as we are not allowed to build on greenfields. We need to build on brownfield, which means that we are limited to sites with this kind of magnitude. There are very few of them in Italy, maybe two or three of them that can accommodate a factory of this size. We are very lucky to be at the Olivetti site outside Turin. Scarmagno was a prospering area until 1992 when up to 5,000 people were working in the area. But since Olivetti left the scene, the area has been in severe decline and with many difficulties. This could be a great cure for the area and going forward. That's a very important ingredient in what we're doing right now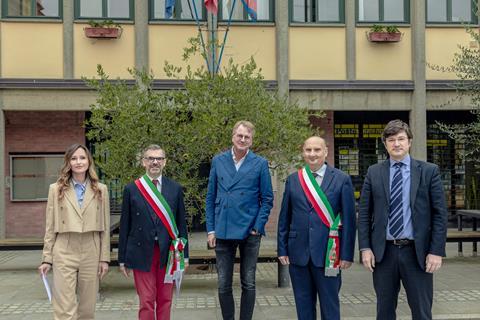 Is it a challenge to manage this process in the speed that you would like? We've seen for example that Tesla's gigafactory near to Berlin did not go quite as quickly as the company had hoped it would.
There are the bureaucratic hurdles of starting such a major project, for example, the obtaining of building permits. Italy is maybe a bit more complicated than many other countries with bureaucracy. But having such a large project, a lot of these difficulties are sidestepped and greatly supported by both local and central government, which means that we have a fast lane in terms of the process, which helps us a lot.
You mention Tesla in Berlin, I would also suggest that in Europe gigafactories should be built in areas in decline, not in metropolitan areas, because they have other opportunities. These gigafactories make more sense in areas of longstanding decline where you can make a huge impact and change the whole economic structure of the area.
"In many ways gigafactories are not part of the automotive industry… this is a chemical process where conditions must be controlled to avoid explosions and fires, which makes it even more complicated."
Lars Carlstrom, Italvolt
A new gigafactory is a huge undertaking with a multitude of challenges around raising capital, sourcing raw materials, sustainability and recruiting skilled labour. How is Italvolt approaching such a task?
You mentioned most of them, but we are lucky being in Italy. In terms of workforce, sadly both Stellantis, Magneti Marelli and several other companies will have massive layoffs in Italy, which will help us. We're talking about 60,000 people who might be unemployed in Italy from the automotive industry. That gives us a lot of advantages to find a qualified workforce for our production.
Also, in many ways gigafactories are not part of the automotive industry. It's more aligned with chemistry, and that's something that must be defined also. Many don't realise that this is a chemical process where conditions must be controlled to avoid explosions and fires, which makes it even more complicated.
Lars Carlstrom joined a panel on gigafactory development and scaling up production during the AMS Automotive Manufacturing Evolution Summit Live December 7-8.
Click here to watch the full interview
You're working with Pininfarina on designing the factory. How are you working with other partners to prepare the plant to scale up output of batteries, especially with the chemistry challenges?
We have 60 people in the engineering team that today are evaluating all these various, complex topics. We are around 80% into the first phase of the engineering, and have defined the design of the factory, at least externally. Early next year we will begin the internal design. But we have a pretty good picture on how it's going to look. Today we are working with automation specialist ABB, with EQUANS, which is an energy group, and engineering specialist AECOM, along with other skilled engineering companies and suppliers
But more than scaling up, I see clearly that the most challenging thing is to be able to create a green supply chain, especially on the minerals. That's raised huge concern for me, and I see that it's going to be difficult for us to be green and to create a green supply chain in the whole production. Many say they will do it, but it's going to be tough.
Charging a greener, local battery supply chain
The EU has proposed EU legislation on sustainable battery manufacture and rules of origin that, if approved, would in effect enforce the regionalisation of the battery supply chain in Europe over the coming years, including the upstream raw minerals. How realistic is that?
For sure it's realistic, but it's going to take time. We are ten years behind China and Asia in many of these matters, which is for sure a bit troublesome for us. But this support from the EU and through legislation is also much needed. I have a strong belief in bringing back jobs from Asia, which will be the payback for the governments in Europe heavily supporting the rollout of gigafactories.
We're building a factory which will directly employ 3,000 people, but in the greater supply chain it can be as much as up to 10,000 new jobs. We need to address these things as they will be a big driver of job creation.
Is it necessary to legislate for this localisation? Won't the heavy weight and economics of having battery supply nearby drive regional production in Europe anyway?
That's true, but we probably would not be able to produce these batteries as cheaply as they're doing in Asia. Environmental legislation is key. Batteries produced in Asia and shipped to Europe should be labelled as 'dirty batteries', as they have transported long distances and often have an unclear supply chain. Governments and manufacturers are also addressing this issue in Asia, but we could easily add tax on cars using dirty batteries, so that consumer would face higher prices for batteries that don't meet clear criteria.
We also note a trend towards hyper-localisation, in which OEMs and battery cell suppliers localise cell manufacture, battery module assembly and the battery pack integration nearby or inside OEM vehicle assembly plants. Do you see more gigafactories developing to include complete battery pack and even vehicle assembly?
Yes, what we're going to see now is that these gigafactories will be the centre of a 'giga site', and act as a generator for the supply chain. That is why we need big areas – 100 hectares and even up to 150 hectares – to build these gigafactories so we can also establish a supply chain onsite, or at least very close. Finding these large industrial sites is difficult and means that in some cases we might need to change legislation and speed up building permits. It's another step that we need to promote and support happening.
Being the best in battery production
The battery cell marketplace is increasingly competitive with large players like LG, Panasonic, Samsung and SK Innovation expanding, along with OEMs like Tesla and Volkswagen looking to build their own cells. How do you see Italvolt competing in this landscape?
Firstly, being a small player is also an opportunity. We are not so bureaucratic and can be very fast in decisions, which is not the case with larger conglomerates. We also have support from government. I know it sounds strange that a small player from nothing can hit the market with such a massive industrial project, and many in Italy were also very suspicious. However, this project is part of the new green industrialisation revolution, and nothing like this has happened in the past 100 years. We are in a new era, in a new situation where we can adopt a new economy very, very fast, and that's the key.
However, we are also going to compete in different ways, especially on performance. We are not developing our battery technology ourselves, but we are in the final phase of defining our technology partner, which will be announced in the coming weeks. From that perspective we are targeting a high-performance battery. To reach 45-gigawatt annual capacity, not all our production will be high performance batteries – we will also have a more basic range – however we will be able to compete with bigger players. The technology partner we will announce will be of great importance.
Can you tell us more about what kind of technology partner you're looking for and the key criteria for choosing one in this sector?
What we're looking for is to be able to future proof technology. As we will enter production in 2024, we cannot aim to build a battery just for today. We need to have something that also will be valid in three- or four-years' time and well beyond then.
Things are happening at an extremely fast pace when it comes to batteries right now. That's also why we are not directly involving ourselves in R&D and battery development. We would like to be the best at building a gigafactory and create an IP for making this happen. I clearly see that as a full-time task for us to achieve, and it's not easy. From that perspective, using technology providers that are skilled and know what they're doing is the way forward for us.
You're aiming to eventually reach 45-gigawatt production capacity per year. How flexible will the plant be in ramping up this capacity?
By engineering a modular system, we'll have more flexibility and be able to produce even more using the same space, which is something that we're looking into. There are many things that are evolving when it comes to how to build a gigafactory and to make it more efficient. Our planned 45 gigawatts of capacity could reach 55 gigawatts after some time.
Each module is currently 6 gigawatts. This means that after we have defined the IP for the factory, we can duplicate it in more sites of varying size. That will be important for future development.
"We would like to be the best at building a gigafactory and create an IP for making this happen. Using technology providers that are skilled and know what they're doing is the way forward for us."
Lars Carlstrom, Italvolt
In North America we're seeing more JVs between OEMs and established cell manufacturers, whereas in Europe there are also several start-ups battery producers pushing into the scene. Why do you think there are these regional differences?
In Europe we're adapting to the faster development in electrification that we're seeing compared to North America, for instance. The same thing will happen in the US, they will just come later. I expect that by the end of next year we'll see quite an acceleration in gigafactory development in the region. Incentives from the American government are now flooding the market, which will accelerate the pace as well. I see still America as an opportunity. It's a huge market and with very few projects going on compared to how big the market is.
It's also not an either/or equation between JVs or start-ups. Even if there are now many OEMs teaming up with producers or building their own factories, the need for batteries will still be massive. And don't forget that as EV sales grow, the need for storage batteries is going to be massive. In building such a large facility here, there will always be a great need for what we produce.
EV production plans are ramping up, while government mandates on phasing out ICE vehicles and targets for electrification should push these levels further. Do you think the battery supply chain will be able to keep up?
We need many gigafactories, I mean a lot. And the way that the politicians are now pushing electrification, we will need to accelerate this to a degree that pushes the limits very hard. The most challenging part will be in obtaining the upstream materials to supply these gigafactories. But it's also not easy to build a gigafactory. Very few have been built, and it's not like you just hire your contractor and say build us a gigafactory. It's very advanced engineering, and it will be a hard task to build the amount required. But that's also encouraging for investment. There is likely going to be under supply for many, many years to come.
Read more AMS coverage and research on EV battery production and supply chain