FCA, Lamborghini, Ferrari, Maserati, Alfa Romeo Brembo and Pirelli – the famous names of the Italian automotive industry are battling on through the Covid-19 crisis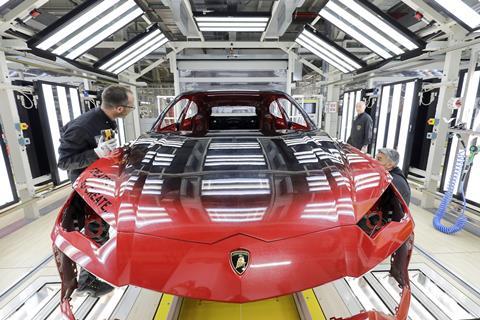 The sharp increase in the number of coronavirus cases in Italy has led the government to extend strict quarantine measures to the whole country. The restrictions are the toughest outside of China and affect 60m people, but still allow people to travel for work, meaning assembly and supplier facilities are currently still operating. However, the situation is changing rapidly and automotive companies across Italy are reviewing production, supply and logistics contingencies on a daily basis.
The northern region of Italy is heavily manufacturing based and more than half of that manufacturing (53%) is automotive. Fiat Chrysler Automobiles' (FCA) Modena plant, which produces including Maserati and Alfa Romeo, is located there, and there are two further FCA assembly plants in Turin, and an engine plant in Cento. Other carmaker facilities in proximity include the Ferrari plant in Maranello (pictured), and Iveco has two assembly facilities, in Suzzara and Brescia, and an engine plant Turin. Lamborghini, meanwhile, makes vehicles and engines in Sant'Agata north of Bologna, also in the north.
The area is also home to a number of tier one parts suppliers on which carmakers in Italy and wider Europe depend. As reported last week, parts maker MTA, which supplies a number of European carmakers with fuse boxes, including FCA, Groupe PSA and Renault, was forced to close its Codogno production plant for a number of days last week in compliance with Italian health regulations. Brembo, Marelli and Pirelli are amongst the other major suppliers based in a region where economic activity has been affected since February 21.
Local automotive businesses report that Italian authorities have sealed off several towns in the regions of Lombardy and Veneto after multiple cases of the Covid-19 virus were confirmed on 21 February. In its latest report published last week DHL added that the government-mandated lockdowns and intensified quarantine efforts were disrupting activities at the production and logistics operations in the affected cities and regions.
Securing the supply chain
Carmakers and suppliers have been mixed in their responses. In its latest statement FCA said that it was facilitating remote working and the immediate suspension of nonessential travel, while also minimising interpersonal contacts, among other safeguards for the health of employees.
"At the same time FCA is taking action in all areas of its operations in Italy to maintain its business continuity, as made possible by the newly enacted rules," said the carmaker in a statement (referring to the stricter quarantine measures). "Currently the group's Italian plants and key functions are continuing to operate as planned. The group has put into place extensive preventative measures to secure continuity of its supply chain."
The company would not provide any further details of those measures.
Last month FCA was forced to halt production at its Serbian plant in Kragujevac, where it makes the Fiat 500L, because of shortages of parts from China, also caused by the coronavirus.
Lamborghini acknowledged the "unprecedented measure" of limiting movement within Italy as a necessary measure to contain the spread of the virus but said it was too early to give a detailed forecast of the impact the situation would have on its business. The Sant'Agata Bolognese plant is currently in operation and a spokesperson for the company said that it was scrutinising the management of operational security both within the plant and externally.
Ferrari, likewise, confirmed "operational continuity" though it said that was subject to its suppliers and it was maintaining close contact with them.
Brembo, which supplies braking systems to Ferrari and a number of other carmakers in Europe and overseas, was also maintaining production at its three manufacturing locations in the north of Italy, though it added that "the global automotive market scenario continue[d] to be marked by a high degree of uncertainty and volatility, and a rather limited level of visibility" because of the economic impact coronavirus and "current major changes in automotive industry".
Tyre maker Pirelli also reported that there was so far no impact on production in Italy with road transport allowed to and from "reinforced containment areas". The company said it was receiving instruction in real time to best manage production and supply logistics.
Truckmaker Iveco said that all of its production sites were running according to plan at the moment, again adding that it was monitoring the situation very closely from a supplier perspective.
Read more about the impact of the coronavirus on carmakers in the rest of Europe