The carmaker's Toolmaking 4.0 system is bringing greater visibility of suppliers and potential disruption of machines and operations at tool shops, with high productivity gains.
As head of manufacturing engineering, Jörg Spindler oversees planning and processes across a wide range of Audi's global manufacturing functions, from energy efficiency in paint shops to automation and ergonomics in vehicle assembly. Productivity has become even more urgent in the context of rising material and wage inflation. As part of Audi's 360factory strategy, meanwhile, the carmaker aims to halve factory costs by 2033.
Eliminating non-value work, duplication and manual tasks is essential for Spindler. One area that he and his team identified for efficiencies was Audi's toolmaking operations, which produce tooling and moulds for sheet-metal production across its own and other Volkswagen Group plants. "Within toolmaking, we looked at where we have manual processes, where we have waste, where we have sources of error, and where can we avoid duplicating work," says Spindler.
Few understand the nuances of milling metal and creating moulds as deeply as Spindler, who worked across tooling and body shop roles before leading the toolmaking division from 2016, responsible for Audi locations in Ingolstadt and Neckarsulm, Germany; Barcelona, Spain; Györ, Hungary and Beijing, China. In his current role he retains oversight for planning and processes of these operations.
For toolmaking, there were opportunities to digitalise processes, including how orders, suppliers and deliveries were managed, as well as to improve monitoring and analysis of equipment. Rather than depending on a shopfloor worker to identify a maintenance issue with a milling machine, or for a supplier to flag a missing or late delivery, Spindler wants Audi to better identify issues before they impact production.
"We wanted to get away from traditional mechanical workshop approach where everything was in someone's head, rather than in a database that we could analyse and learn, or even generate automated improvements," he says.
In response, Audi has implemented a new approach to digitalising and monitoring data in tool shop operations, which it calls Werkzeugbau 4.0, or Toolmaking 4.0. The system, which combines Oracle web software, asset tracking and connected machines, is helping Audi to identify and address critical issues and potential errors. The system's main features support in key areas of supplier management and maintenance, machine monitoring, disruption tracking and central databases.
Spindler estimates that Toolmaking 4.0 has helped to improve productivity by 12-15% at a conservative estimate, including in reduced downtime from missing parts, better allocation of labour and fewer machine failures. It has been fully implemented at Audi's tool shop in Ingolstadt and is being phased in at other facilities.
Toolmaking 4.0 at a glance

450 users
35 external suppliers
In-house development
Web application based on Oracle APEX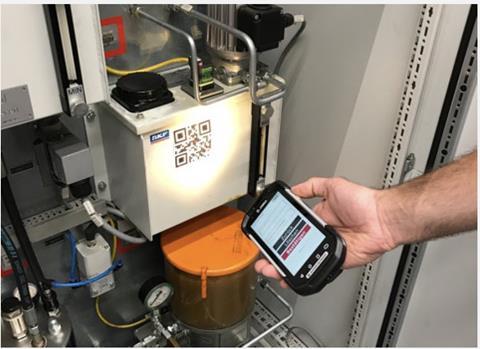 Key features
Outsourcing and truck tracking. Visibility of supplier order volume, status of assembly and real-time tracking of deliveries
Total Predictive Management. Digitalisation of TPM processes, audit schedules, automatic alerts for maintenance checks and supply orders
Machine monitoring. Tracking of frequency, friction and torque, with alerts for potential errors, collision avoidance and energy efficiency
Tooling management. Database of technology across milling processes and equipment, with automatic parts ordering
Disruption management. A digital ticket system to monitor and track all disruptions with visibility of their status

Outsourcing management and tracking
One of the most significant features of the system is in managing outsourced suppliers and parts delivery to Audi's toolmaking plants, including automated communication with suppliers, and better transparency of orders, delivery, inventory and quality. According to Spindler, the carmaker had limited visibility of external partners that supply various components, milling and casting. There was limited tracking of when parts arrived and in what condition, disrupting production schedules when they arrived late or in the wrong quality.
The system provides an online status of orders and volume from suppliers, aligned with assembly status at plants. A traffic light system identifies whether parts and material have been delivered or are in stock (green), where orders are still open (yellow) or where a missing order is at risk of a shortage (red), with warning emails sent automatically to suppliers and Audi. A dashboard tracks supplier KPIs, including delivery accuracy, error rates, quality and frequency.
Audi is now also able to track deliveries to its tool shop in close to real time thanks to a GPS card attached to key equipment across Europe. The online tracking also includes automatic status updates, and geofenced-based messaging, sending notifications when key parts are on the way or are close to arrival.
According to Spindler, tracking and supplier visibility have helped Audi to plan and manage its toolmaking schedules much more evenly. It can also assign priority lanes so that certain tools and equipment always move to the relevant machine first based on demand or critical parts.
"If anything goes wrong, we are now able to fix it much quicker. We can identify tools where we might have issues, expedite their delivery and give them priority, no matter where they are," says Spindler.
"We wanted to get away from traditional mechanical workshop approach where everything was in someone's head, rather than in a database that we could analyse and learn, or even generate automated improvements."
– Jörg Spindler, Audi
Digital Total Predictive Maintenance
Toolmaking 4.0 supports digital and data processes in Audi's Total Predictive Maintenance (TPM) strategy, in which it sets out to monitor its machine and equipment to avoid unplanned stoppages or breakdowns. The system helps to define TPM processes and keep them in line with what different machines require. For example, workers can quickly see when they should carry out TPM audits, and the system automatically sends emails two days after a planned TPM check has expired.
"Previously, we maintained machines depending on the equipment – once a week, once per month, once per shift ­­– but sometimes this was far too much, and sometimes it was not enough. We weren't responding to the actual demand," says Spindler.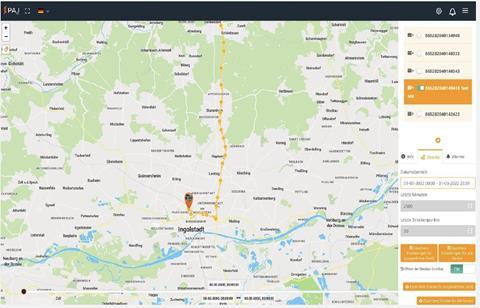 Now, Toolmaking 4.0 not only helps workers follow schedules, but it bases maintenance more on requirements and signals from machine data. The system integrates comprehensive machine monitoring and data collection across equipment and robots. For example, milling data is collected and analysed for anomalies that could lead to faults and collisions, such as torque levels, rotational speed and feed rates.
The system can also flag abnormalities and notify shift leaders, such as where bearings might generate higher levels of friction, or a conveyor shows more resistance and emit more energy. Where certain thresholds are reached, it sends emails and notifications to maintenance staff. In other cases, the machines automatically check themselves, sending notification when certain tools or parts may need maintenance or replacement. Certain machines can even send automatic orders of operational and auxiliary supplies.
There is also visibility and tracking of disruption across operations, including machine, software and other equipment failures. The system generates a ticket for each disruption according to location and inventory, and its status is tracked.
"The data is helping us to detect potential problems in advance and understand where we have a problem, such as a blockage," says Spindler. "This is where digitalisation helps because the systems take in far more information than a human can when he's assessing machine performance or following a set cycle."
Energy consumption is tracked, allowing Audi to see where it can take measures to save costs and emissions. If machines are running at rates faster than defined production or employee hourly rates, they can be slowed down or assigned other internal jobs. Some milling machines consume high levels of energy even in standby, meanwhile, and so the system can trigger machines to turn themselves off instead.
Read more on Audi's manufacturing engineering strategy with Jörg Spindler
More on Audi's digital production innovations
IT connections
Audi has fully integrated the system in Ingolstadt, and parts of it are in use in Neckarsulm, including supplier management and delivery tracking, while robots still need programming ahead of adapting machine monitoring. The next rollout phase will be in Györ, followed by Barcelona. Spindler, who helps to coordinate planning of other tool shops across the Volkswagen Group, has presented the approach to other group locations, which have shown interest.
"That is our approach for innovation: we start at one location, then bring it to other Audi plants, before scaling it across the group," he says.
Productivity improvement with Toolmaking 4.0:
12-15%
Implementing the system has been a collaboration across Audi's production, central IT and software providers. Whilst the web application is an open Oracle solution, Audi has adapted features to fit its needs; it is also connected to the ERP system used for the entire toolmaking process (which is not the same SAP system Audi uses at its vehicle plants). Audi's central IT has helped to ensure connectivity of all machines, and that cybersecurity measures were met, for example in onboarding external suppliers.
While there were technical hurdles to overcome, Spindler says that the real challenge was showing employees how the system could help them through automation and visibility of key tasks. "You have to help people to realise that they are gaining an advantage, and that their work will be easier and better once they understand the system," he says. "Once they understand that, everyone goes along with it."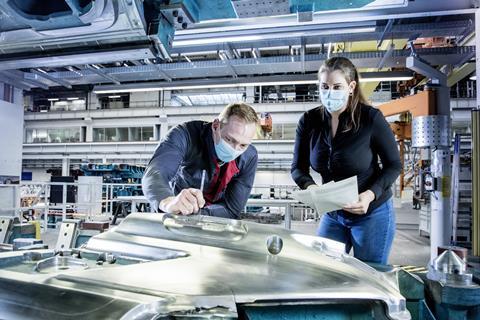 Looking to Toolmaking 5.0
Toolmaking 4.0 is a system that currently helps to visualise information and alert stakeholders; it does not make decisions based on machine learning. However, as machine monitoring and the database grows across equipment and locations, Spindler sees potential for Audi and its partners to use AI to carry out preventative maintenance based on patterns rather than thresholds, or to automate more processes.
Spindler also thinks that the datasets could be used to increase quality and accuracy. At the Neckarsulm tool shop, for example, engineers have worked with a machining and tool manufacturer to automate milling processes so accurately that it does not require manual rework and honing afterwards to remove grooves in the metal. The approach is now going to be brought to Ingolstadt for further application. But Spindler thinks that the process could likely be improved faster with the right data processing strategy.
"Achieving this won't depend on individual people and their knowledge, but in the collective data from all milling operations, which will help us make a better measurement, and to be faster, and make fewer errors," he says. ""We're not at the stage yet where AI is able to determine the problem and actively make suggestions, but that's the next step ­– what you might call Toolmaking 5.0."
Special series: Digitalising manufacturing engineering at Audi
1

2

3

Currently reading

Tools for progress: real-time tracking and monitoring in Audi's toolmaking