NVIDIA Omniverse is enabling virtual production in the plant more than two years before actual series production is launched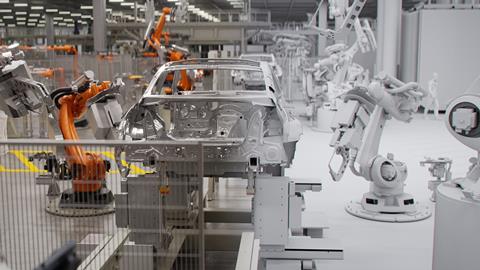 Virtual manufacturing is underway in BMW Group's future plant Debrecen, Hungary.
Plant Debrecen is scheduled to open in 2025. Construction has just begun, and the new facility is scheduled to produce the next generation of all-electric models, the Neue Klasse.
BMW Group is taking a digital-first approach to validate and optimise complex manufacturing systems across its production network using NVIDIA Omniverse Enterprise, a platform for building and operating 3D industrial metaverse applications, to run real-time digital twin simulations to optimise layouts, robotics and logistic systems virtually.
Omniverse will be extended across the BMW product network around the world.
Jensen Huang, founder and CEO of NVIDIA, said: "Digitalisation is moving fastest in the automotive industry and BMW has been a leader in advancing this vision.
"We are partnering closely with BMW, using NVIDIA Omniverse to help streamline their manufacturing processes, enhance collaboration and further efficiency. Our collaboration will continue to push the frontiers of virtual integration for the next generation of smart, connected factories around the world."
Consistent virtual planning of highly complex vehicle production processes represents the BMW Group's next step in the transformation to the BMW iFACTORY. First introduced in early 2022, the concept of the iFACTORY has been described as "our masterplan for the automotive production of tomorrow" by BMW AG board member for production Milan Nedeljković.
Based on a new vehicle architecture, the Neue Klasse heralds the "fundamental transformation" of production to the BMW iFACTORY. It began in 2020, when the BMW Group's vehicle and engine plants were 3D-scanned.
Since November 2020, more than 7m square metres of indoor and 15m square metres of outdoor production space have been scanned. Subsequent modifications can be integrated into the digital world with a re-scan.
Virtual planning is also underway for the roughly 1.4 km2 production hall for the Neue Klasse in Debrecen.
NVIDIA Omniverse allows production experts to use live data both in-house and with suppliers on the planning and optimisation of processes and individual systems, without compatibility issues.
Layout options, for instance for robots in work cells, or for the various areas of logistics, can be played through in real-time, photorealistic simulations and adapted as required. With Omniverse, any modifications are evaluated, validated and implemented in real-time.
The platform also will allow suppliers to be involved in decision-making and integrates the tried-and-tested design and planning tools that BMW has been using to date.