Audi's Neckarsulm plant manager Fred Schulze discusses sustainability and digitalisation, and shares some insights into the transformation of the factory and its importance within the Audi production network
Starting life as a knitting machine workshop in 1873, Audi's factory at Neckarsulm, Germany, has undergone dramatic changes over the last 150 years. It was initially run by Christian Schmidt and Heinrich Stoll, who later formed the NSU Werke AG company. Seven years after it was established, the site became home to the production of bicycles and motorcycles, with the first cars rolling off the lines in 1905 under the name "Original Neckarsulm Motor Car".
The factory was destroyed during WWII, but NSU rebuilt it in 1946 for bicycle and motorcycle production. Car production restarted over a decade later in 1958, with models like the Prinz, NSU Spider and Ro 80 being made. NSU then merged with Auto Union in 1969, forming Audi NSU Auto Union, which then evolved into its present form of Audi AG in 1985.
The Neckarsulm plant is now home to production of the Audi A4, A5 Cabriolet, A6, A7, A8, R8, and e-tron GT. Over 15,000 people work at the site, making it one of the largest employers in the Heilbronn-Franken economic region.
AMS spoke with Schulze to get an insight into the way that the factory is currently operating, and how it is quickly becoming a digitalised manufacturing hub.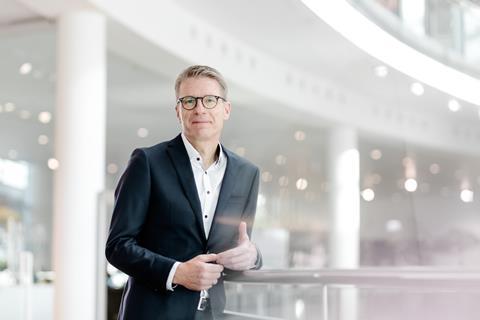 Can you provide some background on the Neckarsulm factory, and how it has become an integral facility for Audi?
Fred Schulze: The plant has borne witness to countless changes over the last 150 years, with production ranging from knitting machines to bicycles and motorcycles to cars. We are currently in the midst of yet another major transformation – one that is helping us to prepare for the future. In addition to the impressive history of the factory, I am particularly proud of the workforce, who have demonstrated immense commitment and team spirit throughout all these years.
When did you become the manager of the plant, and have there been any major changes since you took charge?
FS: I've been the plant manager at the site since May 2021. Prior to that, I was executive vice president for production and product management at SAIC Volkswagen, which meant that I was responsible for all production of Volkswagen, Škoda and Audi models at all 10 of the joint venture's factories in China. That doesn't mean I wasn't familiar with Neckarsulm though because I had already been an Audi plant manager here from 2012 to 2015. In addition to the challenges facing production over the last two years, we have laid some important groundwork at the site for the transformation toward digitalisation and electrification.
"The Audi site in Neckarsulm is transforming step by step into a smart factory. AI applications have a big part to play in that. With the local Edge Cloud 4 production server solution, we are bringing about a paradigm shift in automation technology" – Fred Schulze, Audi
What makes the Neckarsulm plant unique and an exciting place to work?
FS: Automobiles have been built for over 100 years at the Audi site in Neckarsulm. As one of the biggest employers in the region, we offer scope for innovation and numerous opportunities for personal development with a high level of job security. Our employees are the key to our success. They are actively involved in shaping issues that are going to be very important in the future, such as electric mobility and digitalisation. We also prepare them for their new assignments with targeted training and further education courses tailored specifically to each individual. As a good corporate citizen, Audi is part of society, and enhancing quality of life on-site is important to us. That's why we regularly collaborate with municipalities, local companies, associations and educational and social institutions.
How important is the location of the plant? Do you have a supply base nearby for parts, and is it a strategic location to export vehicles around the world?
FS: We are situated in an economically strong region. Many suppliers have settled here over time. In addition to the supplier network, the digital ecosystem that is developing in the region is very exciting for us. With the Böllinger Höfe real-world laboratory, which is part of Audi's site in Neckarsulm, and the digital ecosystem in Heilbronn, Audi also has the ideal conditions right here in the local area to help advance the digital transformation of its factories. Alongside our partners from academia and the IT industry, we have the opportunity to try out new technologies in a real-world production setting as part of Automotive Initiative 2025 (AI25).
How is AI and data changing Neckarsulm?
FS: The Audi site in Neckarsulm is transforming step by step into a smart factory. AI applications have a big part to play in that. With the local Edge Cloud 4 production server solution, we are bringing about a paradigm shift in automation technology. Three local servers manage worker guidance at Böllinger Höfe, replacing expensive industrial PCs. Within AI25, we are also continuing development of ongoing projects that are already being implemented in production and logistics.
What about sustainability and the goal of carbon-neutral production?
FS: Audi is planning to make all production locations carbon-neutral by 2025, including the Neckarsulm site. We have been procuring green electricity for the entire site since 2020. We are currently working on a carbon-neutral supply of heat for the plant, which will represent a big step on the journey toward a carbon-neutral future for the site as a whole. The e-tron GT is now also being built on a carbon-neutral production line at Böllinger Höfe, which is an important milestone for Audi and the Neckarsulm site.
Are trends like autonomous driving and vehicle connectivity impacting the way in which you build cars?
FS: At Audi, we believe that there is great potential in automated driving. However, we also know that this subject brings a lot of challenges with it – not only for Audi, but for the whole industry as well. That is why we are proceeding along this path step-by-step and with a clear view of the relevant customer benefits. Digitalisation offers the brand a chance to rethink the automobile entirely, which makes it a key driving force behind the transformation. Audi is systematically refining the car to become a software-based product and, in doing so, setting the scene for new business models. Thanks to digitalisation, transportation is becoming safer, smarter and more personal at Audi. These are issues that are being worked on across the whole of Audi and the Volkswagen Group, not just at individual sites.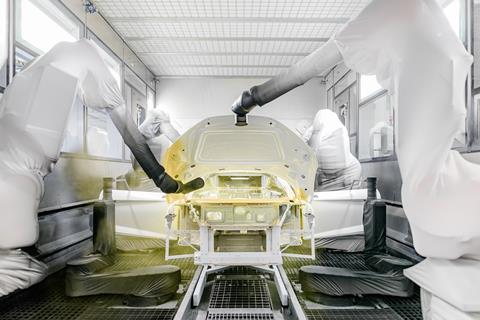 Neckarsulm was the first factory to produce a fully electric Audi. How integral will the plant be as the company shifts towards electrification?
FS: With the Audi e-tron GT, we are already producing the first all-electric model to be built at an Audi location in Germany – specifically, Böllinger Höfe. We are also currently preparing the Neckarsulm factory for electrification. The complete overhaul of the paintshop is an important part of making the site stronger and getting it ready for future electric models. We are also optimising the plant structure by, for example, building a new assembly facility that is designed for future electric models and will allow mixed-model manufacturing.
Finally, we are setting up a centre of excellence for the development of high-voltage batteries, which represent a key technology for electric mobility. For this purpose, two battery technical centres are being built to make and test the high-voltage modules for various electric vehicles. With the expansion of this technology, we are strengthening our technical development at the site.
What are your goals and aspirations for the plant?
FS: My goal is to optimise the use of capacity at the site in a sustainable way over the next few years. We are currently working hard to prepare for the new model launches of the next-generation A4/A5 and A6/A7 model families. Beginning mid-decade, fully electric models will also be successively located in Neckarsulm. These include the second generation of the Audi A6 e-tron. It is therefore important to work on the electrification of the plant at the same time.
How do you see the factory of the future evolving? Do you think car manufacturing plants will look completely different by 2030, for example?
FS: We are working systematically to digitalise our Neckarsulm site, put it on a sustainable footing, and make it capable of responding flexibly to customer needs. We will have some exciting career prospects to offer, as well as pioneering technologies. We will also be developing and manufacturing products that provoke emotional responses digitally, flexibly and sustainably, and taking responsibility for complex development orders for the entire Group.