Audi's launch of the all-electric Q6 e-tron series has catalysed a major reskilling project, as the shift to e-mobility is demanding skills development. Other manufacturers, such as ZF, have also been cultivating internal talent.
The demand for electric cars is booming, with sales expected to leap 35% this year after a record-breaking 2022, according to the International Energy Agency (IEA).
The latest edition of the IEA's annual Global Electric Vehicle Outlook (2023) reveals a remarkable milestone: over 10m electric cars were sold worldwide last year, with sales projected to surge by an additional 35% in 2023, to surpass 14m units. The IEA predicts that this upward trend will continue, with electric cars expected to capture 18% of the overall car market in 2023.
Audi, anticipating the global market's impending e-mobility transformation, recently announced its strategic plan to exclusively introduce all-electric models from 2026. The OEM has since been charting a gradual course towards an electrified future by phasing out the production of combustion engine models, with the aim to complete this transition by 2033. In-line with this project towards full e-mobility, Audi is now initiating a significant model initiative with the upcoming production of the Audi Q6 e-tron series. This series, part of the Premium Platform Electric (PPE), represents Audi's entry into the electric mobility landscape.
The Audi Q6 e-tron series will be the first fully electric model manufactured in Ingolstadt, signifying Audi's commitment to electric mobility solutions. But such major shifts in automobile manufacturing require nothing less than fundamental shifts in everything from business strategies, to materials, logistics, processes and workforces.
Without the necessary reskilling or upskilling, such large, transformative projects are not likely to succeed. To realise this transformation and supply the rising tide of demand with a skilled workforce in e-mobility, Audi is actively recruiting a workforce with a focus on those who possess metalworking and electrical training.
Xavier Ros, Chief Human Resources Officer at Audi commented: "With 500 additional jobs for the production of our new fully electric Q6 e-tron, we are showing that our transition to electric mobility is a driver of job creation.
"By guaranteeing a high volume of employment and new jobs, electrification will increase job security at our German locations. That is why Audi is also considering temporary employees who already work in Ingolstadt in the application process."
But this move represents just one side of Audi's strategy for talent acquisition. The OEM has expressed that a crucial aspect of its project to shift its operations towards e-mobility, lies in the transformation of its existing workforce.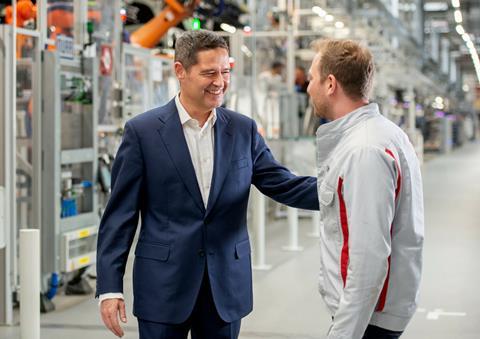 Ros added, "our employees who continue to gain qualifications and reinvent themselves professionally is what makes the transition to electric mobility possible."
In its preparation for the launch of the Q6 e-tron series, Audi has taken significant strides by equipping approximately 8,300 of its Ingolstadt employees over the last 18 months, from departments as diverse as Production, Technical Development and Sales.
With a clear focus on e-mobility-driven plant transformation, Audi has integrated the '360factory' approach to achieve its goals. The OEM has revealed that the 360factory framework launched in Ingolstadt will serve as the backbone for its efforts to optimise its production processes, facilitate digitalisation, ensure sustainable and resilient supply chains, cultivate flexible and adaptive production networks, and set precise sustainability targets. "The Ingolstadt plant will serve as a blueprint for the transformation of the company's large-scale production facilities worldwide."
Audi is also changing systems and tools in production, including putting a new system into serial production.
Despite rapid technological development and automation, the human workforce still forms the foundation of automotive manufacturing, and the need for upskilling is key to keeping up with these changes. And Audi is not alone in this pursuit.
ZF: Retraining workforces for powertrains and more
ZF is another manufacturer that is currently undergoing a fundamental transformation in its product and technology focus. The shift at ZF involves a move away from traditional mechanical engineering and metalworking towards a greater emphasis on electronics and software, particularly within the company's electrified powertrain division. Consequently, the company is also actively focusing on developing critical skills within its manufacturing teams.
One of its primary areas of emphasis is in manufacturing data processing, where employees are being trained to gather and utilise data from machines and processes to make informed decisions and optimise production procedures, as the OEM leverages increased connectivity to harness the power of AI for enhanced decision-making capabilities.
Another significant aspect of the skill development at ZF is the decentralisation of data processing. The company is equipping its plants to program tools internally. To support this transition, ZF is reskilling its teams for digital competences, and hiring experts proficient in Python and Power BI at individual plants.
According to Arno Güllering, senior vice-president of operations for ZF's electrified powertrain division, who spoke to AMS late last year, ZF's strategy "revolves around cultivating internal talent, recognising the tremendous potential within our existing workforce for transformation towards e-mobility."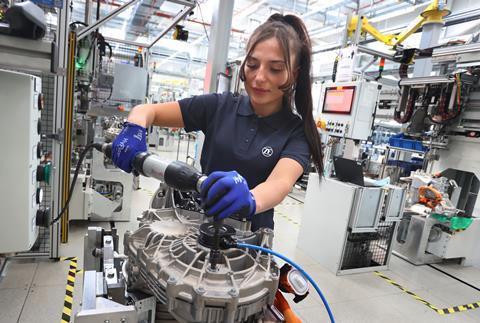 To achieve this, ZF has implemented several programs. "In Germany, we have reallocated more apprenticeships from mechanical engineering to focus on electric and mechatronic specialisations.
"Additionally, our online E-Cademy serves as an internal reskilling and upskilling initiative, providing an extensive array of training. These programs range from foundational e-mobility knowledge to comprehensive 'learning journeys,' enabling employees to transition their careers towards cutting-edge technologies and products."
By prioritising the skills-economy, Audi and ZF are proactively building a robust workforce capable of addressing the challenges and opportunities brought about by the rising demand for e-mobility, as the automotive industry's long-term viability hinges on the adaptability and proficiency of its workforce.