With high interest for the compact EV SUV, Volvo Cars selects Belgium to ramp up production levels to meet both local and global demand.
Volvo Cars has announced it will begin production of the new EX30 model at its Ghent facility in Belgium beginning 2025, in response to robust demand. This expansion of manufacturing capabilities will cater to the growing interest in the compact SUV.
The EX30, which garnered widespread attention upon its unveiling earlier this year, has already begun production in Zhangjiakou, China, with the first deliveries to customers expected later this year.
Belgium and China: intercontinental production alignment
The decision to align production of the EV model in Ghent with Zhangjiakou, will meet both rising European demand and support the global export market, in-line with Volvo Cars' philosophy of production localisation.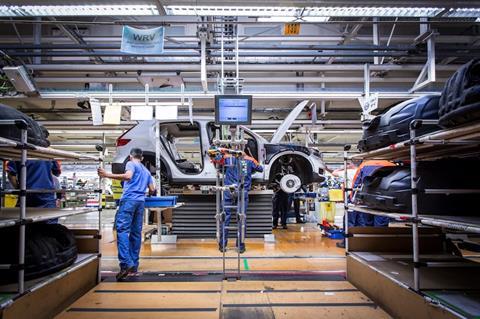 The move enhances production flexibility for what the OEM anticipates will become one of its top-selling models in the coming years, following a successful blueprint already employed for its XC60 and XC40 SUVs, which are produced both in Europe and China.
Jim Rowan, Chief Executive of Volvo Cars, stated: "Our ambition is to sell the EX30 around the world at an attractive price point, easing the transition to driving an electric Volvo car for more people while also contributing to company margins.
"Adding production in Ghent is a logical move as we aim to capture the strong demand for our exciting small electric SUV across the globe."
Volvo Cars leads in electrification strategy with the EX30 driving change
Volvo Cars stands out with one of the most ambitious electrification plans in the automotive industry, aiming to sell exclusively fully electric vehicles by 2030 and striving for half of its global sales to comprise fully electric cars by mid-decade. The EX30 is set to play a crucial role in these aspirations, contributing significantly to its growth and profitability objectives, making it a cornerstone of Volvo Cars' ongoing strategic transformation.
The EX30 joins the XC40 and C40 models on the Ghent production line, marking the third fully electric Volvo model to be manufactured in Europe.
This fortifies Volvo Cars' electric vehicle production capabilities in the region, highlighting the critical role of the Ghent plant in its electrification strategy.
Ghent: the meeting of electrification and sustainable production automation
With the push for electrification being largely driven by the growing demand for sustainability, and with the scope system reorienting our understanding to extend carbon footprints beyond an OEM or Tier Supplier's immediate industrial activities, automotive production is fast-pivoting its end-to-end activities towards sustainable practices.
As part of this paradigmatic shift, the Ghent plant is quickly expanding its sustainable manufacturing footprint to play a decisive role in Volvo's comprehensive sustainable production transformation.
Volvo recently announced its deal with Fanuc, to transform its automotive manufacturing environment with sustainable industrial robotics.
The collaboration between Fanuc and Volvo Cars represents a significant development in the automotive manufacturing sector with a strong emphasis on sustainability, and the Ghent plant will receive support for this transformation as part of the first phase of the global contract.