Andreas Guecker, head of quality management and projects within BMW's planning and production of E-Powertrains, offers an insight into the OEM's e-drive production operations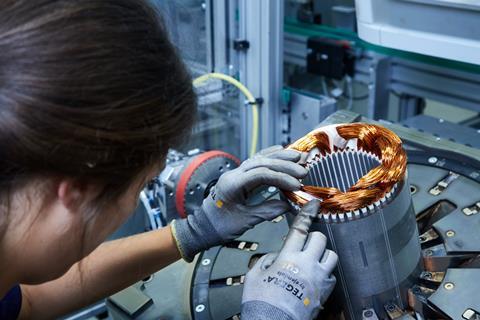 What was the starting point for this project in terms of the BMW Group's previous experience in electric vehicle (EV) technology and production of powertrains and batteries?
The Dingolfing and Landshut plants started series production of e-motors and batteries for the BMW i3 in 2013, and soon after for the BMW i8. The experience from prototype production of alternative drivetrains, our aluminium expertise as well as our knowledge in the series production of combustion engines were transferred and integrated in the industrialisation process.
In 2015, new production lines for e-motors and batteries for several PHEV models were set up at Dingolfing. As the production volume of PHEV models rose, production of electric drivetrain components was increased significantly and Dingolfing subsequently became the BMW Group's competence centre for e-drive production. Currently, we are significantly raising the volume of e-drive components of the fourth generation. Further, we are already preparing for the launch of the fifth generation of e-drive components from 2020 onwards.
Could you describe the production process stages for both the motors and batteries?
The electric motor consists of three major parts: rotor, stator and a casing with gearbox. After manufacturing the rotor and stator, both parts are joined and put into the casing.
With regards to the production of the high-voltage battery, the manufacturing process is divided into two major phases. In a first, highly automated process step, several lithium cells are joined to form a standardised battery module. The second step is the assembly of the high-voltage battery. Therefore, several battery modules are mounted inside an aluminium body together with the control unit and the cooling system. The size and shape of the aluminium body, and the number of battery modules, varies from one model to the other. The battery assembly line is highly flexible in terms of different derivatives and is characterised by a higher amount of manual work.
Which area has the highest work content, motor or battery?
For both, motor and battery, the BMW Group has defined core competences which are produced inhouse. As for the battery, we are obtaining battery cells from leading cell manufacturers in Asia; all other value creation takes place at the BMW Group: packaging of cells to battery modules, battery assembly, development of power electronics, control, cooling, etc.
In general, it can be said that the BMW Group is following a paradigm of high in-house value creation in the field of e-drivetrain production. This allows for a short time to market and a comprehensive understanding of the overall processes, therefore giving us a competitive advantage.
In addition, the set-up of electric drivetrain production resulted in an extensive training programme for our associates. Training courses took place at Dingolfing and the pilot plant for e-drivetrains in Munich, with cutting-edge production technologies, such as laser welding, plasma activation, robotics, gluing, automated optical and electrical inline quality inspection, along with end-of-line testing.
The training is also focused on supporting a highly-automated process, which is an important part of battery module production, as well as comprehensive quality assurance, product methodology and technology rework, and analysis.
Dingolfing is to expand production of e-drive components. Will this be done through more shifts/shorter cycle times or through expansion of the lines or production area?
The demand for e-drive components is constantly growing as the number of electrified vehicles in our product portfolio has expanded up to 11 models. At Dingolfing, for example, almost one out of ten cars is leaving the production halls as a plug-in hybrid vehicle.
Therefore, we are expanding our Competence Centre for e-drive production in Dingolfing from an 8,000 to an 80,000 sq.m production area, and the number of associates will rise from 600 to up to 2,000. Correspondingly, production capacities are expanded at the Spartanburg plant as well as at BMW Brilliance Automotive in Shenyang, China. Different demands from the markets can be met by the BMW Group adaptive production system for electrical components, which allows the BMW Group to double the volume of produced units within one year.
Dingolfing supplies electric motors and batteries to a number of other plants in the European network (Leipzig, Berlin, Oxford UK, Munich?) Do you now – or have plans to – provide electric vehicle parts for BMW's global production network?
Dingolfing is already delivering e-drive components not only to our European plants but also to our global production network. For example, we supply battery modules for the high-voltage batteries assembled at our US plant in Spartanburg. However, we also rely on localised battery and e-drive component production, such as through our BBA joint venture in China.
How much e-drive production overlap is there between Dingolfing and Landshut?
There is no production overlap between plants. Landshut is producing the e-motor for the BMW i3 and i8 while Dingolfing is producing the batteries; the same applies to the new battery electric Mini. Moreover, Dingolfing is also manufacturing the batteries and e-motors for several PHEV models like the BMW 225xe. Starting in 2020, the plant will produce the fifth generation of e-drive systems and supply the production of models such as i4 or iNEXT.