As Ineos moves towards a second phase of prototypes for production, AMS visited the company's new automotive manufacturing plant in Hambach, France to see how production of its Grenadier 4x4 is developing ahead of series production launch in August.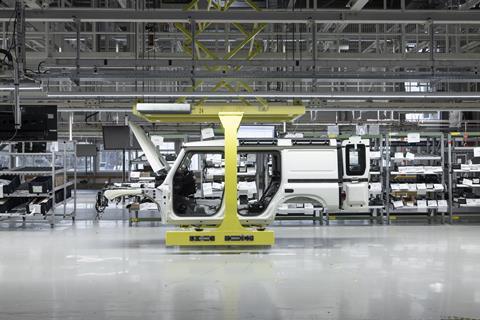 In 2020, newly formed Ineos Automotive, owned by British billionaire Sir Jim Ratcliffe, was planning to build a new manufacturing facility in Wales to assemble its first vehicle, the Grenadier 4x4. Then in December of that year it surprised everyone by announcing it was buying Daimler's plant in Hambach, France that makes electric Smart cars.
Ratcliffe stated at the time that the opportunity to acquire the Smart plant was "a unique opportunity that we simply could not ignore." Just a year before in 2019 Daimler had invested €470m ($526m) in upgrading the plant, which produces electric versions of the Smart ForTwo. The purchase was part of a €1 billion investment to develop and manufacture the Grenadier and so far, Ineos has invested €50m into the Hambach plant.
The Grenadier is the vision of Ratcliffe, who decided to build his own luxury utility vehicle after Jaguar Land Rover ceased production of the original Land Rover Defender. Named after a London pub, the project has taken a number of years to reach the point of production, not least of all because of various court cases that had to be settled.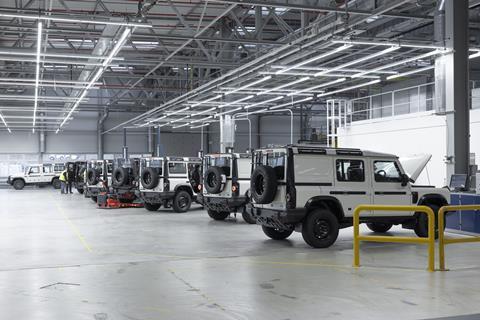 While the very first prototypes were built by Magna, Ineos has been building its own PTO1 pre-production models at Hambach. In total 130 have been made, with the second phase of PTO2 prototype builds due to begin in May ahead of full series production commencing in August 2022.
The Hambach plant also has the accolade of being carbon neutral. It has its own waste recovery and treatment plants as well as a biological treatment plant. In addition, biodiversity measures have been put in place throughout the site.
AMS was one of the first publications to drive the Grenadier, but we were also given the opportunity to take a look around the new production facility that sits close to the French and German border.

Philippe Steyer is the head of the Hambach plant and he explained to us that there is a fully automated bodyshop containing 150 robots, a new semi-automated paintshop and a new quality assessment centre. In total there are 1,000 employees on site, and they have already undergone 20,000 hours of training, although this will increase to 80,000 hours by the time series production begins.
Steyer is keen to point out how unique the layout of the general assembly area is. It forms a cross in the middle of the facility which he says enhances logistics.
"We are talking about a line which is more than one kilometer long and the reason why it is in a cross shape is for optimised logistics, really to bring the parts as close to the production line as possible, which is quite unique," he says.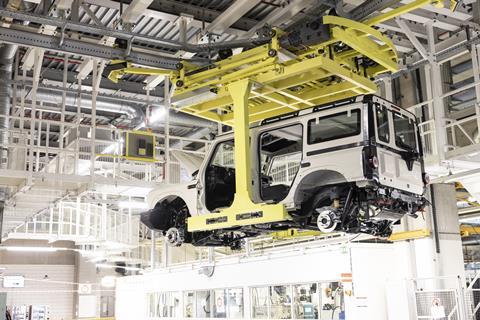 Upgrading for larger vehicles
Steven Wilkinson, manufacturing engineering lead for the bodyshop, told us that after taking over the plant from Daimler in 2020, significant upgrades had to be made to switch from making light city cars to the much larger and heavier Grenadier. Lots of structural reinforcement was needed on the line, especially when it came to overhead gantries and lifts to move vehicles across multiple storeys.
The main bodyshop was eerily quiet when we visited though, having completed work on the initial prototypes but when in operation 70% of the work in the bodyshop is automated with 80 robots installed. On the day, they were operating in ghost mode, going through their routines totally unaware that there were no components to work on.
It was busier in the paintshop, which spans four levels. Here Michael Schenzle, paintshop process and equipment lead, explained that it has taken six months to build the facility, which among other things uses bespoke Geico Takisha booths and equipment. A conveyor brings the body from the body-in-white to the paintshop where it undergoes eight pre-treatment stages.
Dürr robots apply the bulk of the 120m of PVC sealants, but some must be manually applied. In addition, a cavity wax application is required to prevent what Schenzle calls the "cavity rust that you used to get in older cars."
Once the paint process is complete, the vehicles move into that unique general assembly cross. It's not just the cross layout that is unusual either, the line has a laminate wood floor, something not seen since the Phaeton production line in Volkswagen's Transparent Factory in Dresden.
Virtual modelling used to plan workstations
In total there are 133 workstations all of which Wilkinson told us were planned using virtual modelling. There are 200 workers on the line, who all have five minutes to conduct their tasks on each workstation. All these tasks are done by hand, with only one robot used for attaching the beading to the glazing.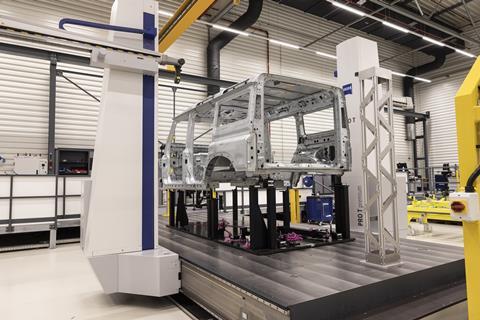 We weren't able to see the end of line area, possibly because at this point the Grenadiers are joined by the Smart car, but we did get a look around the brand-new quality testing centre. Here everything can be checked, from a single component pulled off the assembly line to a complete vehicle. One complete set of components is measured every week and the centre contains Zeiss Pro T machines which can take 1000 measurements on a vehicle over seven hours.
However, Stefan Bruhnke, the company's quality director, explains that they need to go beyond the usual quality checks.
"We are completely aware that as a new player in automotive, we have to deliver best in class quality," he told us. One of the ways Ineos aims to achieve this level is through four quality control loops: Workstation, Production Zone, Product Validation and ultimately, the Customer.
The quality team will also completely strip a vehicle to assess every element from construction to components. This includes robots that look like crash scene jaws of life tools which force welds to the point of destruction. In total, the quality engineers can take up to three weeks to thoroughly check an entire vehicle.
With the initial prototypes completed, the plant is now preparing to enter phase two, where the PTO2 prototype builds will be more about testing the manufacturing process.
"Phase two starts in May, which is really to prove out the manufacturing process properly," Mark Tennant, commercial director at Ineos Automotive told us. "So, starting to move towards the right cycle times, but still leaving gaps as we tweak the equipment. Then we can adjust the manufacturing process to take on the learning as we get more used to building the vehicles."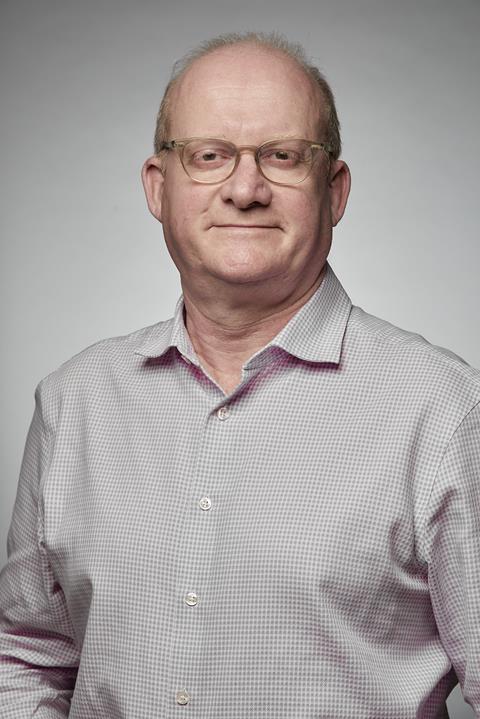 Following those, the plant will build the final PTO3 models, which Tennant says will be saleable vehicles although, they most will be used as demonstrators for the global network of dealers and sales agents. Full series production will begin in August, initially to get through the existing book of 15,000 orders, and then to ramp up production to capacity.
Ineos will carefully manage any increases in production volume
"We're planning on 25,000 to 30,000 a year when we get up to peak," he told us. "We can build more, that's on a two-shift pattern. On three shifts, we could do 50,000, but we've said from the beginning, this is a niche proposition, we're not taking on the big boys. What we've said is there's a white space in this market because a number of other vehicles that used to inhabit it have departed and we need to have a business case that works on niche numbers. Obviously, we'll be thrilled if we start having discussions about needing a third shift, that's great but it's not something you put in the business plan from day one."
All these plans, Tennant says, are predicated on everything going well in both the engineering of the vehicles themselves and the production facilities.
"We only get one chance to make a good first impression. New brand, new products, it's got to be right, the engineering has got to be right," he said.
There is still a great deal of work to be done. The prototype vehicle we drove in a disused quarry was lacking many trim elements and had software glitches, but that's all to be expected in a prototype vehicle. What it and the production facility in Hambach showed though, is that Ineos and its people have a very strong commitment to getting it right. That was evident in the standards within the plant, the investment in technology, the dedication to processes and the vehicle we eventually drove.
It might seem like Ratcliffe and his team took the easy way by buying up the Hambach plant, but for now at least it seems like it was a smart decision.


A Smart decision

The Hambach plant first opened in 1997 and the site covers 82 hectares, with 210,000 sq.m of buildings and a dedicated test track. More than 2.5m cars have been manufactured at the site, starting with the first generation of the Smart ForTwo, the BR450 from 1998 to 2006 as well as the Smart Roadster. Since 2017 it has been producing the fully electric Smart ForTwo which Ineos Automotive will continue to manufacture under contract to Daimler until at least 2024, with production running at around 70,000 cars each year.
The main production lines for both Smart and the Ineos Grenadier are completely separate, but at the end of the lines, the Smart cars meet the Grenadiers where end of line testing and quality control are in shared areas. Interestingly, Magna continues to be contracted to do the bodyshop work before then handing the Smart cars over to what are now Ineos Automotive employees at the general assembly stage.
Ineos is also manufacturing the front end for the Mercedes-Benz EQA and EQB models at the Hambach plant and is contracted to do so until 2026.
A hydrogen future for the Grenadier?
The Hambach plant has a capacity of around 35,000 vehicles a year, but the intention is that these will not all be the station wagon and commercial vehicle versions. The company has already announced it plans to make a double-cab pick-up of the Grenadier and while executives declined to confirm it, there is scope for a short wheelbase model in the same style as the original Defender 90.
Then there are the alternative powertrains to the existing BMW B57 diesel and B58 petrol engines being used. Ineos is a significant producer of hydrogen, creating around 400,000 tonnes per year and it has initially said it will develop a hydrogen fuel cell solution rather than going hybrid or electric, although executives are not ruling out electrification if it can cope with the weight of the vehicle. Hydrogen prototypes are already being developed and will use a fuel cell stack system from Hyundai, but talks are underway with various suppliers for series production.
The main reason for choosing hydrogen is the distances the vehicles may have to travel in many markets around the world. Hydrogen is being seen as a solution for emerging markets not just in transport but also to power homes and businesses and Ineos says its Grenadier can then be part of a hydrogen economy.