The carmaker is strengthening its digital first production model with upgrades and enhancements throughout.
The launch of the Mercedes-Benz Concept CLA Class at IAA Mobility, Munich shows digital first production is now firmly at the heart of Mercedes-Benz's vision and increasingly global implementation, according to the OEM.
A perfect example of this entirely digital future is the carmaker's digital ecosystem, the Mercedes-Benz Cars Operations 360 (MO360); made up of a network of interconnected software applications which operate through shared and standardised user interfaces across the production process.
The MO360 ecosystem allows for both near-instant optimisation and serves as a production-comms tool, with integrated data from its digital production landscape fed out to the OEMs entire worldwide production network. This network is accelerating innovation across Mercedes-Benz's global footprint and allowing for swift optimisation across its macro manufacturing processes.
Jörg Burzer, Mercedes-Benz's manufacturing chief very recently spoke to AMS about the OEM's new production alignments in the run up to its next generation of electric vehicles, followed by its announcement of orders for its powertrain production network.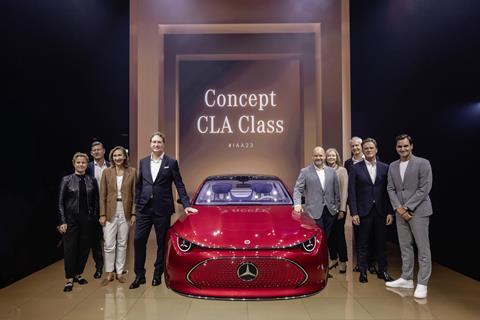 Now, Mercedes-Benz has unveiled its Concept CLA Class at IAA Mobility in Munich, with Burzer saying, "we present a close-to-production insight into the upcoming family of vehicles that stands at the gateway to the brand."
The 'close-to-production concept' is based on the Mercedes Modular Architecture (MMA platform), which the carmaker says will form the basis of its 'entry luxury' models, and production is set to begin across Rastatt, Germany; Kecskemét, Hungary; and Beijing, China. The MMA platform will serve as the basis of fully digitalised software architecture models for the first time in 2024.
Upgrading the digital production landscape
Driving at its digital first production model, the company is now accelerating its paperless ambitions owing to what Burzer is referring to as "an updated MO360 digital production system," which will see the plant in Rastatt introducing MMA vehicles virtually, "with the help of digital twins.".
MO360 supercharges efficiency in production by allowing the OEM to produce "electric, hybrid and petrol models on the same production line and to scale the manufacturing of electric vehicles in line with market demand."
Burzer highlights that this approach allows Mercedes-Benz to "ensure that the new production line can be retooled, configured and optimised at the brownfield site using high-precision digital simulation techniques." The benefits of this approach to production are innumerable, from valuable space-savings - which in automotive production translates very quickly to cost savings - as well as uninterrupted manufacturing processes due to virtual testing environments.
Burzer comments that the ecosystem also "allows for tracking the precise location of robots, supply routes and production lines, without having to disrupt the production of current compact models, which include the A-Class and B-Class, the GLA and EQA.".
Efficiency has always been Automotive manufacturing's inherent north star. MO360 supercharges this efficiency in production by allowing the OEM to produce "electric, hybrid and petrol models on the same production line and to scale the manufacturing of electric vehicles in line with market demand."
The MO360 ChatGPT integration
Extending this reach, the company has already taken an important step of enhancing its digital production operations with the integration of the AI Large Language Model (LLM) ChatGPT into the MO360 ecosystem; further boosting the integration of data from production operations with IT systems to further boost production efficiency.
The project is powered by Microsoft Azure's OpenAI service and aims to streamline the analysis of production data to drive improvements in quality management, error identification and process optimisation.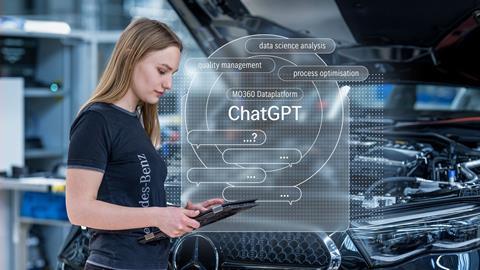 The MO360 platform already includes an automated analysis tool that consolidates quality data from development, customer experience and production to identify and analyse potential malfunctions and prevent disruptions across production lines. With the LLM integration, Mercedes-Benz's quality engineers will also be able to cluster data and identify faults with improved levels of efficiency using ChatGPT, a universal, voice-based interface.
Mercedes-Benz's Operating System (MB.OS)
But digital first has many external as well as internal potential applications. The company, not satisfied until digitisation is at the forefront of all of applicable its operations, has also introduced its own operating system which all its newly-produced vehicles will come pre-equipped with; and its latest iteration opening the door to the latest AI applications. Digital first just attained a new status for the OEM.
One thing is clear: Digitisation is a change-driver, and Mercedes-Benz's digital first approach is allowing it to stay centred on the newest developments and changes in the world of automotive production.