The deployment of ChatGPT through Mercedes-Benz's partnership with Microsoft Azure will mean increased efficiencies across the OEM's intelligent vehicle production landscape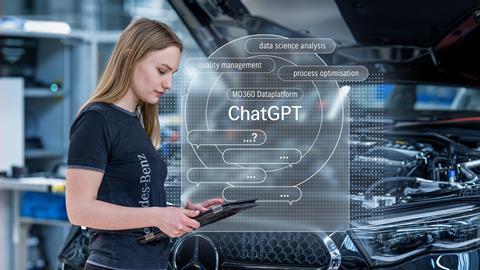 Mercedes-Benz AG has taken another step in enhancing its digital production operations with the integration of the AI Large Language Model (LLM) ChatGPT.
The LLM is being integrated into the OEM's 'MO360' digital production ecosystem, which was launched in 2020.
The company says that its MO360 system has already transformed its digital production landscape by enabling data from production operations to be integrated with its IT systems, leading to new levels of efficiency across its entire production process.
Powered by Microsoft Azure's OpenAI service, the project aims to streamline the analysis of production data and drive improvements in quality management, error identification and process optimisation.
The OEM says that by leveraging the capabilities of ChatGPT, it will give production employees access to a universal, voice-based interface, fostering a sustainable approach to enhancing production processes and ensuring improved quality management.
Within the MO360 data platform, an automated analysis tool will harness the potential of intelligent connectivity by consolidating quality data from development, customer experience and production.
This integrated approach will enable the rapid identification and analysis of potential malfunctions to prevent disruptions across production lines. With the support of ChatGPT, Mercedes-Benz quality engineers will also be able to cluster data and identify faults with improved levels of efficiency.
The system will replace complex programming functions with dialogue-driven queries, enabling employees without prior programming knowledge, to access necessary data easily.
By utilising Microsoft's AI for real-time processing of production data, Mercedes-Benz says it can ensure continuous evaluation, flexibility in production planning and streamlined decision-making throughout its production chain.
The car maker's integration of ChatGPT extends beyond data analysis to serve as a "round-the-clock" AI-based digital contact person for employees worldwide.
Through the MO360 self-service portal – accessible on various devices including tablets, smartphones and laptops – production employees can engage with the MO360 Support Bot; a chatbot system which clarifies queries and even engages in dialogue to address employee concerns.
Jörg Burzer, Member of the Board of Management of Mercedes-Benz Group AG, responsible for Production and Supply Chain Management commented: "Using ChatGPT through Microsoft as part of the MO360 digital ecosystem is another example of how digitalisation is taking production at Mercedes-Benz to the next level.
"Through new digital tools, employees are further empowered to optimise production processes and quality management in a sustainable way. After a successful pilot phase, ChatGPT will be used throughout the Mercedes-Benz global production network."