The software system will optimise manufacturing plans based on available components and enable easy monitoring of energy and water use and CO2 emissions.
Mercedes-Benz will connect its factories to Microsoft Cloud to achieve an expected 20% gain in the efficiency of vehicle production by 2025 through the operational visibility the system will offer.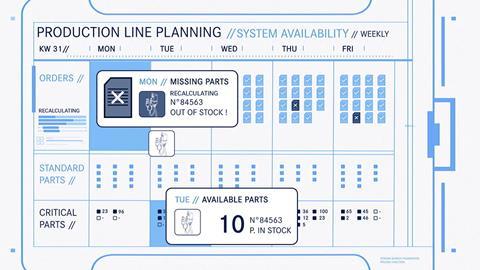 The automaker says the system will help it identify potential logistical bottlenecks ahead of time for roughly 30 factories where it will install the system, enabling it to manage supply chains and plan production with greater precision.
Employees will be able to access the system via a Microsoft Power BI dashboard from any device including smartphones, to monitor and forecast energy and water use and CO2 emissions.
The cloud-based system will integrate with and build upon the automaker's existing MO360 digital production ecosystem.
The unified data platform, which is standardised on Microsoft Azure enabling the running of artificial intelligence and analytics on a global scale, is available now to teams in Europe, Middle East and Africa and will be extended to teams in the US and China.
"This new partnership between Microsoft and Mercedes-Benz will make our global production network more intelligent, sustainable and resilient in an era of geopolitical and macroeconomic challenges," said Joerg Burzer, Mercedes-Benz head of Production & Supply Chain Management.
"The ability to predict and prevent problems in production and logistics will become a key competitive advantage as we go all electric."
The system also offers scope for digital twin simulation of processes, said Judson Althoff, Microsoft's Executive Vice President and Chief Commercial Officer.
"Mercedes-Benz can simulate and refine manufacturing processes infinitely in the Microsoft Cloud before bringing them to the shop floor to enhance efficiency and minimize its environmental impact amid constant change and uncertainty," he said.
The virtual planning of vehicle manufacture makes it possible to plan production such that CO2 emissions are reduced, Mercedes-Benz said.
One use of the system will be to make it possible to prioritise production of low-emission and top-of-range luxury models when supply chain disruption arises. That could help the automaker simultaneously meet EU fleet-wide CO2 targets of product mixes and protect sales of cars earning the biggest margins.
The data platform will bolster flexibility to maintain production of electric and combustion engine vehicles on one production line during the ramp-up phase of zero emission cars.
The 20% productivity gain derives from more precise visibility into component availability, which the automaker expects to help reduce unplanned downtimes.
In one factory where the system is already in use, teams spend 30% less time in shopfloor meetings while identification of priority tasks to streamline production can be carried out in two minutes as opposed to four hours previously, Mercedes-Benz said.