The first 2023 CX-50 SUV has rolled off Mazda's new Huntsville assembly line, marking the Japanese carmaker's return to US-based manufacturing following a 10-year hiatus.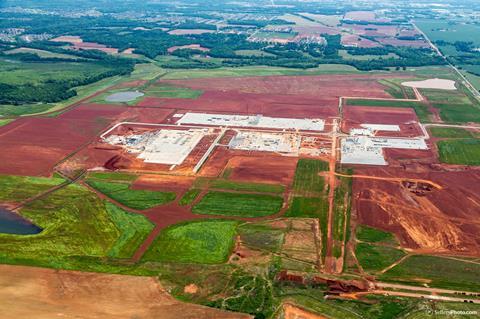 With an expected headcount of 4,000 and $2.3 billion worth of investment supporting the Alabama plant, its goal is to continue its output of models developed for the North American market.
"The production of the CX-50 here signifies the importance of the North American market to Mazda and our commitment to investing in the US," said Mazda North American Operations (MNAO) president and CEO Jeff Guyton.
The electric SUV marks a new approach by the Japanese OEM as American buyers shift away from passenger cars and look towards more utility-focused models. The CX-5 will remain in production, and Mazda will expand its SUV lineup with an all-new CX-70 SUV and a next-generation CX-90 to replace the current CX-9.
Resuming US production
Mazda Toyota Manufacturing (MTM) became operational in September 2021 and is planned to produce 300,000 vehicles annually across both brands. Four years ago, the Mazda-Toyota joint venture kicked off with an initial announcement of a $1.6 billion plant with the total output evenly split between the two carmakers. Toyota began production of the Corolla Cross subcompact crossover in September.
Total investment in the joint venture increased to $2.3 billion after the automakers added $830m to the price tag in 2020 for further machinery and training.
Mazda last produced cars in the US over 10-years ago as part of a joint venture with Ford Motor in Flat Rock, Michigan. Since 2014, the automaker has built vehicles for the US market at its Salamanca plant in Mexico.