By signing-in or registering to watch you consent to receiving further information from us about this livestream and other related news, insights, intelligence and events. You also agree for us to share your contact information with our livestream partners and sponsors who may contact you about their related products and services. For more information about how we use your data and your opt-out rights, please see http://ultimamedia.com/ultimamediapp.pdf
This special Livestream Hour, which was produced in collaboration with the Automotive Component Manufacturers Association of India (ACMA), explores the global export, supply chain and international purchasing challenges and opportunities in India.
The coronavirus crisis is having far reaching impacts on the vibrant Indian automotive supply chain and components sector. Supply shortages and logistics constraints are disrupting Indian imports and exports of parts and materials. While China continues to ramp up its production, risks are growing from the closure of plants across North America and Europe, along with India's extended shutdowns.
In this special India focus Livestream Hour, we look at the risks ahead and the measures required to build resilience across the value chain.
Gain valuable insights into:
The disruption across the supply chain and logistics network for India
Sourcing and supply changes anticipated by international purchasing managers
How purchasing officers are managing the challenges of sourcing materials and parts
Opportunities for Indian suppliers to gain marketshare and improve competiveness
What Government measures are in place to help to stabilise the industry post Covid-19
Livestream Episode 3 Guest Panelists
Sunjay Kapur
Vice President ACMA
Chairman Sona Comstar
Sunjay Kapur is a key leader in the Indian automotive components sector. He is the head of two major divisions of the $600m SONA Group. SONA Comstar is the electrical division building starter motors for passenger cars and SUVs. SONA BLW supplies precision-forged gears to vehicles and is part of the BLW Group. The Sona Comstar Group has 12 global manufacturing plants across India, Germany, Hungary, the US and China. As well as being vice-president of ACMA, Sunjay has been part of major business initiatives in India, including as Chairman of the Electric Mobility Committee, co-chair of the Smart Manufacturing Committee, as well as initiatives to promote entrepreneurs in India. He has completed degrees and courses at the University of Buckingham, the Indian School of Business, MIT and the Harvard Business School.
K V Praveen
Director – Purchasing, Asia Pacific and BCC
Meritor
Praveen KV is has 28 years of hands-on experience developing and executing successful strategic sourcing initiatives, operations management, project Management, cost reduction and enterprise value enhancement. He has led on establishing the strategy, direction and priorities for Meritor's global sourcing and purchasing function in Asia Pacific. Over the past 13 years, he led teams at this major global automotive supplier in India, China and Australia. Prior to Meritor, Praveen held supply chain management and strategic sourcing leadership roles at Tyco, Ingersoll Rand and ArvinMeritor. Praveen graduated with a degree in mechanical engineering from Bangalore University.
Vikrampati Singhania
Managing Director
JK Fenner
Vikrampati Singhania leads JK Fenner, one of India's leading automotive parts manufacturers, and JK Agri Genetics, a leading manufacturing hybrid seeds. Both are part tthe JK Organisation, one of the largest industrial groups in India, where he is an director. JK manufactures products including paper, automobile tyres, cement, auto components, textiles and agri products. The group is present in more than 100 countries and has annual revenue of more than $4.15 billion. He is a member of the managing committee at the Associated Chambers of Commerce & Industry of India. Mr Singhania did his Master's Degree in Commerce at Kanpur University and his MBA from Fuqua School of Business, Duke University in the US.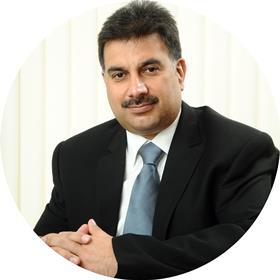 Jasjit Sethi
Chief Executive Officer
TCI Supply Chain Solutions
As head of TCI Supply Chain Solutions, Jasjit Sethi has experience working with industry segments including automotive, retail, telecoms and chemicals. He sits on the Confederation of Indian Industry (CII) National Logistics Council; the Federation of Indian Chambers of Commerce and Industry (FICCI) National Committee on Infrastructure; and the CII National FMCG Committee. He is also a past President of the Delhi Roundtable of CSCMP (Council of Supply Chain Management Professionals). He is an alumni of Harvard Business School, Amity Business School and Punjab University, Chandigarh, besides short-term courses with the National Institute of Industrial Engineering, Powai and National University of Singapore, among others.
Vinnie Mehta
Director General
ACMA
Vinnie Mehta has been actively involved in promotion, growth and development of the auto component industry in India. Prior to joining ACMA, he headed the Manufacturers' Association for Information Technology (MAIT), the apex body of the IT hardware Industry in India. He is an Electrical Engineer from IIT-BHU, with an MBA from FMS, University of Delhi and a Masters in International Trade from the Indian Institute of Foreign Trade (IIFT).
Host
Christopher Ludwig
Editor-in-Chief
Ultima Media
Christopher is responsible for editorial production and strategy across Ultima Media's global automotive media platforms, including Automotive Logistics, Automotive Manufacturing Solutions, Car Design News and its business intelligence unit, Automotive from Ultima Media. He's covered the automotive industry and supply chain for 15 years and has nearly 20 years' experience in the media and publishing business. He has an MsC from the London School of Economics and Political Science.
REGISTER NOW | Join our conversation
If you are interested in participating in future Livestreams, please send your comments, questions and ideas to Christopher Ludwig
To learn more about ACMA and working with the association, contact:
Abhishek Chopra, Deputy Director, International Trade Fairs, +91 98734 79793
With the coronavirus pandemic creating the biggest crisis in the history of the automotive industry, it is more important than ever for stakeholders across the supply chain and manufacturing to connect and share experiences and solutions for managing current challenges and preparing to restart the industry post-COVID-19. Following our first Coronavirus Automotive Supply Chain March Update, we are hosting a new series of weekly connections and insight, along with special topic focuses on key issues and regions, and our monthly Supply Chain Update. The series will be hosted by Christopher Ludwig, Editor-in-Chief at Ultima Media.
Register now to join us in conversations with industry experts and our editors at Automotive Manufacturing Solutions, Automotive Logistics and Car Design News.
There will also be many opportunities to participate in live polls, pose questions, comments or even join the discussions with guests directly via audio.
Plus:
Watch: Livestream Hour Episode 2: Restarting Automotive Production in the New Normal
Watch: Livestream Hour Episode 1: US Coronavirus Crisis in Focus
Watch: Your Questions Answered | Covid-19 Automotive Supply Chain
Watch: Covid-19 Automotive Supply Chain March Update
Upcoming episodes:
April 23rd: Your Questions Answered: Restarting production in the new normal
April 29th: COVID-19 Automotive Supply Chain Update April
…and much more
About Automotive from Ultima Media
Automotive from Ultima Media is a business intelligence service specialising in research and data for the automotive sector. Our analysts go behind the headlines to explore the key technologies, economic factors and regulations that are changing automotive production, supply chain management, design and R&D.