Automotive tier 1 suppliers are facing unprecedented industry transformation in electrification along with economic uncertainty. Download this report on the top 20 global suppliers for a deep analysis of their historic margins, as well as solutions for how suppliers could cope with growing pressures and changes in manufacturing across the supply base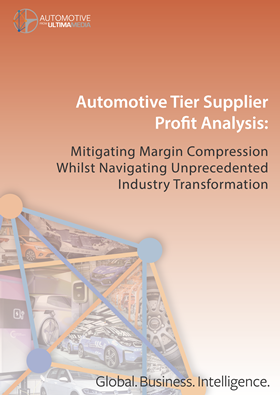 Following a decade in which the top automotive tier 1 suppliers enjoyed relatively stable profits, many companies are entering the new year struggling with declining vehicle sales and manufacturing volume. At the same time, stricter vehicle emissions regulations and wider automotive industry shifts in technology, most notably to develop and manufacture electrified powertrains and electric vehicles, require automotive suppliers to make huge investments and capital outlays. The impacts are being felt across automotive manufacturing footprints.
Automotive suppliers will increasingly have to find savings, including in manufacturing processes, materials and equipment, to stay competitive, protect margins and increase spending for research and development in CASE (connected, autonomous, shared, electrified) technology – even with returns on investment for these companies far from certain. With this in mind, the 2020s are set to be a challenging decade, but also one filled with new opportunities.
Download this free report, which profiles the top 20 automotive suppliers and examines the development of their profit margins over the past ten years. It analyses the outlook for these companies and explores strategies, innovations and solutions that automotive suppliers across the industry can use to stay competitive in manufacturing and to mitigate the effects of margin compression.
"Automotive Tier Supplier Profit Analysis: Mitigating Margin Compression Whilst Navigating Unprecedented Industry Transformation"
Robert Bosch Denso Corporation
Automotive supplier company profiles
Magna International Continental
ZF Friedrichshafen Aisin Seiki
Hyundai Mobis Valeo
Lear Corporation Faurecia
Yazaki Corporation Panasonic Automotive
Adient Sumitomo Electric Industries
Aptiv Cummins
Mahle BorgWarner
Schaeffler Group JTEKT Corporation
Tens years of automotive tier supplier revenue and margin data
Exclusive company interviews with three of the largest suppliers:
Robert Bosch, Denso Corporation, ZF Friedrichshafen
Supplier strategy analysis, solutions and recommendations