The vehicle cloud Catena-X intended to provide a more integrated network for automakers and suppliers. In reality, standalone solutions have prevailed so far and made the task of networking the entire auto industry even more strenuous.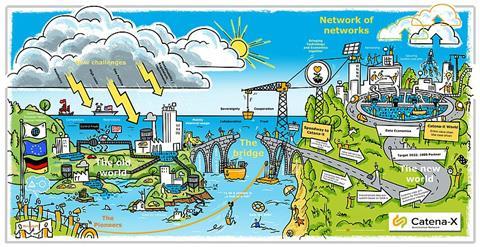 Cloud computing has become standardised for most companies in Germany. A full 82% of them have turned to cloud solutions, and the number has increased a further 6% in a single year. Moreover, the use of private cloud solutions has increased 5%, and the figure for the public cloud is 8%, according to Bitkom Research's "Cloud Monitor 2021" and the accounting firm KPMG. Nonetheless, there remains significant demand for overarching systems.
The largest project in the field is the Gaia-X initiative, a European cloud concept. After it was presented to the public for the first time during the summer of 2019, many business and scientific communities players committed to the project are expected to form a European cloud entity that can rival hyperscalers such as Amazon and Microsoft. However, critics lament that it is almost too late to challenge American IT players to any severe degree.
Data and Information-sharing with Catena-X
The auto industry often has to deal with the same complaint. However, it has responded to the problem by launching a cloud initiative, Catena-X, that focuses on the needs of the vehicle industry. The Catena-X Automotive Network should create uniform standards for data and information flow in the automotive value chain. Among other benefits, the project could increase supply security, speed up recall processing, and monitor adherence to climate-related rules.
A digital ecosystem based on these principles is expected to be the result. Automakers, suppliers, dealer associations and technology vendors can participate in it. The Volkswagen Group, BMW, Mercedes-Benz, ZF, Bosch, Siemens, SAP, and Deutsche Telekom are among the 25 founding members from the business and scientific communities that launched the project in 2020.
For example, Volkswagen would like to take its experience with integrating its factory network and apply it to the data infrastructure being constructed.
"Data is an important driver for Volkswagen as it becomes a sustainable, digital company, and the value of the information can increase further if we share certain data across company boundaries," said Gerd Walker, Director, Production and Logistics, Volkswagen Group.
The automaker also seeks to cooperate on applications ranging from supply chain optimisation to business-partner master data management.
"For one thing, with continuously linked data chains from the supplier to the manufacturer, material flows can be organised more efficiently, and bottlenecks can be identified early," said Murat Aksel, the Volkswagen Group Board of Management member who is responsible for purchasing. "For another, digitalisation is helping us strengthen processes that help us adhere to environmental protection and human rights standards and make supply chains even more transparent at their sensitive points."
These purposes seem noble, but it took a great deal of time before the most important players in the industry developed an appreciation for a cross-company cloud platform. Much the same thing happened with the Gaia-X, Catena-X's European counterpart. In the past, automakers and suppliers raced to see who could showcase the best closed-data platform, and the result was a host of standalone solutions. The unique ecosystems were indeed logical structures within the companies but generally lacked external connections. As a result, they tended to be unsuitable for an auto industry with multiple global branches, different IT processes and fragmented supply chains.
In its daily exchanges with automakers as a tier 1 supplier, ZF Friedrichshafen still encounters a range of different interfaces, and its services ultimately have to adapt to them. The proliferation of ecosystems could end with the Catena-X, said Jürgen Sturm, CIO at the Friedrichshafen-based company and board member at the Catena-X Automotive Network. He spoke at last year's automotiveIT Congress in Berlin.
Artificial intelligence becomes a core competency
Common standards are expected to promote the harmonisation of the entire industry, and data and artificial intelligence will also become core competencies in the sector, Sturm told the event in Berlin. In addition, multidisciplinary teams are expected to develop new digital solutions for each supplier's business field.
While the priority in the past was to resist shadow IT, ZF is now focusing on a new process management system. Platforms such as the Digital Manufacturing Platform (DMP) play a crucial role here. The goal is to establish cloud-based solutions throughout the group.
"We have to remain compatible in the multi-cloud environment," Sturm said.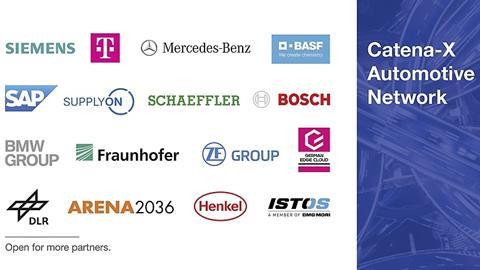 Especially in times of crisis, the inter-linkage of the systems ought to offer improved planning ability. During the height of the pandemic and the ongoing global semiconductor shortage, it became clear how susceptible industrial supply chains were to outside events.
In the future, a basic networking system using a common automotive cloud could ensure that any looming shortage of resources would be identified early, and the auto industry could collectively take countermeasures. After all, especially in the competition for a scarce commodity like semiconductors, individual automakers are the little guys, meaning they will have to line up behind the major tech companies.
Recent initiatives in cloud integration
The automotive industry, and global supply chains in general, are experiencing several converging disruptions. These include labour supply problems, semiconductor shortages, Covid-related shutdowns, bottlenecks and more.
This means there is a drive to utilise a broader adoption of cloud systems within automotive manufacturing plants, at the Automotive Manufacturing Evolution Summit last year, ZF Group's CDO, René Deist, outlined how an industrial cloud integration strategy would enhance the use of AI and capacity planning across the tier one supplier's 200 plants.
Deist listed a number of areas currently undergoing rapid evolution at ZF manufacturing, and how the development and application of production digitalisation, such as artificial intelligence, machine learning and deep learning have now become tools rather than inaccessible, complex technologies.
This article first appeared in German in Automobil Produktion, a sister publication of AMS